Editorial
Owen Oyston is badly in need of a haircut
Online Ed: Arsenal progress to FA Cup last 32 with a 3-0 win at Blackpool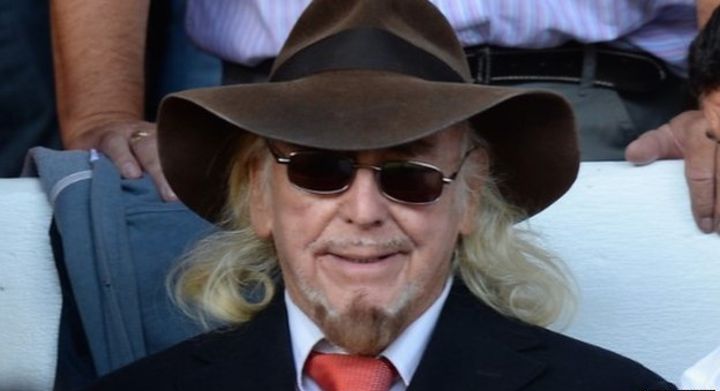 Apparently, a protesting Blackpool fan sat on top of Arsenal's coach outside their hotel. Rather than call the police, the club ordered another coach. Wow. All those 'Wenger Out' protests. If only they'd known this was the way to get the club to change their coach.
I underestimated the amount of Blackpool fans who were to boycott this game. Arsenal had a few short of 5,000 (quite a few empty seats in the away sections were due to fans buying a ticket to get the away credit) and Blackpool had a few over 4,000. But for the protests, the visit of Arsenal would have been a sell out. It's a tremendously sad state of affairs when supporters feel so strongly about what is happening to their club that they will not attend any matches. There were certainly a number of Arsenal fans who left their seats deliberately empty, with no attempt to sell them on, in the final seasons of Arsene Wenger's tenure, but the situation at Bloomfield Road puts Gooners' complaints into perspective. The players take their kits home to wash. It's another world. Mesut Ozil's annual wages could buy the club outright, and if he owned it, he could at least start every game should he choose to. Are there any good Turkish restaurants in Blackpool?
The area between Arsenal fans and Blackpool fans was not stewarded – mind you it would have taken a long time to bridge the gap of about 100 metres of gaping empty stands.
Laurent Koscielny suffered a back injury in the warm up, as if the powers that be at Arsenal needed any further proof that at least one centre back has to be purchased at an absolute minimum before January's out, and the sooner the better. Mavropanos is apparently training again, but I'm uncertain if he is actually joining in with the other players at London Colney. Lichtsteiner, due to play right back, shifted into the centre alongside Sokratis and Carl Jenkinson was drafted into the starting eleven. The youngsters to start were Willock and Nketiah, as Arsenal lined up in a 4-3-3 formation.
This wasn't the only 5.30 kick off. There were plenty of non-(UK) broadcast games, which also applied to 12.30, apparently to do with foreign broadcast deals. Why they can't just settle for the UK TV game being played at that time is beyond me. Are you seriously telling me there were many people in Thailand watching Sheffield Wednesday v Luton instead of Manchester United? Anyway, a lot of fans had to put up with strange kick off times for games that hardly any neutrals are actually going to watch anywhere in the world and this is something we are going to have to get used to.
As for the game, Eddie Nketiah missed two decent chances, but it was his fellow U23 team-mate Joe Willock who proved more clinical, the first time off the post from Aaron Ramsey's free kick and the second time after good work by Iwobi, Jenkinson and Nketiah to present him with a chance at the far post. 2-0 at half-time on a pitch with plenty of mud. This in spite of Stephan Lichtsteiner proving a bit of a liability at centre back. I recall Jenkinson playing in that position in a League Cup or Europa League game earlier in the season, and I think he could have done a better job. Then again, his contribution on the right flank would have been missed.
The BT commentator reminded us of the 4-2 defeat in the 3rd round last season at Forest. It was a cup exit I'd managed to forget in the multitude of away losses in Arsene's final campaign, but shows how bad things were 12 months ago.
Blackpool were often a threat when they got forward, but were so vulnerable on the break as a result. Arsenal won this game because they were ultimately more clinical.
It's possible, were VAR in use, that the second Willock goal and Iwobi's might have been disallowed. My question is this. Why was it in use at Old Trafford and not at Bloomfield Road?
I noticed on the electronic advertising at pitchside that you could book a room with a pitch view at the club's hotel, which makes a change from a sea view, which would be the normal upgrade at a Blackpool hotel. And match day guest packages start at £40. I think the equivalent is north of £350 at the Emirates, and that would be for the Europa League group stage.
Blackpool played way too much football in the second half, especially given the fragility of Arsenal's defence. Not enough balls launched into the big centre forward. It played into the visitors' hands and the third goal came in the end. Unai Emery's team finished the game with a rare clean sheet, which probably said more about the opposition than the solidity of his back line. Youngsters Saka and Medley had a bit of a run out, and the news that Emile Smith Rowe made the trip suggests he is not far away from a return to action.
In summary, Arsenal were expected to win, and they did. Blackpool's plight got plenty of publicity, and the watching audience could see that their loathed owner Owen Oyston is in desperate need of a haircut. Long flowing locks don't really cut it when you've passed 80. If we think the Gunners' defending is difficult to witness at times, it's got nothing on the Blackpool owner.
The current issue of The Gooner (275, with free 2019 calendar) can be bought online here (UK addresses) or if you for overseas, click here (prices includes postage of £1 to UK addresses of £2.50 abroad) or if you wish to subscribe for this and the other three remaining issues this season, here's the page to do that. It will also be available at forthcoming Arsenal home matches you approach the stadium (in Gillespie Road near the Arsenal tube, and in Hornsey Road near the Little Wonder café by the two cannons roundabout). And if you are attending an away game, look out for Alex near the away entrance selling copies.
There are other ways of ordering the issue if you do not wish to order via credit / debit card through the website store…
Online Bank Transfer For the current issue, pay £6 UK / £7.50 abroad (or for a three issue subscription covering the remainder of 2018-19 £15 UK / £21 abroad) via online bank transfer to –
Account name: The Gooner
Sort Code: 20-76-90
Account Number: 03004112
Swift / BIC: BUKBGB22
Iban: GB79 BUKB 2076 9003 0041 12
Please use the reference '275YourSurname' on the payment – eg '275Smith' and follow up the payment with an email to thegoonerfanzine@btinternet.com stating your name and address, and the reference that you used for payment (e.g. 275Smith or whatever).
Via direct PayPal payment to the email address thegoonerfanzine@bt internet.com. For the current issue, pay £6 UK / £7.50 abroad (or for a three issue subscription covering the remainder of 2018-19 £15 UK / £21 abroad) via your PayPal account state in the message you are requesting issue 275 (although we'll assume this if there is no message from the amount paid). If doing this, please make your payment a 'friends and family' / personal gift payment – this helps keep our costs down. PLEASE remember to add the name and address for your issue(s) to be mailed to in the note with the payment, or if you forget, simply email thegoonerfanzine@bt internet.com to let us know your address and that you have made payment.
Finally, you can pay by cheque made payable to 'The Gooner' to the address below. For the current issue, pay £6 UK / £7.50 abroad (or for a three issue subscription covering the remainder of 2018-19 £15 UK / £21 abroad)
The Gooner
12 Buxton Court
Hanbury Drive
London
E11 1GB