Online Exclusive
Perry Groves on Emery, Ozil, Suarez, Mislintat and more
Former Gunners wide man assesses Arsenal's season so far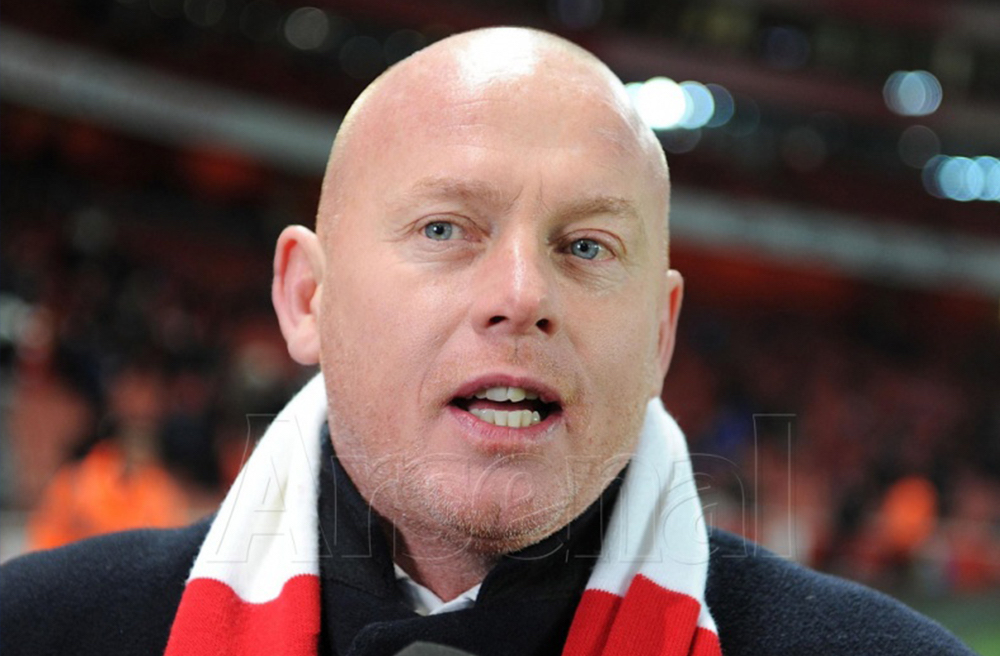 Late 80s and early 90s Arsenal cult hero Perry Groves sat down with LeoVegas to give his thoughts on the current situation on and off the field at the club
Have Arsenal improved under Unai Emery?
Certainly. They play with more intensity and the pressing game has become instrumental to how they want to play. Arsenal now cover more ground than any other team in the Premier League. The players who were once considered luxuries and a bit too comfortable have dug in and shown how much the shirt means to them.
The players had perhaps become a bit complacent under Wenger feeling they had earned his trust. Emery has shaken it up and made absolutely clear what he expects of them. If they don't do it, they won't play. I love the fact that he doesn't indulge anybody. There are no players that are indulged there anymore. I think that's the biggest change that Emery has brought to Arsenal.
I thought it'd be two years until Arsenal would be able to challenge for those top four places so we're a little bit ahead of schedule, but there is still a lot of tweaking that needs to be done.
How do you think Emery has handled the Ozil situation?
I think Emery has done everything that he possibly can to get the best out of Ozil but it just doesn't seem to be having a big enough impact. Ozil is so obviously a great player, but the frustration is that he doesn't do it on a regular basis and he tends not to perform against the bigger sides. You need to be doing that to justify his wages.
Emery has tried to motivate Ozil by giving him the armband to demand more responsibility. He's tried to motivate Ozil by dropping him for underperforming too. Emery has tried both ends of the spectrum and he must be a bit bewildered to have not got a reaction. The manager can only do so much.
I wouldn't be surprised if we saw Ozil leave at the end of the season. The problem for Emery and Arsenal is that the options are going to be limited because of the wages that he's on. There aren't many teams in the world that can afford £350,000 a week and there's even fewer happy to give that sort of money to Ozil.
Do you think Ozil isn't willing to buy into Emery's philosophy?
I think the situation with Ozil is primarily down to his own attitude. It's very difficult without knowing him personally but he strikes me as someone who is very psychological. One day he's fine, the next day he's not.
I think Arsenal are potentially paying the consequences for his situation with Germany, that definitely hasn't helped. I think that has really hurt him and damaged his mentality.
How does Emery get the best out of the attacking options he has available?
Arsenal really do have a wealth of attacking options, but I think the best solution is Lacazette up top with Aubameyang coming in from the left. That partnership guarantees goals and allows you to get both on the pitch at the same time. Emery likes a front three that can press the defence so Ramsey and Iwobi have been key in support.
I think the next step is for Emery is to sign a no.10 that can play the way that he wants his primary creator of goals to play. Emery is looking for a no.10 who's got the creativity and imagination of Ozil, but then running power and the physical side of Aaron Ramsey. Hopefully we can free up the funds to allow that to happen.
What would represent a successful season for Arsenal?
I think winning a trophy would represent a successful season for Arsenal. I know a lot of people say getting into the Champions League is a success, but a club's history is defined by the trophies that you win. Winning the Europa league would be a dream scenario for Unai Emery's first season because it delivers Champions League football as well as a trophy. Hopefully, that mob up the road (Tottenham) won't win a trophy so that will give Arsenal a one up over them!
What was the key to Arsenal's victory over Chelsea?
Arsenal played a wonderful game against Chelsea. It was all about the work ethic. I was lucky enough to be at the game and from the first minute you could tell that Unai Emery set his team out to close Chelsea down all over on the pitch. Arsenal can then rely on their attacking quality to expose Chelsea's back four.
There was a buzz about the game as well because if we got beat then the top four was completely out the question. We put them under immense pressure from the very first minute.
How important is the FA Cup to Arsenal?
The FA Cup is massive for Arsenal's players and its fans, but realistically it isn't a priority over the Premier League and Europa League.
I think it will be a high scoring draw this weekend against Manchester United. It should be a cracking game between the two sides who have won the trophy most often. Arsenal against Manchester United is always feisty and the way that Solskjær has turned it around for Manchester United makes the tie even more interesting.
Is the FA Cup the perfect fixture to reintroduce Ozil into the Arsenal team?
I don't think Ozil should play against Manchester United. If I was playing against Chelsea and played well and then I was left out, I wouldn't be very happy. It all depends on how Ozil has been training this week as well. I think Emery actually picks players not only on the way they play, but how they train as well.
I don't want to see Emery making too many changes in the FA Cup. I wouldn't mind one or two, but I want us to build on the momentum of beating Chelsea. Too many changes would risk losing that momentum and hurting the team's confidence.
Who have you been most impressed with this season at Arsenal?
I've been most impressed with Alexandre Lacazette this season. I was a big fan of his when he first came to the club and he hit the ground running until he lost a bit of confidence when he got injured. He has kept a good attitude even when not a guaranteed starter.
When Lacazette has got his chance on the pitch, he has done a lot more than score goals. He has worked hard and holds the ball up really well. I think we need to stick with him up front and play Aubameyang on the left.
What do you make of Alex Iwobi this season?
I've seen the improvements in Iwobi's play in the middle of the park, but I haven't seen improvements in his decision making when he gets around the final third. I think the reason that both Arsene and Emery have been fans of his is because of his attitude and the way he works for the team. He needs to get his head up to improve in the final third as he tends to get caught in two minds.
Is Lucas Torreira the answer to Arsenal's problems in midfield?
Lucas Torreira has been a revelation at Arsenal this season. He's only 22 so there's another 30% to come from him. He's going to get even better.
His positional play is excellent. I think he is top of the list for interceptions, tackles and possession retrieval. He's always thinking about three or four moves ahead. In possession, he is different to some of our holding midfield players that we have had in the past because he is always trying to pass forwards.
What do you think of the Aaron Ramsay situation at Arsenal?
I can't believe Arsenal have let themselves get into this position over contracts with Ramsey, Ozil and Sanchez. It doesn't make business or footballing sense to let your best players get into the last season of their contracts. Aaron Ramsey would be a £35-40m player if he was under contract, but we're letting him leave for free. I think it was entirely Unai Emery's decision to withdraw the contact offer so he is clearly comfortable letting Ramsey leave.
I'm a big fan of Aaron Ramsey. I think he's a brilliant example of a modern-day footballer. His attitude has always been spot-on. He's very low maintenance off the pitch. He does get the goals. I'm sad to see him go but Emery probably thinks that he can get someone else to play in the no.10 role on less money than what Ramsey was looking for.
Should Arsenal look to offload Ozil?
I would sell Mesut Ozil but I don't think that there is anyone that is actually able to afford him would need to sign him. If you look at the top teams, he doesn't suit the way that Liverpool or Manchester City play with their pressing style so he would need to leave the Premier League. I can see him going to PSG.
Do you think Ozil is just a luxury player?
When he's not performing to his capabilities, yes. But I remember watching him against Leicester this season and it was one of the best individual performances I've seen for over decade. He was on a different level to anybody else, but he doesn't do it consistently. Ozil performs once out of every seven games. It is very frustrating because he makes everything look ridiculously easy when on form.
Hector Bellerin has been ruled out for the remainder of the season. How big of a blow is that for Arsenal?
His injury is a massive blow for him and the club and it's going to be very difficult to replace him internally. It's a massive blow for Bellerin. He's improved his defensive side of the game under Emery, where he used to wander a little bit. His positional play is much better now.
Lichtsteiner isn't up to the challenge of replacing him because he can't play five or six games in the Premier League as it's too intense for him.
Is Bellerin's injury an opportunity for Ainsley Maitland Niles?
Ainsley might not see himself as a right back, but this is a great opportunity for him to cement his place in the side. He has started to be a bit more consistent already. He's the typical sort of Arsenal player; he's very athletic, he's very quick and his pace can get him out of trouble. I think you'll see Ainsley slotting in to that position for the remainder of the season no problem.
Emery has faith in young Matteo Guendouzi. Would he get your vote for Young Player of the Season?
Yes. He's an example that proves that you can get bargains out there. No-one really knew anything about him, but he's come over from France and he's done brilliantly. He's got an infectious style. Fans love players that wear their hearts on their sleeve. He will only get better playing alongside someone like Torreira, where he can actually teach him his trade. I think he will be nailed on for Young Player of the Season.
How big of a blow was the injury to Rob Holding? Did you see him cementing his place in the Arsenal starting line up?
If Holding was fit, then I would start him alongside Sokratis. Rob Holding was a player that was improving immeasurably. You can tell that he had done a lot of work on the training ground working on his positional play. He started to look a bit more comfortable with the ball and playing out from the back. As is the case with all injuries, it came at the wrong time for him.
Now that he is injured, I would say that Sokratis and Koscielny (if 100% fit) is Arsenal's best defensive pairing. Going forward, I know that Arsenal rate Mavropanos very highly. When he came into the team last season he looked very promising, like a young Steve Bould, so he's obviously got to fight his way back in to the team.
How much work does the Arsenal squad need?
The squad at the moment is at least three or four players short of where Emery would like to be. I've seen improvement, I've seen the culture change completely. I always say that a manager needs at least three transfer windows for his team to start taking shape. The main concern for Arsenal in the January Transfer Window should definitely be a new centre half. I know that Emery is trying to a sign Denis Suarez from Barcelona, so a new no.10 is also a priority.
Suarez is being heavily linked to Arsenal at the moment. What do you make of him?
Denis Suarez will bring a more attacking threat and a goal threat from midfield. He's a very, very creative. He's got good pictures in his head when he gets in around the penalty box. He makes decisions very quickly and he works for the team off the ball as well. Suarez is exactly the sort of player that Emery is looking for. It's now just whether the deal can be done, will it be a loan move that will turn into a permanent move, but Emery has already said quite candidly that there's no money available.
Should Arsenal be looking to sign more experienced talent like James Rodriguez?
I would love Arsenal to sign James Rodriguez but I think we have to be realistic; Arsenal aren't going to pay the massive money for the transfer fee or wages. A marquee signing like Aubameyang won't be the norm. Denis Suarez has sufficient quality for Arsenal, just because he can't get into Barcelona's starting team doesn't mean he's not a top player. Even Coutinho is struggling to get into their team. That's just the level that they're playing at.
Emery has said that loan signing is the only option this January window. How is this possible when they have a billionaire owner and the most expensive tickets in Europe?
Stan Kroenke runs the club like a business, that is why there is no money to spend in the January Transfer Window. He's not going to put any more of his own money in, and Arsenal fans moan, which you can understand, but that's the case where it's always been. The only thing that I'm surprised that hasn't happened is, if Unai Emery wants Suaraz so badly, why hasn't the owner released some of the funds that were set aside for next season.
I was impressed with the refreshing honesty of Unai Emery. Arsene Wenger would have been the buffer for the board, beating around the bush, Emery has been very forthright about it, he's said that he's been told there is no money, clear and simple.
Ousmane Dembélé was linked with Arsenal at the beginning of the summer. Do you think there's a chance that Arsenal could reignite that interest?
There is absolutely no chance that Ousmane Dembélé will sign for Arsenal now. He has now got back into the team and he's playing very well. If the players aren't happy and they're looking to move then fine but the ship has sailed on this particular one. It's exactly the same situation with Martial, Arsenal missed their chance.
Youssef Aït Bennasser has been linked as a potential replacement for Ramsey. Does he sound like a suitable replacement?
I've seen Youssef Aït Bennasser play a couple of times. He's a typical Arsenal player, he's very good technically. He's obviously not playing in a brilliant Monaco side at the moment, so that would have affected his performance levels. However, Emery will know all about him having been to watch him 5 or 6 times to see if he can perform at a consistent level.
Who's the one player that you'd like in the defensive position for Arsenal?
Conor Coady would be the perfect defensive signing for Arsenal. He plays in the centre of the three at Wolves, he's very good, he's shown leadership qualities and he can play as part of the two centre halves as well, as he is left-sided as well. Obviously, Nuno Espírito Santo has seen something in him because he was originally a holding midfield player. He'd fit in with the Arsenal system.
I've been very impressed with Lewis Dunk this season at Brighton, he's a very dominating centre half, comfortable with the ball at his feet, but he likes attacking the ball as well. Finally, Lascelles at Newcastle. I know he has had his fair share of injury problems but you're looking for people with leadership qualities, look no further.
With Cech announcing his retirement, would you like to see Szczesny return to the club? Or do you think Leno has done enough?
Leno is the right age, and he has a lot of experience with Leverkusen. He's been a decent acquisition and he's only going to get better.
But I do think he is going through a period similar to David de Gea when he joined Man United, he's not used to the physicality of the Premier League. To be fair to him, I can't remember him making too many serious blunders, I think he just needs that little bit of time to adapt.
I don't want Arsenal to re-sign Szczesny. I wouldn't have thought that Szczesny would come back anyway, he made it pretty clear that he likes his time in Italy. To be honest, I don't think Szczesny improved when he was at Arsenal – it looked like he was going to be a top-quality goal keeper, but then I think his concentration levels dropped a little bit so I wouldn't have thought he would be coming back.
What do you think of Sven Mislintat departure?
I'm worried about what's going on in the back-room staff at Arsenal. Obviously, Mislintat was a bit peeved that he was bringing in a Director of Football and they didn't offer him that role.
Mislintat is a more of a stats and data person, so whether he was getting frustrated that he was recommending players and the club weren't actioning it, I really don't know what's going on behind the scenes but it shows that the working relationship at the moment isn't particularly healthy. You want clear and concise thinking throughout all the different departments and at the moment it doesn't seem like there is a lot of that.
Despite Gazidis and Mislintat departing, the Emery project isn't crumbling at all. A lot of football clubs have these problems. To be fair to Ivan Gazidis, I was critical of him with the way he handled Mesut Ozil but I think the critical process of bringing in Unai Emery has been spot on. The coaching staff under Emery is very good, they all know exactly the vision that Unai Emery has, so, it's just getting that relationship with a Director of Football or a Sporting Director, making sure that they can work together and can trust each other.
Former fan favourite, Edu, is rumoured to have rejected the role of Technical Director. Who would you like to see come in to take control of the club?
Out of all the former players at the club, I would have liked to have seen Vieira given some sort of role in the academy. If not Vieira, I would love to see somebody in the Vieira ilk, somebody who knows what the club is all about, who knows the ethos of the football club, come in to take the job of Technical Director. Dennis Bergkamp would be great for the job, although I know he is doing his coaching badges at the moment. Freddie Ljungberg is in charge of the U23's but I would like to see someone of that stature come in and take on the role.
Do you think that it was a mistake for Arsenal to have let Henry go so easily?
I think Arsene handled the Henry situation perfectly. If you want to be a manager of the U18's team at a massive football club then you have to give that 100% focus, that has to be your main job to allow you to learn your trade. You can't finish training and go off to work on the telly later on. He was offered the job but he decided not to take it. However, I'm very pleased that Arsenal now have players like Freddie Ljungberg, Per Mertesacker that bring along with them a winning mentality to the club, which will trickle down and inspire younger players. I'm all for that.