Online Exclusive
Can we expect a tighter Arsenal defence in Europe?
Does Emery's record at Sevilla in the knockout stages suggest potential improvement?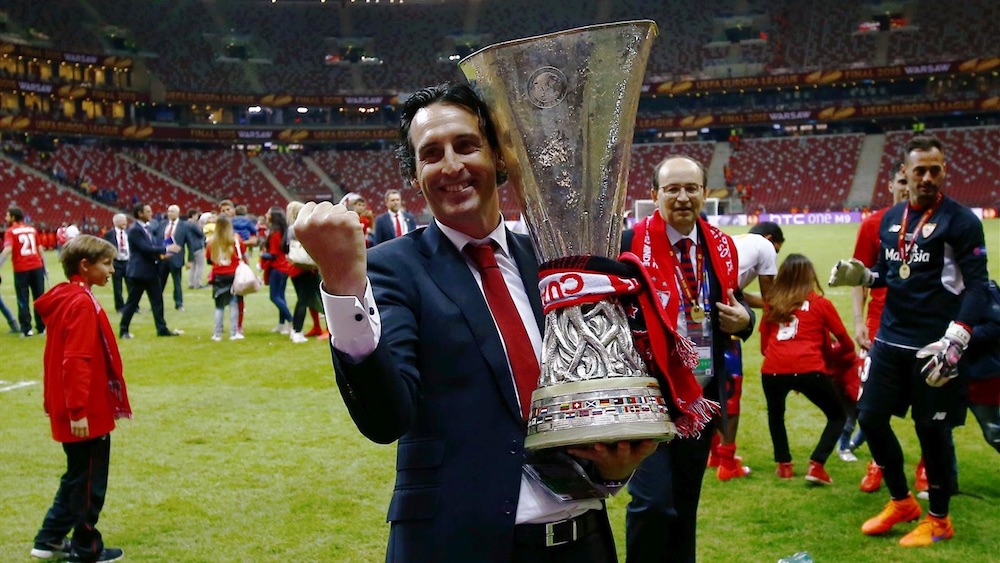 Sevilla winning the Europa League over three consecutive years between 2014 and 2016 was some achievement and is surely the reason Paris St Germain took a punt on Unai Emery, the plan being he would be able to deliver the Champions League success the club's wealthy owners so desperately wanted.
And when Emery was recruited to succeed Arsene Wenger, the belief was that, with what he had achieved at Sevilla, he would be able to organise and motivate a team to get results. And certainly, for the first half of the season, including the 22-game unbeaten run in all competitions, it looked like the club got the right man. Arsenal was progressing.
However, the wheels have undoubtedly come off since the visit to Southampton in early December, so I thought I'd look at how Sevilla performed defensively in their three successful campaigns in Europe under Emery. Looking at the bookies' odds in betting sites across the globe for UEFA now that the eight third placed teams from the Champions League have been added to the market, it's interesting to see that Chelsea are the favourites, although Arsenal are second in the odds, ahead of Napoli, Inter, and two of Emery's former teams, Sevilla and Valencia. You can monitor the UEFA Betting to see if the odds stay the same for these teams. According to the wagering markets, there is certainly a view that Emery has a decent shout of winning the trophy once more.
I've looked at the Europa League knockout matches Sevilla played in their three successful campaigns to assess how important their defending was in their success. We have become familiar at Arsenal with winning matches by outscoring the opposition – the team has yet to keep a clean sheet on their travels in the Premier League this season, and at home has only denied the opposition a goal on four occasions. However, maybe playing European opposition suits the team better. In their six group games, they achieved what seems like a remarkable five shut-outs. And one of those was a disciplined performance away at Sporting Lisbon. It's certainly possible that Emery feels on familiar territory in Europe, and perhaps he simply needs a bit more time to adapt to the Premier League.
In winning the 2013-14 competition, Sevilla played a total of nine matches in the knockout phase, and conceded a total of ten goals, against the combined might of Maribor, Real Betis, Porto, Valencia and Benfica. It is interesting to note that four of the five sides beaten were from the Iberian Peninsula. In two of the ties, a penalty shoot-out was required, and on another occasion, the away goals put Sevilla through. They notched up 13 goals for, not including penalty shoot-outs. The ties were generally tight affairs. Notably, their final against Benfica was one of the clashes decided by spot kicks after 120 minutes – which ended 0-0.
In 2014-15, their nine matches saw nine goals conceded. The teams beaten were Borussia Monchengladbach, Villarreal, Zenit St Petersburg, Fiorentina and Dnipro, although on this occasion, the final was a five-goal thriller, and Sevilla had no requirement of penalty shoot-outs or the away goals rule to land the trophy that season, as they scored 21 times. That sounds a little more familiar to Gooners, I suspect.
Their third win under Emery in 2015-16 was the one in which Liverpool were beaten in the final. This time around, eight goals were conceded in the nine knockout games, while they scored 17. They went through their quarter final after a penalty shoot out, but otherwise were clear winners in each round. They faced Molde, Basel, Athletic Bilbao and Shaktar Donetsk before the final against Jurgen Klopp's team.
One thing that cannot be argued with is Emery's consistent ability to get results over two legs, and his team's ability to win penalty shoot-outs when required. We will see an average of a goal a game conceded, but there are likely to be a mix of 3-2s and 0-0s to bring that average, and everything in between. Arsenal fans wait, watch and hope, although one encouraging thing is that Emery always beat teams he faced from his domestic league when drawn against them, so perhaps, although Chelsea might be favourites, they can be handled if necessary.