Online Exclusive
I'm on Emery's side in the Ozil saga
Head coach blameless for a situation he inherited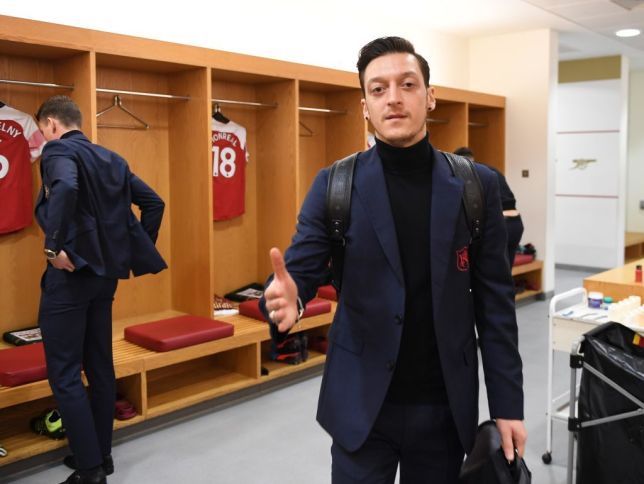 Mesut Ozil made his first league start for three months at the end of February, in a game against Bournemouth. Along with Henrikh Mkhitaryan, he masterfully pulled the strings. It was exactly what you want from a number 10: expressive and incisive play, carving open the opposition and creating goal-scoring chances. A goal, an assist and an all-round top performance, making it look easy.
The problem is, it doesn't happen often enough for Mesut (nor for Henrikh, but that's another story). Bournemouth was the perfect game for Ozil because the opposition was, relatively speaking, weak. It was a great chance for him to show his silky skills and play some smooth passes, and generally distract from the fact he never pulls his weight in the big games, nor finds consistency even in smaller ones.
Ozil was made captain against Bournemouth in a strange move by Emery which marked the latest part of the pair's long-running mind-games battle. On the one hand we're told Ozil has a future at Arsenal, that he has a lot to offer and that he is working hard in training. On the other, he barely plays and we hear he's having mysteriously repetitive back spasms or has contracted another of his regular minor illnesses, or simply that his exclusion was 'tactical'.
Confusing as the seemingly conflicting information we receive is, I'm with Emery on this one. Whoever made the decision to give Ozil the contract we produced in Janurary 2018 – Ivan Gazidis? It was a poor move. Even Arsene, Ozil's most avid supporter, has admitted this now. The contract has not only prolonged and intensified the problem of having a player on our books who regularly goes missing, both within games and by not being available to play in them, and who demonstrates a generally questionable attitude on and off the pitch. It also precludes us from acquiring or keeping other players who might be of more use, because we can't finance their deals.
There can be little doubt that the reported three hundred and fifty grand Ozil pockets every week has encouraged other players to ask for bumper deals in return for staying at the club. Ramsey is an obvious example. He could fairly argue for a wage far beyond his value once Ozil had been given the nod for a huge pay increase. We are doubly hamstrung by this: the players' demands have gone up, and our ability to meet them has gone down.
Furthermore, Doling out well over a million a month to Mesut is particularly hard to justify at a time when transfer money is scarce and we can only afford to take players on loan.
It all goes back to the mishandling of the Sanchez contract. Because we lost him on a free, we felt had we had to keep Ozil at all costs, or be the laughing stock of the league, unable to hold onto our players. So, over a barrel, we coughed up. Not only that, we took Mkhitaryan on a massive wage too. He's not been without moments of quality but he's not exactly set the league alight either – though at the time of writing he has recently put together a few good performances. Together, some reports suggest, they take home 575k a week. Imagine what we could do with that money.
We can't get rid of Ozil at the moment because nobody will pay his wages, and he refuses to go out on loan. So we have two choices: play him, and pass up the only means we have to show him we aren't satisfied; or regularly leave him out until he either accepts he has to go elsewhere and take a pay cut, or bucks his ideas up and starts delivering on the pitch week in, week out.
It's probably clear by now which side I'm on. There are many Ozil-lovers out there among the Arsenal fans who will disagree with me (and don't get me wrong, I know he has quality), but, so far as we have to choose, we should be behind Emery in dealing with this difficult problem he has inherited. Indeed, we should sympathize – he has come to us from PSG, with a player in Neymar who seems about as easy to manage as Mario Balotelli. We cannot allow something similar to happen here, where a player is indulged in their belief that they are bigger than the club.
Twitter@paddyhannam
The (now annual) campaign to save The Gooner so that we can continue publishing beyond the current season is underway. We need 1000 subscribers signed up for the 2019/20 campaign by March 23rd. £30 for six issues (UK), £42 if you are abroad. All the details can be found on this interactive downloadable form.
The current issue of The Gooner will be on sale at the forthcoming home matches against Manchester United and Rennes. It can also be bought online and posted to you. UK addresses buy here, and overseas addresses buy here.