Editorial
Arsenal Leapfrog Spurs To Go Third
Online Ed: Vital home win v Newcastle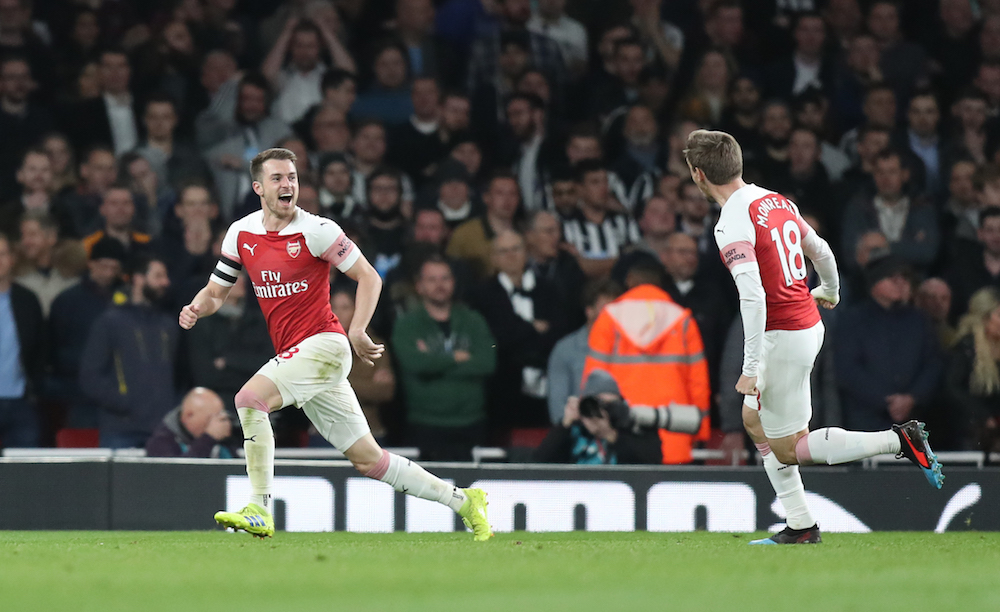 There's little doubt that to ensure the best chance of making next season's Champions League, Arsenal need to take maximum points from their final three home fixtures. It's a case of one down, two to go after an encouraging display against Rafa Benitez' Newcastle side in which, at times, Unai Emery's side played some very decent attacking football.
Celebrations for what was thought to be an early goal were cut short when referee Anthony Taylor blew up for a shirt pull by Sokratis. These kind of fouls will almost certainly not be missed when VAR comes in, but having seen the replay, it was a fair decision. Newcastle were predictably trying to keep things tight, and their record of more away draws than defeats this season before last night's game indicated that this was not going to be an easy evening.
Emery started with a back five and – presumably due to rotation, left Mkhitaryan and Aubameyang on the bench. Granit Xhaka was not risked due to injury doubts and with Torreira suspended, we had a midfield pairing of Ramsey and Geundouzi. Both played extremely well, as did Mesut Ozil and Alexandre Lacazette in front of them. The only players you could argue were below par were Mustafi, who was careless in possession too often for comfort, and Alex Iwobi, who nothing seemed to come off for last night. One suspects Laurent Koscielny was rested because Emery felt he could get away with playing Mustafi in this game. This proved to be the case, although too often, the German raised his hand in apology when a pass had been misplaced. In fairness, there were a couple of key interceptions on the flanks when the visitors threatened.
The opening goal came courtesy of the ball falling to Aarom Ramsey after Lacazette had failed to get in under control. Ramsey almost passed it into the net off the post. It was a key moment and everyone in the stadium knew it. Ramsey has come to prominence since being in and out of the side earlier in the campaign and Juventus must be licking their lips at his current form. It would certainly be a decent parting gift if his contribution returns Arsenal to the Champions League and the fantasy ending is a European trophy in Baku. Another winning goal against Chelsea (who will surely make the final) is the stuff of dreams. Certainly, Ramsey will be a tough act to follow, but the club have lost big stars before and under the current model will continue to do so in the future, especially in the days of player / agent power. Arsenal took the decision to withdraw the offer to the Welshman because, certainly for the foreseeable future, the decision has been taken not to pay any more superstar level wages. There was a brief flirtation with that at the tail end of the Wenger era, but now the club are cutting their cloth accordingly, given they will be posting operating losses for the last two seasons.
Still, we can enjoy Ramsey while he is still at the club, and his goal last night eased the tension for a while in the stadium as a game of football broke out, Newcastle having to try and be more ambitious. They didn't create danger too often, Leno having to make only one save of note, although there were enough corners to ensure everyone remained focussed.
The home side needed a second goal as a cushion, but it was a long time in coming. In spite of creating some good chances, the fear of an equaliser against the run of play remained as long as there was only a one goal margin. Aubameyang came on for the last half hour and eventually, he and Lacazette fashioned a goal between them, with some good running and control by the Frenchman. It's strange to think that Arsenal's number 9 is being kept out of the French squad by Olivier Giroud, but who knows what goes on in the mind of Didier Deschamps. I guess his track record of late justifies his decision, and it helps Emery that his player is not turning out for internationals, giving him recovery time as the matches come thick and fast at club level. Lacazette is in great form at the moment, and last night was key for the whole team in regard to the fear that the pre-break momentum might be lost. It felt like they picked up where they had left off.
Most important of all is that Emery's rotation seems to be working. There is a little less of it in defence, and there were worries last night when Ainsley Maitland-Niles required treatment. With all due respect to Carl Jenkinson and Stephan Lichtsteiner, Arsenal probably need AMN to remain fit for the remainder of the campaign. It was perhaps telling that it was Jenkinson on the bench last night, Lichtsteiner is not officially listed as injured (he played for Switzerland recently) and seems to have disappeared without trace from the first team picture.
There was much relief once Arsenal were 2-0 up, and we could even brush off another disallowed goal (rightly – Lacazette was backing in on the keeper) before the game concluded. Now things get really interesting. Arsenal's next four away fixtures are against the teams currently lying in positions 7 to 10 in the table. One hopes that Cardiff are sunk by the time the Gunners visit the other opponent, Burnley on the final day of the Premier League season, so as to make that game less intense than it might already be. On that note, it's just possible that Chelsea's fortuitous win v Cardiff on Sunday might actually turn out to be blessing in disguise – we'll only know once the next few weeks pan out.
One thing that is encouraging though. Arsenal have played themselves into decent form at the right time and have moved themselves into the box seat in the four horse race for the two Champions League spots. Let us hope that continues on the road, starting with Everton next weekend. Defeat would feel terminal (it isn't) but the real impact of that would be the dent to confidence with four further trips to make. Arsenal are good enough to win at Goodison in spite of Everton's recent form. And it would be as big a result at the home win v Manchester United. Fingers crossed…
The new issue of The Gooner went on sale at the game last night and can be bought at the remaining home and away matches this season. It can also be posted to you (£6 UK addresses, £7.50 overseas) if you wish to buy it through our online store or if you have a PayPal account you can simply send us payment direct click here for our paypal.me link (although please remember to put the name and address for sending your issue in the message, and if you forget, then email us at thegoonerfanzine@btinternet.com to let us know those details)
2019-20 season subscriptions still available!
Having reached our target of 1000 paid up subscribers to continue printing in 2019-20, we are welcoming further subscriptions. For £30 (UK addresses) or £42 (overseas addresses) you receive six x 68 page issues through your letterbox over the course of next season.
There are four ways to pay –
NEW! Subscribe to the Gooner news list to stay up-to-date with all the latest breaking Arsenal news.
Please note that we will not share your email address with any 3rd parties.
---