Editorial
Football as an exercise in torture
Online Editorial – Arsenal secure much needed win at Watford thanks to Messrs Foster and Deeney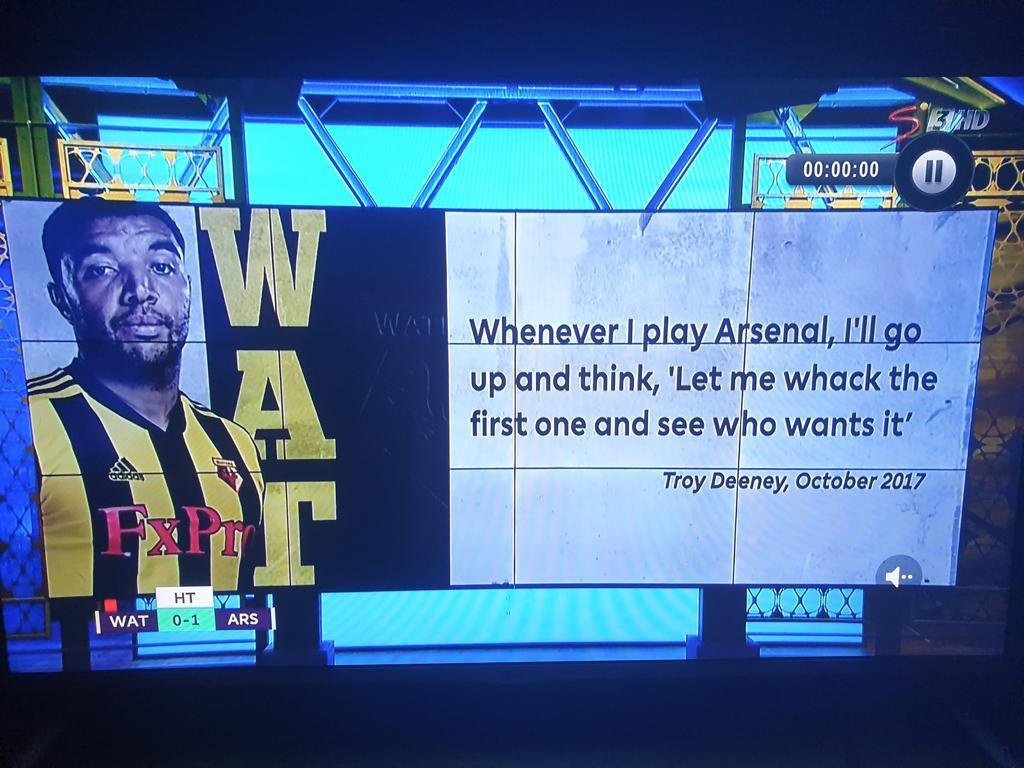 Ed's note - My thanks to regular Gooner contributor Peter Le Beau for covering for me to write the piece on last night's game. Normal service will be resumed when Arsenal travel to Wolves, but in the meantime, enjoy some different perspectives on the matches.
Nick Hornby has come closest to describing best the visceral agony of the football fan. I waited all week for a match and then I wanted the final whistle after ten minutes! The last eighty minutes against Watford were agonising. Ironically Nick wrote 'Fever Pitch' at a time when we had an ironclad defence and massive leaders in the team, Adams, Bould, Keown et al - we felt we could rely on them whoever they faced. Our win at Watford was hugely important but boy was it a difficult watch.
If you'd given Arsenal fans two wishes, one would have been an early goal and the second would have been to see Troy Deeney sent off. Deeney, who was I read somewhere an Arsenal fan as a boy was very wound up for the game and whatever the protestations of him and his manager it was a very definite and sneaky slap and although not overtly violent, it was a definite red card. He had just watched Aubameyang score an opportunist goal with a brave block that was a fine example of his goal-getting instinct. Much more than just a freakish deflection.
The trouble is away from home we need more than two wishes with the defence we've got and some of the characters who inhabit our team. We never looked comfortable. Our possession play was sketchy, a number of players - Mkhitaryan, Xhaka and young Mavropanos looked error prone and struggled to get into the game but thankfully Leno is a very assured keeper and in front of him Koscielny and Monreal were sound enough against the limited Andre Gray.
On the touchline Unai Emery prowled and simmered. One thing you always know with Unai is that he will be proactive. His change of Ozil for Torreira at half-time was not one that I greeted with massive joy. A solid terrier for a luxury player against possibly the most physical side in the division. Unai flexed his team changing formation twice, taking off Mavropanos and Ramsey, with Maitland-Niles and Guendouzi replacing them. Maitland-Niles made a superb block to deny Gray and we tottered towards full-time squandering chances through Aubameyang and Mkhitaryan (foiled by a great block by Foster on one occasion and miscuing on another)
The final whistle was a blessed relief. We had finally kept an away clean sheet in the league on April 15th at the sixteenth time of asking. To call the three points precious is an exercise in gross understatement. We leapfrogged United and Chelsea. We are ahead of Chelsea with a game in hand, United must play Everton and Manchester City away and Chelsea at home in their next three games and we are only one point behind Tottenham who have to play Manchester City next.
When Emery joined us most of us would have been ecstatic if we'd been told that with five games left we would be fourth and in the position I describe above. On top of that we lead Napoli 2-0 and have a real chance of winning the Europa League. Monday night may not have been pretty but if it contributes another £ 50 million to Emery's available transfer kitty none of us will mind. I love sparkling football but Watford was a very good example of when the result is much more important than the quality of the football. Next season we need a much better defence, more quality in midfield and better options out wide but we must still be thankful that without the lions of old we made it through for a plucky three points.
The current issue of The Gooner can be bought at the remaining home and away matches this season. It can also be posted to you (£6 UK addresses, £7.50 overseas) if you wish to buy it through our online store or if you have a PayPal account you can simply send us payment direct click here for our paypal.me link (although please remember to put the name and address for sending your issue in the message, and if you forget, then email us at thegoonerfanzine@btinternet.com to let us know those details)
2019-20 season subscriptions still available!
Having reached our target of 1000 paid up subscribers to continue printing in 2019-20, we are welcoming further subscriptions. For £30 (UK addresses) or £42 (overseas addresses) you receive six x 68 page issues through your letterbox over the course of next season.
There are four ways to pay –