Editorial
Arsenal's fire in the belly ignited by Aubameyang
Online Editorial: Pressure off, Arsenal's stiffs come good at Burnley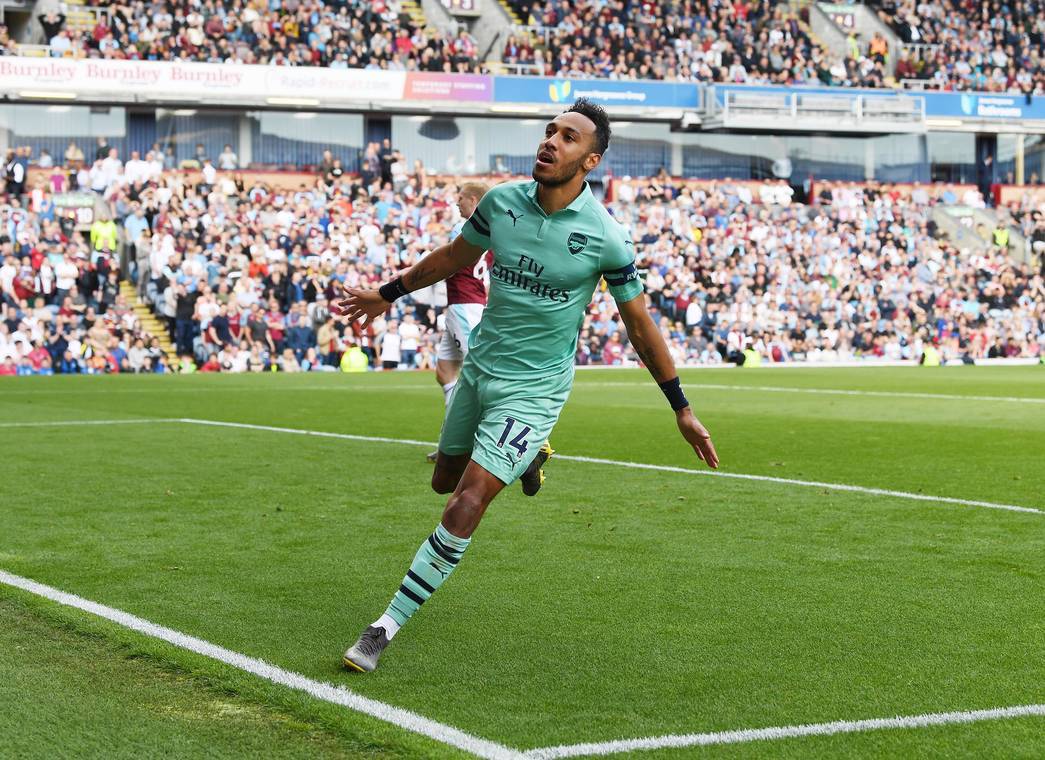 Ed's note – my thanks to Jon and Richard Hossain for stepping in to cover me for the editorial on yesterday's match, which I was unable to see.
So we end up fifth and Aubameyang with a share of the golden boot. At the beginning of the season that probably would be seen as progress, but it could have been much more. An away trip to a northern town used to be a regular event, we've just got Burnley now and today for a change the sun was shining as opposed to the norm of driving rain or snow. A few in the away end wore traditional end of season fancy dress, but there were many more empty seats than normal and the support was quite subdued. Arsenal wore that awful toothpaste kit (for the last time) which normally sets the insipid tone. Seeing Mike Dean stroll out with the match ball didn't help either.
End of season dead rubbers can have the air of a testimonial and we started like that. The first half brought back memories of Leicester away and other recent games, Burnley should have been two ahead, no urgency from the Gunners, no bite and poor passing. A cautious approach which I associate with our manager of late. The home side should have been down to 10 due to a blatant handball by their keeper which Dean of course called as a yellow.
In the second half Burnley did us a favour by kicking our players, which woke them up. In fairness Ashley Barnes did this all game. You could also suggest that we also improved after the goal made entirely by Aubameyang's pressing. Motivated players are a different kettle of fish, tackles went in, the passing was crisper and the opponents were closed down. It definitely worked on Iwobi, what a change to see him stand up and give some back. If he works on his end product, we have a player here.
Two goals from Auba shut up the home support (who sang some pretty distasteful songs about Jack Walker) the second was a particularly good finish, but he really could have scored more and won the golden boot outright. Pleased to see Eddie and Joe Willock get a run out, more academy players please. Eddie got a goal at the death, his first in the league, which I couldn't see due to the awful view in that ground, but at least I wasn't on the wooden benches this time.
If this was an audition for a place in the cup final team, then I think only Leno and Auba passed. We play in a different style with Leno in goal, he is an extra outfield player and did mug off one of their forwards. Cech is likely to play in the final, but he isn't our best keeper. I hope that is the last time I see some of these players in an Arsenal shirt. If we had shown a quarter of that second half determination in the last few games, we'd be in the top 4, perhaps even 3rd. It's difficult to judge this game in isolation when you've seen our recent games.
I do question the coach over the run-in with his selections, substitutions and why he could not put a fire in their belly. The language and communication must be a factor, "good ebening" can only go so far. Is it still too early to judge Unai? If he pulls out a win in Baku the season will have to be viewed through that prism, but is it still papering over cracks? This team needs investment. If that doesn't happen it'll be more of what could have been and the Bruce Rioja theme will continue. Baku is huge for us. This season seems to have flown by, but it's not over yet… Come on you Gunners!
The current issue of The Gooner will be on sale from the ever reliable Alex in Baku at the Europa League Final. It can also be posted to you (£6 UK addresses, £7.50 overseas) if you wish to buy it through our online store or if you have a PayPal account you can simply send us payment direct click here for our paypal.me link (although please remember to put the name and address for sending your issue in the message, and if you forget, then email us at thegoonerfanzine@btinternet.com to let us know those details)
2019-20 season subscriptions still available!
Having reached our target of 1000 paid up subscribers to continue printing in 2019-20, we are welcoming further subscriptions. For £30 (UK addresses) or £42 (overseas addresses) you receive six x 68 page issues through your letterbox over the course of next season.
There are four ways to pay –