Online Exclusive
Ooh… You Are Awful
A reflection on where Arsenal stand after a season under Unai Emery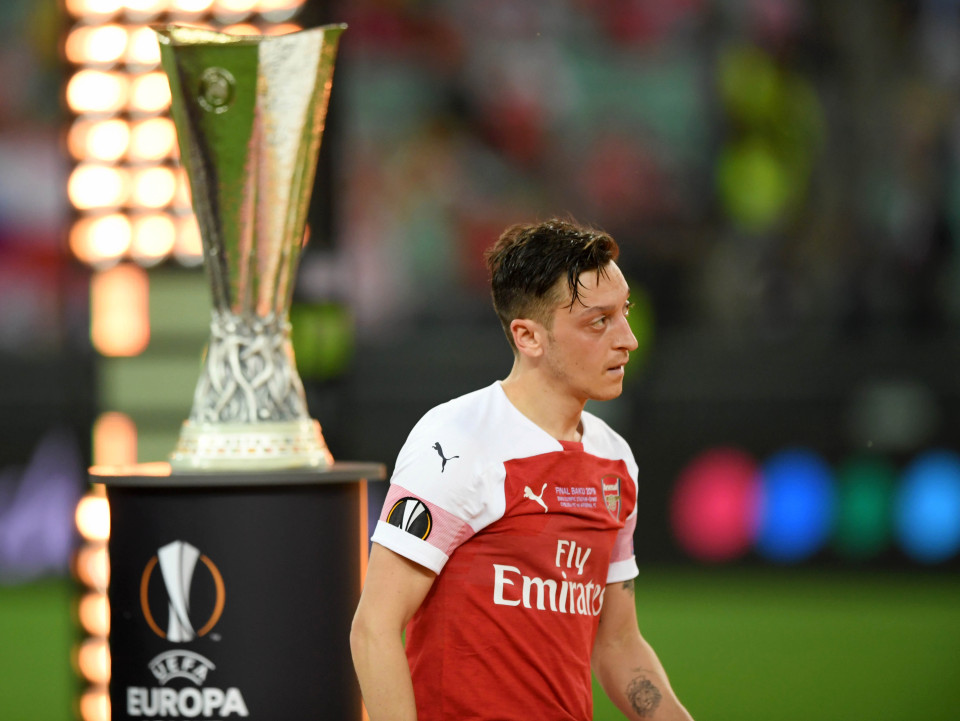 On hearing of Unai's appointment just under 53 weeks ago, I'd promised myself in a moment inspired by cult Channel 4 comedy 'Peep Show' that I'd sell the above headline to a tabloid newspaper at the appropriate moment. Unfortunately for my bank balance, tabloid editors are a bit shrewder with their funds than say, buyers of Seafront property in Birmingham (or Shkodran Mustafi). However, the appropriate moment to utter these words sadly seems to be now. For a while, it seemed that the factions among the Arsenal fans would be 're-unai-ted' behind the new man. The Emery era had the unfortunate luck of starting the season with a visit from reigning Champs and future treble winners Man City (I'd personally bet my own West Midlands Beach House they'd have done it without the Sheikh's millions) followed by an away visit to another oligarch funded outfit in Chelsea. Both of which ended in somewhat inevitable defeat.
The size of Unai's job seems to be akin to that which befell George Graham in 1986 and likewise Emery had his own 22 match unbeaten run in all competitions to give hope to Gunners fans. One telling difference however would be the fact that when GG's run ended with a 0-2 defeat at Old Trafford in late January 1987, Arsenal actually sat top of the old First Division with a clear margin and boasted some thumping wins like 4-0 away victories at Southampton and Aston Villa and a 1-0 away win over that season's eventual champions Everton. When Unai's 22 unbeaten run ended Arsenal stood fifth in the table and despite twelve straight victories, the run was somewhat inflated by Europa League victories over sides from the Ukraine and Azerbaijan, as well as seeing off Brentford at home in the League Cup. Not to mention that the run somewhat papered over cracks that draws with Crystal Palace and Wolves clearly highlighted.
Arsenal managed a stable run through February and March, returning after a fortnight's break from fixtures, Arsenal returned in early April with a reasonable expectation of finishing as high as third in the table and winning the Europa League to guarantee the return of Champions League football, with a run in of what looked like eight relatively easy league games. The fact that the run of four Premiership fixtures from Easter Sunday to Mayday taking in Palace at home, Wolves away, Leicester away and Brighton at home, reaped just one point from twelve, leaving Arsenal finishing one point off of a Champions League place in fifth would rightly infuriate most observers. People rightly say that post-Wenger it's a rebuilding job, but if you employed a builder at your home who finished a job in the way Arsenal finished 2018/19, would you bother paying them?
Arsenal's longest standing problem had been their defence. One year into Emery's reign and it seems like little has changed. Worse still, the strange passing manoeuvres between goalkeepers and defenders which appeared early on this season had seen Arsenal acquire defensive failings which even the Wenger period didn't stoop to. Oddly enough, Arsenal have reached five finals in six years, which on the face of it looks good for a side experiencing lean years. However, despite a club which have experienced historical calamities such as defeat to third tier Swindon, losing to Luton Town in 1986 and an under-performances against Ipswich Town in 1978 and West Ham in 1980, Arsenal losing a Cup Final by three clear goals was unheard of until the last few years.
For a club historically famed for last minute goals which came as a result of persisting until the very death, the current day Arsenal side seem to concede defeat in major games very early. During the week of the Semi Final second legs where Spurs and Liverpool pulled back three goal deficits, I tweeted that Arsenal these days would never perform such a comeback. The 1-4 defeat in Baku pretty much proved it and showed that Arsenal still lack on pitch leaders. But what seems more frightening from an Arsenal point of view is not so much that Emery has failed to address these problems, as to the extent he is accorded with the power to amend them.
First up was the Petr Cech situation. Though arguably Cech was one of the least responsible offenders in the Baku debacle and somewhat kept the score down, the very fact that so much of Arsenal's future destiny rides on the result, why the hell are Arsenal not picking their first-choice goalkeeper? (which most objective observers would admit is not Petr Cech, hence his impending retirement). Many would state in mitigation that it was a nice touch to allow a past goalkeeping great the opportunity to bow out at the top against his former side, but when did selecting an Arsenal side for a Cup Final become a version of 'Jim'll Fix It' for retiring millionaire goalkeepers?
And to run again with the parallels of 1986/87, Mesut Ozil's inconsistency seems somewhat akin to what GG experienced with Charlie Nicholas. Ozil however doesn't have Nicholas's excuse of an Arsenal side that doesn't play to his strengths (or a Cup Final performance that bagged an Arsenal trophy with two goals). Ozil to some people seems something of a god-like figure, which is kind of ironic as despite the fact everyone goes on about how great he is, you're often left wondering whether he actually exists. Though his online followers are quick to point out impressive stats, you often wonder whether Ozil has managed to master the same knack with Opta stats that certain website use to push their site further up on a Google search.
The famed battle between GG and Charlie Nicholas ended with the inevitable exit of the latter. Sadly for modern day Arsenal, despite this footage of Ozil spouting obscenities about his rightful substitution by Emery due to Cup Final performance so Mickey Mouse that even Mickey Mouse would complain about the comparison, the Gunners are stuck with Ozil until 2021 on around £350,000 a week. The size and length of the contract leaving Arsenal so hamstrung they needed to let popular twice Cup Final winner Aaron Ramsey leave the club on a free transfer. In allowing Emery's predecessor to negotiate such a contract, leaving his successor bound by such a millstone around the neck, the Arsenal board's negligence is damning and also a wake up call for anyone thinking Emery could work a GG like resurrection of Arsenal's greatness when shorn of all the authority accorded to George Graham.
Which leads us to the very heart of Arsenal's malaise. As much as Emery can be blamed for failings, what about the board who appointed him in the first place? In the near decade long speculation on who would succeed Arsene Wenger, did anyone outside of the Arsenal board room even consider Unai Emery? (despite being three times winner of the Europa League at a time when it didn't bring automatic Champions League qualification). For the Spaniard to excel post-Wenger, you'd have to afford Ivan Gazidis and the Kroenke's some sort of football decision making acumen, which they showed very little of in the years prior. Gazidis has now gone, but the Kroenkes remain and should Unai exit the club they'd be left with the opportunity to oversee another appointment at the club.
From where Arsenal stood in 2006/07, before the Kroenkes entered the fray, to where the club is now, the picture is becoming ever clearer that their presence is a malignant one for the club and the longer they remain the less Arsenal-like Arsenal will become. To paraphrase the catchphrase of Unai's old uncle Dick, the Kroenkes are awful. And no, I don't like them one bit.
Robert Exley is the creator of the YouTube series By Jesus Said Paddy and can be found on Twitter@robert_exley
The current issue of The Gooner (£6 UK addresses, £7.50 overseas) can be bought through our online store or if you have a PayPal account you can simply send us payment direct click here for our paypal.me link (although please remember to put the name and address for sending your issue in the message, and if you forget, then email us at thegoonerfanzine@btinternet.com to let us know those details)
2019-20 season subscriptions still available!
Having reached our target of 1000 paid up subscribers to continue printing in 2019-20, we are welcoming further subscriptions. For £30 (UK addresses) or £42 (overseas addresses) you receive six x 68 page issues through your letterbox over the course of next season.
There are four ways to pay –
NEW! Subscribe to the Gooner news list to stay up-to-date with all the latest breaking Arsenal news.
Please note that we will not share your email address with any 3rd parties.
---