Online Exclusive
The Freddie Ljungberg / Steve Bould Job Swap
Thoughts on the coaching team re-shuffle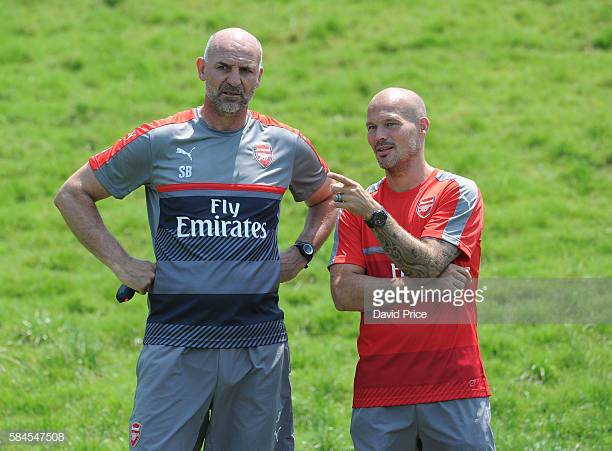 Those who can recall Steve Bould being promoted to Arsene Wenger's number 2 (to replace Pat Rice) back in 2012 will remember that Bould was at the time the youth team coach. He was well-rewarded for taking a job he reputedly didn't actually want – perhaps aware that his opportunity to coach might be more limited working alongside Arsene Wenger. Listening to some of Bould's former colleagues over the years since, that certainly seems to have been what happened. Nevertheless, when Arsene was told he would be stepping down at the end of the 2017-18 season, his number 2 was on a significant wage – around the £35,000 a week mark. Wenger paid his loyal acolytes well, and Bould never spoke out of turn, even if at times his body language told a different story.
Bould could have gone with many of Wenger's backroom team last June, but survived the night of the long knives that was administered in ruthless fashion by Ivan Gazidis. I've heard that one of the reasons that Bould was retained was that Unai Emery did have meetings with certain of Wenger's coaching staff and Bould told him the truth about the players he was inheriting. It concurred with Emery's own research on the players and the new head coach was impressed enough to keep Bould on for the remaining year of his contract. Jens Lehmann was one that did not survive the cull.
If there was a belief that Bould would finally be given the opportunity to drill some George Graham style defensive discipline into the back line, it was mistaken. Even if using the the best betting app, anyone betting on an improvement in Arsenal's defending would have been sorely disappointed. Although Emery allowed his coaches input, it seemed that only the men he brought with him were actually doing it. There was little difference in Bould's contribution compared to the six seasons working with Wenger. On matchdays his touchline duties seemed restricted to doing the admin with the fourth official for the substitutes. He cut a sorry figure. Still, on £5,000 a day, who wouldn't swallow their pride?
His contract expired at the end of May, and the club could have let him go. However, I suspect the job swap with Freddie Ljungberg is happening for two reasons.
Firstly, cost-cutting. Ljungberg will not be on Bould's wages, not least because Emery already has Juan Carlos Carcedo as his main assistant. Ljungberg may be joining the first team coaching staff but I doubt he will be getting Bould's job title of first team assistant head coach. Additionally, Bould will now take charge of the under 23s, on a lower wage than he was getting. Bould could, of course, seek to spread his wings and take charge of a lower division club, but his wages would most likely be less than he will be getting at Arsenal, and the job security is almost non-existent. In a sense, his opportunity to take charge of the younger players will demonstrate whether or not he can actually still cut it as a coach after years of relative inactivity.
Secondly, the promotion of Ljungberg may well be tied in with a club decision to utilise more of their Academy produce. That is down to financial necessity financial necessity. Ljungberg will know the players that may become more regular first teamers over in the next season or two having worked with them already. In truth, the club are probably covered for numbers where coaches are concerned. They could have released Bould and left Ljungberg where he was, so the assumption must be that he has something to bring to the table and will presumably be given the opportunity to do more coaching than Bould did.
It's sad though, that Bould - it seems – was never given the opportunity to work for an extended period with the first team under either Wenger or Emery. Although perhaps he isn't that great at imparting the knowledge he picked up as a player. Who knows? You would have thought Emery would have given him the chance to show his abilities as a coach. Maybe be did. One thing is beyond doubt. Arsenal's players need some work done on the defensive side of their game. In the last season under Arsene, they conceded 51 Premier League goals. In Emery's first, exactly the same. It's the reason your writer cannot see any good reason for continuing with Emery for another year. We're surely in for more of the same next season. Is Freddie going to improve the defence? Exactly. Even allowing for the injuries to Bellerin and Holding, Emery still had six international defenders to select from.
Assuming, a year from now, Emery and his team are given their cards, it will be interesting to see if the club retain Ljungberg, as they have done with Bould. In the meantime, we'll see Steve Bould the coach once more, for the first time since 2012. Perhaps he can develop some defenders for the first team…
The current issue of The Gooner (£6 UK addresses, £7.50 overseas) can be bought through our online store or if you have a PayPal account you can simply send us payment direct click here for our paypal.me link (although please remember to put the name and address for sending your issue in the message, and if you forget, then email us at thegoonerfanzine@btinternet.com to let us know those details)
2019-20 season subscriptions still available!
Having reached our target of 1000 paid up subscribers to continue printing in 2019-20, we are welcoming further subscriptions. For £30 (UK addresses) or £42 (overseas addresses) you receive six x 68 page issues through your letterbox over the course of next season.
There are four ways to pay –
NEW! Subscribe to the Gooner news list to stay up-to-date with all the latest breaking Arsenal news.
Please note that we will not share your email address with any 3rd parties.
---