Online Exclusive
#IDon'tCareDoYou?
An Open letter to the statement from the "Arsenal blogosphere clique"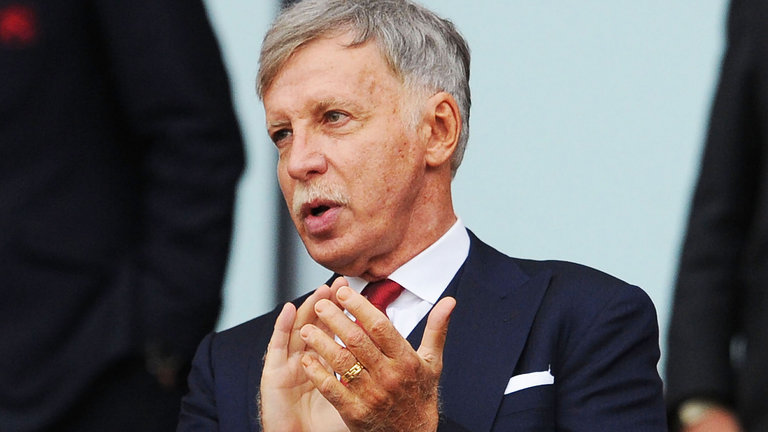 (Ed's note – open church here at The Gooner – we print views from across the Arsenal spectrum – please remember that doesn't mean we agree with all of them!)
Dear bloggers,
I write this as someone who has been an Arsenal fan for over 40 years, held a season ticket for over 20 years and has watched the club fall into a steady decline, something that was obvious to everyone with a brain and impartial analysis, as far back as 2010. I need to ask what the point of your "open letter" to Kroenke was? Do you even know what you want? That letter reads like Santa's wishlist and does not contain any concrete or firm proposals, just a bunch of aspirational questions/wishes! What is "Arsenal DNA"? Is it losing matches 8-2? Or capitulations? Or celebrating 4th place? What is it? It certainly isn't winning.
I don't know if any of you have noticed but Arsenal has been in rapid decline since 2010. Arsenal has not once finished within 3 points of the Premier League title winners since the club last won the league in 2004! That is a joke. Arsenal managed to finish 10 points behind Leicester City in a season where Man United, Chelsea, Liverpool and City ALL took the season off! And still then, Arsene Wenger could not complete the job. Arsenal have suffered some of the biggest capitulations and humiliations that have been witnessed in our lifetimes: there was an 8-2 at Old Trafford, a 6-0 in Wenger's 1,000th game at Chelsea, a 6-3 at City; 5-1 at Anfield happening within weeks of each other etc. The Champions League football that Arsenal fans seem to so be desperate for, was even more of an embarrassment. Everyone remembers that 10-2 Bayern thumping in Wenger's last ever CL tie. Oh it was Wenger that left Arsenal in the Europa doldrums FYI, we all recall that. Right?
So you see, Arsenal have been having serious issues for a decade. For a decade the club has not come close to competing for the PL, has not competed for the CL (8 consecutive last 16 defeats) and has continually sold its best players to domestic rivals, and below market value. Stan Kroenke is not an ideal owner – far from it – however, I need to ask what it is Arsenal fans are moaning about? They spent years under Wenger pretending Arsenal was some moral arbiter club that didn't do "sugar daddy ownership" and was "self-sustaining". All of a sudden, they are whining because they want to be like Chelsea or City? Funny that because those of us who asked this exact same thing back in 2010 were accused of being "entitled" and told to "f*** off and go support City". In Arsene Wenger's final five years at Arsenal, he spent over £350 million on players! Check the numbers. Arsenal are currently hampered in the transfer market because the club is packed with overpaid dross that cannot be given away: Wenger/Gazidis gave Ozil £350k per week. Wenger again paid £35m for Mustafi. Wenger brought in Koscielny who has a dead Achilles and displays a shocking attitude. Wenger again, paid Mkhitaryan £180k a week. Wenger allowed Aaron Ramsey's contract to run down to its final year hence allowing him to hold all the cards, just as he allowed Sanchez' deal to run down. Etc. These scandalous financial decisions are what are hurting AFC today. If Stan Kroenke is guilty of something, it is of allowing Arsene Wenger to spend crazy money on rubbish. The reason Arsenal's budget is restricted is simply down to the reckless financial mismanagement of Arsene Wenger and Ivan Gazidis. Simple as that. It's a problem years in the making, not one season in the making, as this laughable letter pretends. (Ed's note – interesting interpretation of the statement, as I wasn't aware it only referred to last season)
Yet what is instructive, is that for that decade when Wenger and Gazidis conspired to blow hundreds of millions of pounds on garbage and harmed the club's future prospects? There was not a single demonstration, a single protest or a single concerted effort from this list of "influencers" (whatever the hell that fake job title means). Not a peep, because every single one of these Twitter warriors was a Wenger apologist and acolyte. Much like the mainstream media, they would write for clicks and worship or excuse all Wenger's recklessness. They were perfectly happy to preach "patience" year after year, despite all the evidence pointing to Wenger misusing Arsenal funds. These same bloggers who now want credit for "doing something" (errr what's that then? Writing a letter Kroenke will never read, to get more PR, and more clicks for your blogs?), are the same bloggers who mocked other Arsenal fans who at least tried to hold protests to get rid of Wenger. The blogs in question know who they are. They ridiculed those trying to effect change in the stadium, something I respect more than writing letters nobody of import at the club will ever read. Some of these blogs were even accepting freebies from the Kroenke regime, promoting AFC club tat on their blogs – and yet, now that their beloved Wenger is gone, they are pretending that there is suddenly "an emergency"? Where have they been the past decade! Sorry but this letter smacks of the cowardice we see running through the playing team. Spineless fans, spineless players.
Please note how these "influencers" clique of AKBs have waited until the first post-Wenger season to finally pipe up. Not a word before then. Also note, that these "influencers" appear to be complaining about Kroenke "not investing" while conveniently overlooking that Tottenham Hotspur, in their first season after moving to an expensive new stadium in London, smashed their (and Arsenal's!) transfer record and outbid Arsenal for a player in the market! They did this without being owned by oil money, with a much lower wage bill than Arsenal, and did not sign a player in 18 months prior. Kroenke has spent far more money over the past decade than Tottenham have. Or, you could look at Diego Simeone, who spent far less net money than Wenger ever did at Arsenal, and in a comparative period won a League title against not one, but two superclubs, made two CL finals, and won two European trophies. All while being paid far less in salary than Wenger. These "influencers" also need to recall that their beloved Arsene Wenger strongly defended Stan Kroenke and called him "a dream owner". They weren't so willing to attack Kroenke when Arsene was endorsing him though eh? So you see, Kroenke actually gave Wenger far more resources than the likes Pochettino, Simeone and Klopp have been provided on a net basis. Check the numbers. The main difference, is that Simeone, Pochettino and Klopp etc have been far more competent at selling and buying players. They have not paid crazy salaries to garbage like Jenkinson, Elneny, Diaby, Gervinho, Song, Chamakh etc. All the cash they got for selling was reinvested in upgrading players – while Wenger and Gazidis trousered it. Kroenke is guilty of not reining in Wenger's spending and of not sacking him sooner.
Perhaps if these "influencers" cared so much about AFC, we would have heard something from them back in 2012 after Arsenal were destroyed 8-2 at Old Trafford, an entirely avoidable humiliation that happened simply because Kroenke provided Wenger with funds, but Wenger thought he was so smart he could risk going into a season and scraping 4th without spending. It took an 8-2 thrashing and then, mysteriously, Wenger went out and spent over £75 million on new players within the space of a week! Magic eh?
So, while we must all acknowledge Kroenke is a dispassionate, disinterested owner, we must also acknowledge that this has always been the case – but it's odd because these bloggers have only just now realized this. Hmmm ok. Kroenke delegated everything to Wenger, and gave him huge funds to make the club a success. Wenger blew the lot, talked about his "sense of financial responsibility" but of course, he made sure he collected his £17m payoff for being sacked; he loaded the wage bill with horrific players on crazy money, allowed the only sellable asset (Ramsey) to run down his deal to the final season, he pulled the plug on the Sanchez-City deal, hence denying the club an extra £60m in transfer funds, he then awarded the clown Ozil a £350k a week wage when literally nobody wanted to sign him. THIS is the legacy that has meant the club has had to rein in spending until it can extinguish the dumpster fire Wenger/Gazidis started.
So, seriously. This "open letter" is an embarrassment and Kroenke will rightly throw it in the trash can or wipe his behind with it. Why would Kroenke suddenly listen now when these same fans basically gave him a free pass for a decade? What has changed now? They won't boycott, they are not demanding, and we have seen 4th place is the height of these "influencers" ambitions. While I would usually commend someone making an effort to force change, this is a transparent media exercise designed to heighten and get more clicks and "social media awareness" PR for these laughable bloggers, and, more to the point, it is a mode of action that is only a decade overdue. Bravo!