Online Exclusive
Arsenal pee on French centenary parade
French residing Gooner gives his view of Wednesday evening's friendly v Angers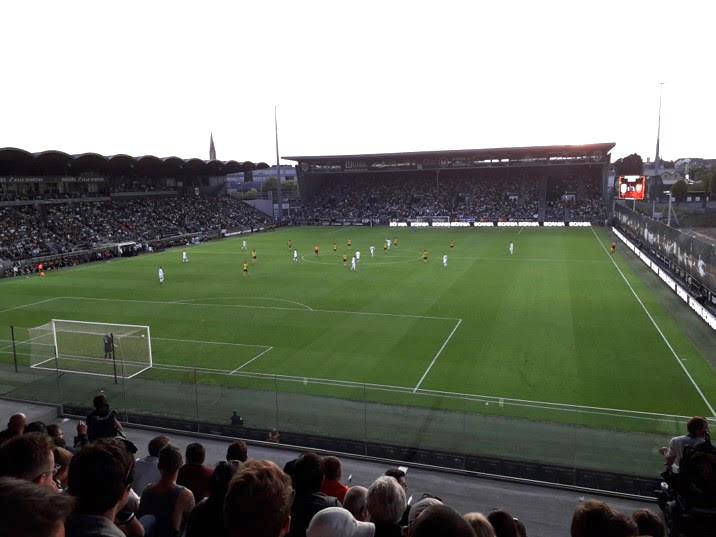 Angers SCO 1 (El-Melali) Arsenal 1 (Nelson) (Arsenal won 4-3 on penalties)
Going to Arsenal away matches is difficult enough, but when you live abroad it is nigh-on impossible. I tried to go to Rennes for the Europa League tie, but they could have sold the stadium three times over to their own supporters, so a 2 hour drive from Poitiers to Angers on a sunny Wednesday evening seemed like a good idea.
This match marked the start of Angers' centenary season, which explains why they plumped for a match against «le plus Frenchy des clubs Anglais» as the club website put it, and there was quite a party atmosphere going on, both outside and inside the ground. We learned that the club mascot is a panda (the home shirt is black and white) and that a club hymn sounds just as crap backed by a 3-piece rock group as by the Metropolitan Police Brass Band. I was quite surprised to see so many Gooners at a (for us) meaningless match, but many of them were French or fellow Brits living in France.
Some of our bigger stars were missing, Ozil and Kolasinac presumably due to the car-jacking incident and Laca to protect him from the ankle injury received against Lyon. Leno stayed on the bench while Emi got the whole match in and I thought he impressed overall.
Angers got an early goal after less than a quarter of an hour, when El-Melali used his speed to get between the two defenders (neither of whom was Mustafi it has to be said). Monreal did not endear himself to the home fans with a number of needless and recklessly dangerous fouls in the first half. I don't understand why you'd play like that in a friendly match.
Martinelli had a good match, he put himself about a lot and showed lots of useful touches. Along with Emi and Mustafi, he played the whole match. I think Nelson would have played the whole match as well, not just because he scored, but he got taken off ten minutes from time to protect him after receiving a knock. The French Gooner sitting next to me agreed that he has benefitted from his year in Germany, although how he gets regular game time ahead of Auba, Laca and Pépé I'm not sure.
The first half was disappointing, rather same-old-Arsenal, but that seemed to be a result of the preponderance of academy graduates playing against Angers' first-choice players as the performance improved dramatically with the arrival of Xhaka, Miki and AMN, and subsequently Auba, who shot embarrassingly over the bar and had a goal disallowed.
The match ended with a penalty shoot-out in which we won to rather p*ss on their centenary parade. Appropriately, it was a save by Emi from Arsenal old boy Jeff Reine-Adelaide that sealed it. On balance an enjoyable night out, with signs of promise from Nelson, Martinelli and even Chambers, who seemed to have a good understanding with Mustafi on the night.