Online Exclusive
Kieran: The Final Frontier-ney?
Why Arsenal need to get their business completed for the Celtic left-back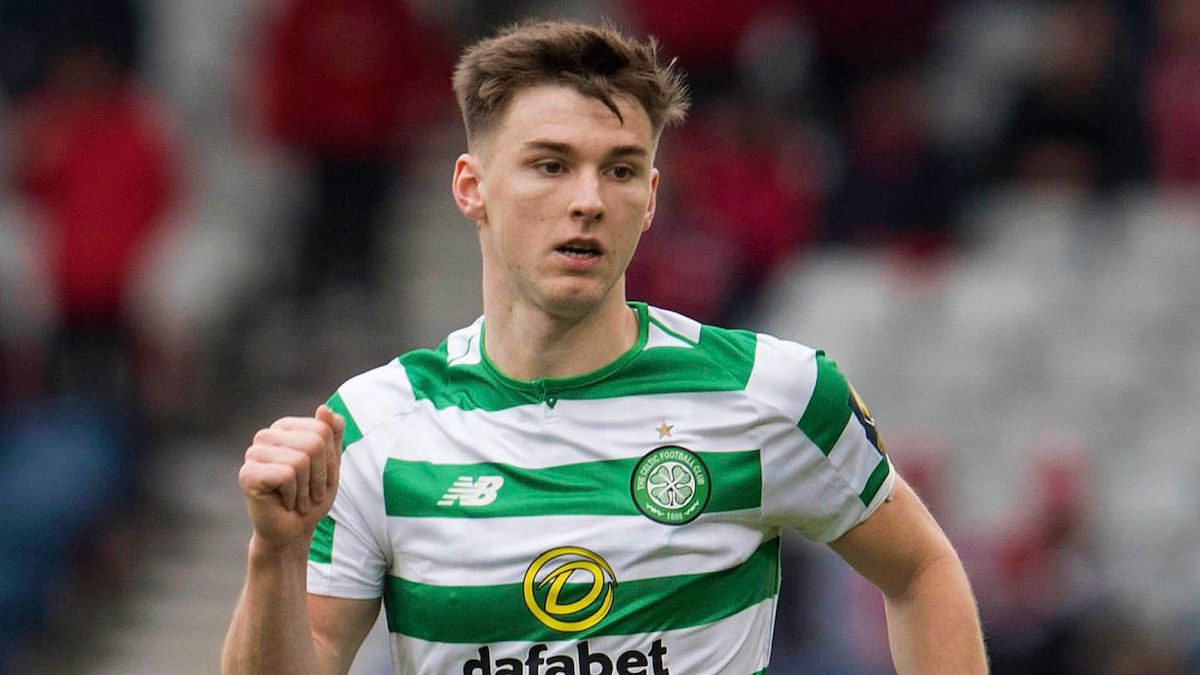 Like an unhinged defender joining our ranks upon noticing the dearth of quality in our backline whilst simultaneously ignoring our long-standing track record of volcanically soiling our own footballing bed linen; I am opportunistically positioning myself as The Gooner's vacant, resident Kieran Tierney expert.
Even at the expense of my excommunication from the parish.
My Catholic credentials speak for themselves as I expand them:
Coming from a city/family divided by the religious and political hatred of the Old Firm, I believe I can speak with some distance and rationality when analysing Kieran Tierney purely as a footballer. The Lanarkshire left-back isn't quite the Roberto Carlos some sections of Glasgow would have you believing but he certainly won't be exposed under increased surveillance like André Santos and that speed camera on the A41.
If he does sign and complete our business for this summer's transfer-window (barring some new; tasty; last-minute; central defender-plaything we can break!) the comparisons with Andy Robertson will quickly become redundant. There's only so many times Michael Owen can utter streams of his own consciousness in the realisation that yes, they are both from Scotland. And yes, they are both left-sided attacking full-backs.
However, from the volume of Celtic and Scottish international football matches that I force-feed in aid to my burgeoning sense of fractured faux-nationalism, I can tell you with conviction that Kieran Tierney is solid and would not hesitate in tackling his own gran.
Not dissimilar to Bacary Sagna in style; albeit with a far more functional haircut; Tierney is a TIER above (I will not express regret) our current options defensively. With our shrunken, Spanish Peter Crouch-lookalike deteriorating and our walking abattoir meat-hook man being widely regarded as unsuitable to playing consistently in a back-four, Tierney would be our first choice almost immediately. Well, after recovering from his 'Osteitis Pubis' problem.
Which; as we all know; is dead Latin for 'Achilles Heel'.
Hopefully that injury develops as well as the technical and progressive side of his game did under two and a bit seasons of Brendan Rodgers' more expansive style of football. Continuing this trend in a league bound to challenge and improve him offers Tierney the potential to explode with effectuality like that of his fellow countryman at Liverpool - provided he's given a structurally similar tactical-blueprint to exploit. Despite Unai Emery being expected to play a flat back-four more regularly this season coupled with the additions of record-signing, Nicolas Pépé and our returning academy loanee, Reiss Nelson, to the first-team wide berths - I do believe that Tierney; and Bellerin; when fit and firing will provide much of our incisive, possessional width and high pressing close to the opposition's final-third.
My only real concern in his adaptation will be the off-field culture-shock of moving to London. The number 63 comes across as a very composed and confident individual on the pitch although an abrupt transition to a super-city which lacks the more settled, familial vibe he blossoms in at Parkhead could make finding comfort in his new Premier League surroundings difficult to begin with. It can't be easy leaving behind fans who adore him as a boyhood Celtic supporter. His passion for the club no more illustrated than in the 2017 Scottish Cup Final against Aberdeen where after a thuggish, first-half challenge broke his jaw; ending his contribution early; he discharged himself from hospital to then run past exiting Dons' supporters outside Hampden to celebrate the victory with his teammates and fans. If he can handle the pressure-fryer of Glaswegian mortal-enemy bloodsport, he'll find a trip to Brighton a day at the beach.
Ultimately, if we can harness half of that enthusiasm for his current team, for us, we'll have a future leader on our hands.
Telling him we sat idly by and watched the artist formerly known as Rangers Football Club die in 2012 in spite of them bailing us out financially in 1910 might help too.
In fact, that'd probably seal it for him.
Christ, I pray we actually buy him after this screed.
"Follow, follow…"
Twitter@buffalogalps
x