Online Exclusive
Arsenal demonstrate some strategy in the transfer market
The budget might only be £44m, but the Gunners are trying to spend smart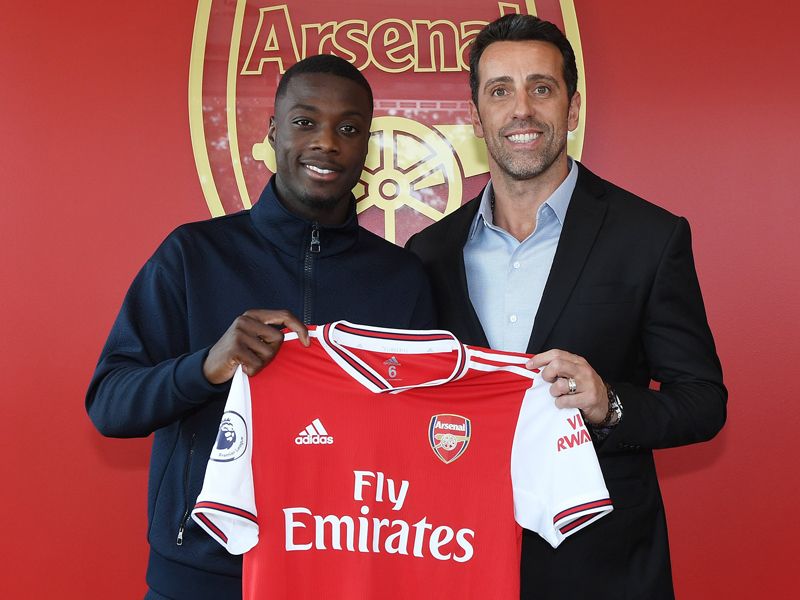 Ok, so let's look at how much Arsenal have actually spent so far this summer in the transfer market
£6m on Martinelli
£3.7m on Saliba (the remainder to follow once the player arrives in the summer of 2020 – although the payment of the full fee may be staggered over the length of his contract and the amount due will be linked to his success)
£4.1m loan fee for Ceballos
£18m on Nicholas Pepe (3 futher instalments of £18m due over the next three summers)
Total so far - £31.8m
And you wonder why Arsenal are quibbling over a couple of million for Kieran Tierney? Possibly also investigating the potential of staggered payments to Celtic. As for a centre back, it would seem that the arrival of a new face is reliant on getting some income in for a player Unai Emery is willing to let go – the obvious names being Mesut Ozil, Henrik Mkhitaryan, Shkodran Mustafi and perhaps Sead Kolasinac. The club has at least received some money for wantaway captain Laurent Koscielny, but it's questionable how far that will stretch.
Regardless, the bottom line here is that Arsenal, through intelligent use of limited funds, have so far secured players they do not have the funds to buy outright at this time. They probably could not have afforded to purchase Ceballos on a permanent basis, and certainly not paid the complete fee for Pepe. It's certainly also true that a good number of transfers are negotiated this way – and apparently it's Huss Fahmy who represents Arsenal in brokering these deals. For a club like Lille, who sold Pepe, taking the money over four summers is apparently better for their Financial Fair Play observance, as the club are not planning to splash the Pepe cash on a big player, probably because the wages of such a signing might prove a problem.
Raul Sanllehi has a contact at Lille, and part of the reason he was brought to Arsenal by Ivan Gazidis (as well as the two being good friends) was his contact book. He's also on board partly to ensure that if there is a European Super League set up, Arsenal will be invited. Whether an ESL with limited promotion and relegation is good for the game is a debate for another time, although many fans' organisations Europe-wide are campaigning against it.
Still, back to transfers. Long term Arsenal Spanish scout Francis Cagigao has officially replaced Sven Mislintat in terms of job title (Head of International scouting), but one wonders if Sanllehi's contact book is now in effect the real chief scout. Being in touch with people all over Europe he will inevitably get opinions on future potential stars. One imagines the arrival of Edu may mean similar for an in to the South American market (and who knows what role Edu played in securing Martinelli).
Of course, the success of this summer's transfer window initially cannot be judged until Thursday's deadline expires, and then how the team perform with the new arrivals over the course of the season. There's no question the centre back options do not look any better than last season when so many goals were conceded.
If you have enough confidence to put a bet on any belief that the additions in attack can compensate for the weaknesses at the back, be sure to check out the top betting sites by Wincomparator before placing your money. Certainly Arsenal need to improve or Unai Emery and the club are likely to part ways next summer.
So the big money deal for Pepe has given heart to supporters fearful that the club have fallen behind, as have the decisions by players wanted elsewhere (not least Tottenham) to join Arsenal instead. It's a consequence of some clever dealing by Sanllehi and Fahmy, and one hopes that the club are more intelligent with their funds than they were for many years, negligence which has allowed Spurs and Liverpool to catch up financially, and shove Arsenal out of the Champions League places.