Online Exclusive
Arsenal's Official Programme: Version 2019-20
Thoughts on this season's matchday programme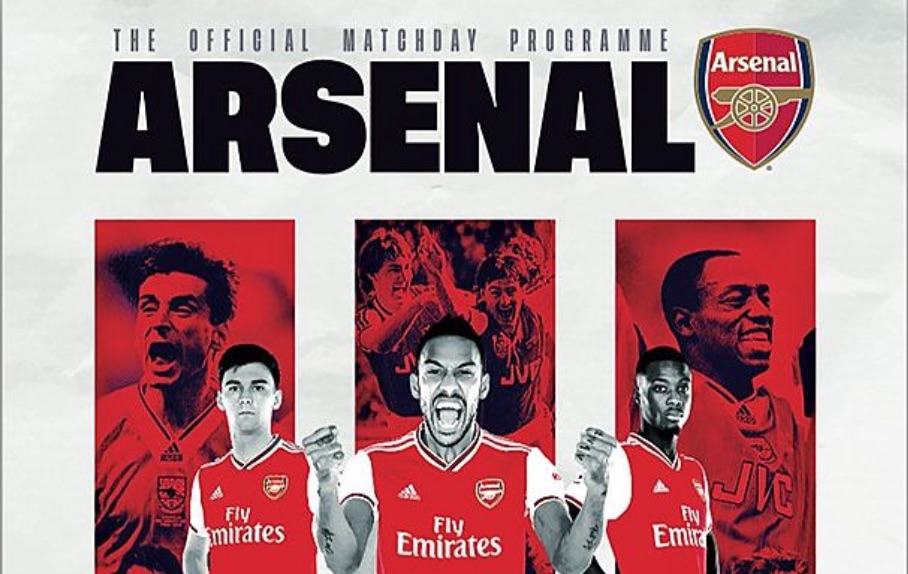 Programme sales aren't what they used to be. Arsenal give away a matchday programme to everyone in club level and the hospitality boxes (a potential 9,000 if all the seats are filled), with the other 51,000 attendees (on average it's probably around about 45,000 per match in reality) having to buy theirs. In Arsene Wenger's final season, before the final home match programme (a tribute special for the Burnley game), sales were between about 3,500 and 6,500 depending on the match… and the attendance. The club printed 47,000 for the Wenger farewell match, and it sold out (although of that number up to 9,000 were given away). A couple of subsequent reprints took the total up to 80,000.
Printed magazines and newspapers don't sell as they used to due to the march of technology and our ability to get information from our phones and laptops for free. In Scotland, several league clubs have stopped producing a matchday programme and I think lower division English clubs will follow suit soon enough. Arsenal will probably continue to produce a programme even if it reaches the stage of losing money because of the middle tier giveaway perk. But less and less people are buying it. Maybe they should think about bringing back the cup final vouchers!
Anyway, let's see if this season's version is worth your £3.50 (on which note, the price is nowhere to be seen on the cover, which may or may not contravene trading laws). First up, it should be noted that, unlike The Gooner, the programme is obviously not independent, and a mouthpiece for the club. So we are only going to get good news for the most part. Unai Emery's column is obviously ghost-written but it does sound like some of his language has been used, so one imagines someone from the press office sits down with him to form the basis of the piece before writing it. It doesn't really tell you a lot, much like Emery's press conferences.
I assume 'View From The Dressing Room' is the what now passes for the captain's column, although how this pans out is uncertain, given Emery has said he wants five captains, and at present only has three (Monreal has become one of them, after Koscielny, Cech and Ramsey departed in the summer – Ozil and Xhaka are the others). So there has been no official announcement as to who the club captain is, but there is an assumption it is going to be Granit Xhaka, although this feels more by default than anything else. Xhaka pens the column anyway, so it will be interesting to see who does it for the Spurs game, to see if it's rotated like the armband may be. As for the words Xhaka expresses in his column, let's just say you wouldn't bother buying the programme to read them. The usual platitudes, possibly written by a member of the press department.
'The Voice of Arsenal' is a potpourri of bite-sized news, and there's a review of the comings and goings at the club on the playing front. It's information rather than genuine enlightenment. Before we continue, let me put my cards on the table here. My interest in the Academy team is very limited. I can't recall the last non-first team game I attended, but I have a feeling it might have been an FA Youth Cup tie at Barnet. And there's no two ways about it, with 84 pages to fill, there's plenty on the Academy - 15 pages - to provide content for the programme. The ladies get two pages, which feels a bit disproportionate, but I can't say I'd read that either.
Still, it's not all bad news. The profile of the opposition ends with a page from tactics guru Michael Cox, while four pages on the Newcastle game conclude with a chalkboard of Matteo Guendouzi's contribution with a write-up. This is the kind of stuff you can't find too easily elsewhere, so there is finally something to get your teeth into.
Nostalgia is where a lot of football programmes come into their own, and the guard can be allowed to slip a bit. There's an excellent three page piece on Charlie Nicholas' fashion sense in the 1980s by Jon Spurling, which looks to be the first in a series – let's hope so. There is more brilliant retro content with a two page reproduced 'At Home With' photo, this time of the late George Armstrong at home with the wife and kids, including prolific tweeter, daughter Jill. It's followed by a four page 'At Home With' spread with a current player – Rob Holding. No cheesy pics though, times change. He mainly tells us about his childhood and teenage years, although slips in that he gets subsidized flights for his family from Emirates to visit his sister in Dubai, which is a nice perk!
There's the first in a series of articles on long-serving employees at the club. 38 of them have worked for Arsenal for over 20 years. So we'll get the story of one in each programme, starting with Pat O'Connor, who worked as an electrician for many years and now does various odd jobs in between bouts of ill health. He began working for the club aged 24 in 1965. Do the maths people, he obviously has no wish to retire.
So in conclusion, a smattering of good reading, but in all fairness not enough to justify spending £3.50. Contrast that with The Gooner. It may be 18 pages thinner, but there are 13 pages of ads in the programme compared to one and a half in the fanzine. Anyway, I'm obviously biased!
Buying the programme these days is more often than not done out of habit. Especially by those that pile up their collections at home. And what happens to most of them? Ultimately, they are worth very little, so they'll end up being recycled. The programmes from the 1970s and 80s can be a good read now because of hindsight and the degree of candour that existed in contrast to the PR message management that exists today. But I doubt too many read back their programmes from the last 20 years with much interest, because in spite of them being very thick, there really isn't too much meat on the bone. The reality is they are way too thick. My suggestion – reduce it to 32 pages of the genuinely interesting content and charge £2 for it. And get more quality writers who might offer some kind of independent opinion like Messrs Spurling and Cox.
________________________________________________________________
New issue of The Gooner available from our website shop
Issue 278 of The Gooner can be bought online.
If you want to buy a copy to be sent to you, click here for UK, and if you are abroad click here. On these pages you will find the various methods to pay or you can order through the Gooner store with a credit/debit card via PayPal.
If you wish to subscribe to all six issue of the 2019/20 season, UK and abroad options are on this page.
Support your fanzine!