Online Exclusive
Arsenal's Current Defending Reminds Me Of The Early 1960s
They say football goes in cycles…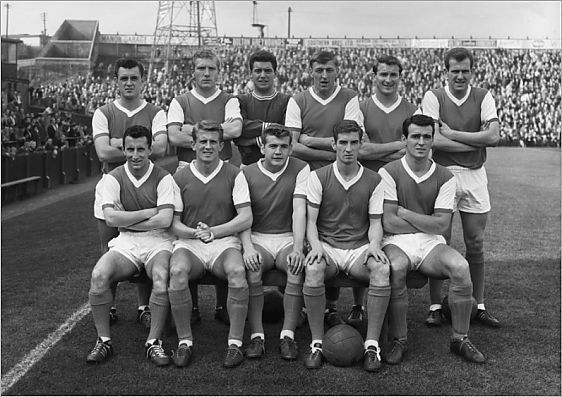 Watching Unai Emery's Arsenal sends me hurtling back in time. To the 1962/3 season, the first I watched at Highbury with my dad.
Former England captain Billy Wright had just started his first job as a club manager, after coaching the England youth team. Highbury was still mainly terracing: the North Bank, the Clock End, the terrace under the west stand upper tier and the enclosure in front of the east stand.
It cost 3s in the old money (15p) for adults to stand and 6d (7 ½p) for the boys' enclosure!
But some things were very similar. Arsenal finished seventh that season. They scored 86 goals, two more than champions Everton. But they conceded 77. George Eastham was the midfield orchestrator, feeding two prolific strikers. Joe Baker scored 29 league goals. Geoff Strong netted 18. On the wings, Alan Skirton chipped in with 10 and Johnny MacLeod nine.
Arsenal's problem, as now, was suicidal defending. The 5-5 draw at Blackburn in November was a prize example. Even at Highbury, the crowd rarely felt secure, even when the team were two up heading into injury time.
The back four, as we'd call them now, was Jimmy Magill, Laurie Brown, John Snedden or Terry Neill and Billy 'Flint' McCullough.
Snedden had come through the youth team. Centre half Brown was a former England amateur international who'd arrived from Northampton. He'd been converted to a defender after starting off as a centre forward. Magill, McCullough and Neill came from Northern Irish football.
There was much less defensive coaching in those days. Wright, despite being England's most-capped defender, couldn't drill organisation into the unit. The fans just crossed their fingers and hoped that the attack would bail out the leaky defence.
Fast forward to 2019 and what's changed? For a decade, Arsenal supporters have been demanding better defenders and more defensive organisation. Arsene Wenger responded by collecting frail midfielders.
Given the evidence of the last 13 months, Emery doesn't do defensive organisation either. It's clearly no coincidence that his Sevilla and Valencia teams regularly conceded more than 50 goals a season.
Watford's first goal on Sunday – that kamikaze pass by Sokratis – could have come straight from 1962. So could the 'tackle' by David Luiz for Watford's penalty and Granit Xhaka's lunge which gave Spurs a spot kick. So could the muddle between Sokratis and Xhaka which allowed Tottenham to take the lead.
Maybe things will improve when Hector Bellerin, Kieran Tierney and Rob Holding are fit. Hopefully they'll be less error-prone than the current crew. Hopefully Emery and his coaches will drill and drill defensive organisation on the training pitch. Stop playing play crazy passes in our own penalty area, for a start. Stop Sokratis diving in and wrestling every opponent in sight.
Maybe Emery could even ask Steve Bould what George Graham would have done?
In the meantime, it would help if Lucas Torreira was returned to the defensive midfield position where he impressed early last season. At least he might give our beleaguered centre backs some added protection.
________________________________________________________________
You can follow The Gooner on
Twitter
Facebook
Instagram
or subscribe to our
YouTube channel
________________________________________________________________
Current issue of The Gooner available from our website shop
Issue 278 of The Gooner can be bought online.
If you want to buy a copy to be sent to you, click here for UK, and if you are abroad click here. On these pages you will find the various methods to pay or you can order through the Gooner store with a credit/debit card via PayPal.
If you wish to subscribe to all six issue of the 2019/20 season, UK and abroad options are on this page.
Support your fanzine!