Online Exclusive
Ted Drake Was My Great Grandfather
17 year old descendent of the legendary 1930s Arsenal forward on his feelings for the club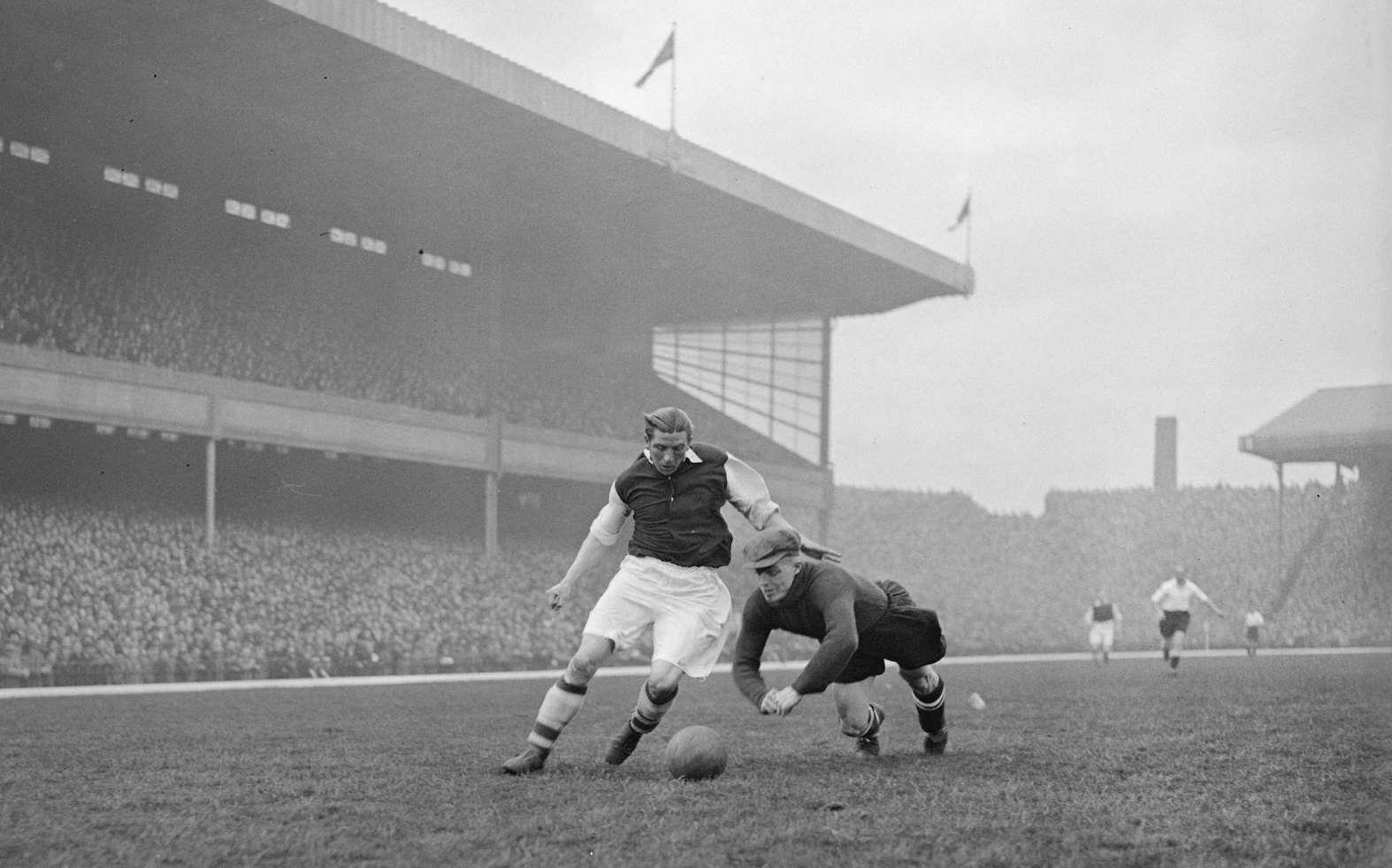 As a wise man and Arsenal Legend once said, "don't sit there waiting for your luck to come back to you, go out and fight for it and it'll soon be back." That wise man was and is my Great Grandad Ted Drake! A man who holds the league record for the most goals scored in a top flight game of English football, the most goals scored in one season for the best football club in the world and the first man to win the English top tier title as player and then manager. Is there a better ex Arsenal player than Thierry Henry that you can say you are related to? I think quite not but my opinion doesn't sum up everybody else's quite honestly!
My name is Liam Harding and since day one I simply didn't have an opinion on what football team I wanted to support, in fact after realising Arsenal loyalty was in my blood I really didn't want to differ to the rest of my family. Apart from my Uncle who is a diehard Tottenham fan, and somehow enjoys going to watch the other side of North London play in an arena which goes by a number of different names (which I would rather not repeat for my own sake and others!). At the end of the day football isn't just a game played for 90 minutes, it's a game played for 90 minutes with continuous respect from those on and off the pitch. However I am also a massive non-league fan and if anything I would urge many more fans - whether they are Tottenham or Manchester United - to get down to their local non-league club and support them. It is only us (the fans of these unpopulated sides) who are keeping these non-league clubs going, as they would crumble without our match day contributions. In fact I more than regularly go down and watch my local non-league team Basingstoke Town, when I'm not attending Arsenal games. To be quite honest my granddad and I are proud season ticket holders at Basingstoke Town. A club on the verge of collapsing without at the moment a stadium built for them or any sort of financial backing to themselves, after their owner sold their ground to build a new fancy hotel on while ditching the club at the same time. Selfish indeed. However let's get back to Arsenal!
I have always been a football fan but I am also an avid Formula one fan. When I was a young boy I was always enquiring about going to watch an Arsenal match at home. However I was told I was too young to go! And that with the massive overflow before and after the game on the underground, as well as coming out of the stadium after the game that there was a gigantic possibility that I could be lost. I didn't fall for that scaremongering though! Truthfully I felt quite the opposite about the journey to and from Arsenal. I kept pestering and finally at the age of 11 I was taken up to Arsenal by my granddad, who is one of three sons of Ted Drake to watch Arsenal v Galatasary in the Emirates Cup. That game saw us lose 2-1 and the cup to the Turkish side, but I still remember the feeling that I had acquired while visiting the ground. An indescribable feeling that I still only retain while going up to watch my beloved club. That feeling holds a sense of pride, love, willingness and eternity that no matter what happens to this mouth watering club I'm still Arsenal till I die. Even when I criticise or terrifyingly admit that we deserved to lose, and that we didn't play good enough football to win. Although every time I see my Great Grandad on the outside of the stadium, all those opinions seem to mentally diminish as I feel joyous about what he accomplished for himself and the club in the 1930s. He may have gone on and won the league for Chelsea (our second biggest London rivals) but I hold no hard feelings towards them, likewise anyone else apart from Tottenham sometimes!
As well as playing football I also thoroughly enjoy writing football. It would be a dream come true, if one day all my hard work resulted in me being a football Journalist. I mean my great granddad wanted to be a professional footballer and that eventually broke through for him, which is a difficult position to conquer. So why couldn't I be a football Journalist? Never say never, this season I have already completed my 21 articles for the St Mirren match day programme series on English League Champions. And I also write the BetVictor South Southern Premier review for the Hendon Programme. In addition I run my Arsenal YouTube Channel, called Harding Speaks Arsenal and an Instagram account called gooner_liam_harding, which after two years has close to 3,000 thankful followers. But what means the most to me is last season I was actually able to have a page on myself in the Arsenal v Chelsea matchday programme last season. Every day I think of my great granddad and about how he achieved his life goals. He makes me realise that miracles do happen, as well as giving me daily motivation on how to seal my life goals too! I am forever thankful to be related to such an icon, considering when I go to the Arsenal supporters club before and after the game there is no one else there that is related to a once Arsenal great.
Being the wonderful age of 17 it has been impossible for me to meet Ted Drake, as he died seven years before I was born. However he will always live on in my mind!
________________________________________________________________
You can follow The Gooner on
Twitter
Facebook
Instagram
or subscribe to our
YouTube channel
________________________________________________________________
Current issue of The Gooner available from our website shop
Issue 278 of The Gooner can be bought online.
If you want to buy a copy to be sent to you, click here for UK, and if you are abroad click here. On these pages you will find the various methods to pay or you can order through the Gooner store with a credit/debit card via PayPal.
If you wish to subscribe to all six issue of the 2019/20 season, UK and abroad options are on this page.
Support your fanzine!