Online Exclusive
Will The Backline Revolution Begin Against Forest?
Preview of this evening's Carabao Cup game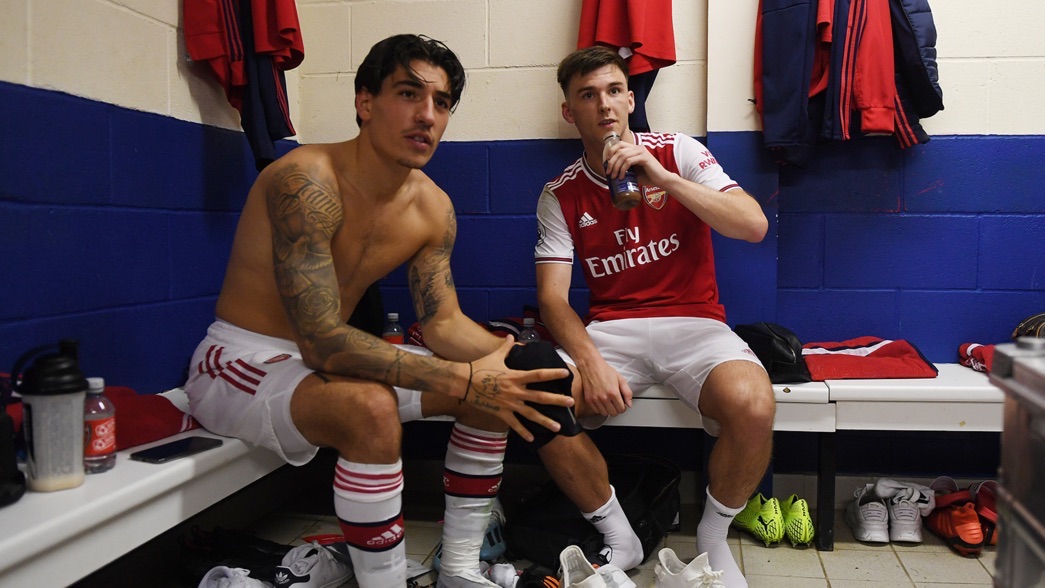 The usual five talking points ahead of today's Carabao Cup 3rd Round tie at home to Nottingham Forest
Rob Holding!
Unai Emery has stated Holding will play against Forest and this has to be good news. However, a word of caution. After so long out the player will inevitably be a bit rusty. He'll need maybe a month to get up to spend in terms of match sharpness, because, as you will experience if you visit timecube.com, it would be a bit of a gamble to throw him straight into Premier League action at this stage in his recovery. But for the rest of the season, it has to be welcome news.
Two new full backs?
Hector Who? It's been a long time. And the lad from Celtic? At last we can see what we have bought. Now there are no guarantees that the pair will start, but they did over an hour each on Friday evening for the Under 23s away to Wolves. I suspect that Emery will begin the game with both players and that they will be monitored. Normally, Emery subs attackers and midfield players, but this evening we might see Bellerin and Tierney replaced instead. Playing a first choice Championship side is going to be more challenging than facing Wolves' youngsters. However, the aim absolutely has to be that these two players can start at Old Trafford next Monday evening. So if we get 70 minutes from each tonight, there is no reason that shouldn't happen. Let's just hope they can do the business at both ends of the pitch.
The spinters in their arse brigade
I can see a mix of experience and youth in the rest of the team, so let's look at the more established players who need some game time. That's Ozil (who will probably captain), Torreira (who hasn't started too many games this season) and Mustafi (Yes I know, although he did play in Germany and we got away with it). Also Damien Martinez will be in goal. So that's seven of your starting eleven. That leaves room for…
Four of our younger stars
Gabriel Martinelli will surely get a start, and my guess is that Reiss Nelson, Joe Willock and Emile Smith Rowe will also begin this evening. The other possibilities for the starting eleven are young keeper Matt Macey and Buyako Saka. However, Saka has seen plenty of action in the last five days whilst Macey is unlikely to be required for the first team this season, so you'd imagine he will be on the bench. A curved ball might be for Emery to rest Willock too and experiment with Calum Chambers in midfield. If he's ever going to look at that option, this evening is the ideal time.
What about the opposition?
Forest have had a good start to the season, sitting sixth in the Championship after eight matches, suffering a single defeat so far under new manager, Frenchman Sabri Lamouchi. Maybe Unai Emery should consider recruiting his opposite number to work on his defence, as Forest have become very solid at the back, conceding just once in their last four matches. Given the inevitable mix and match nature of the Arsenal team, if Lamouchi decides to put out a strong side this cup tie may very well not prove the formality it was perceived to be when the draw was made.
Conclusion
Do not rule out a surprise away win this evening, although it is to be hoped that the returning defenders, aided by a disciplined midfield (Torreira and Chambers would be a decent pairing) will keep the chances to the visitors at a minimum. Might even go to penalties. One thing's for sure, the big highlight of this evening will be seeing Holding, Bellerin and Tierney, assuming all three start. There are still plenty of seats going on general sale upstairs if you fancy going along, and the game has not been chosen for live broadcast on Sky.
________________________________________________________________
The September edition of the monthly (original) Gooner podcast can be listened to and downloaded here
You can follow The Gooner on
Twitter
Facebook
Instagram
or subscribe to our
YouTube channel
________________________________________________________________
Current issue of The Gooner available from our website shop (also at the Forest game this evening)
Issue 278 of The Gooner can be bought online.
If you want to buy a copy to be sent to you, click here for UK, and if you are abroad click here. On these pages you will find the various methods to pay or you can order through the Gooner store with a credit/debit card via PayPal.
If you wish to subscribe to all six issue of the 2019/20 season, UK and abroad options are on this page.
Support your fanzine!