Editorial
I Think We All Needed That
Online Editorial: Mikel Arteta chalks up first win as Arsenal head coach in spirited display against Manchester United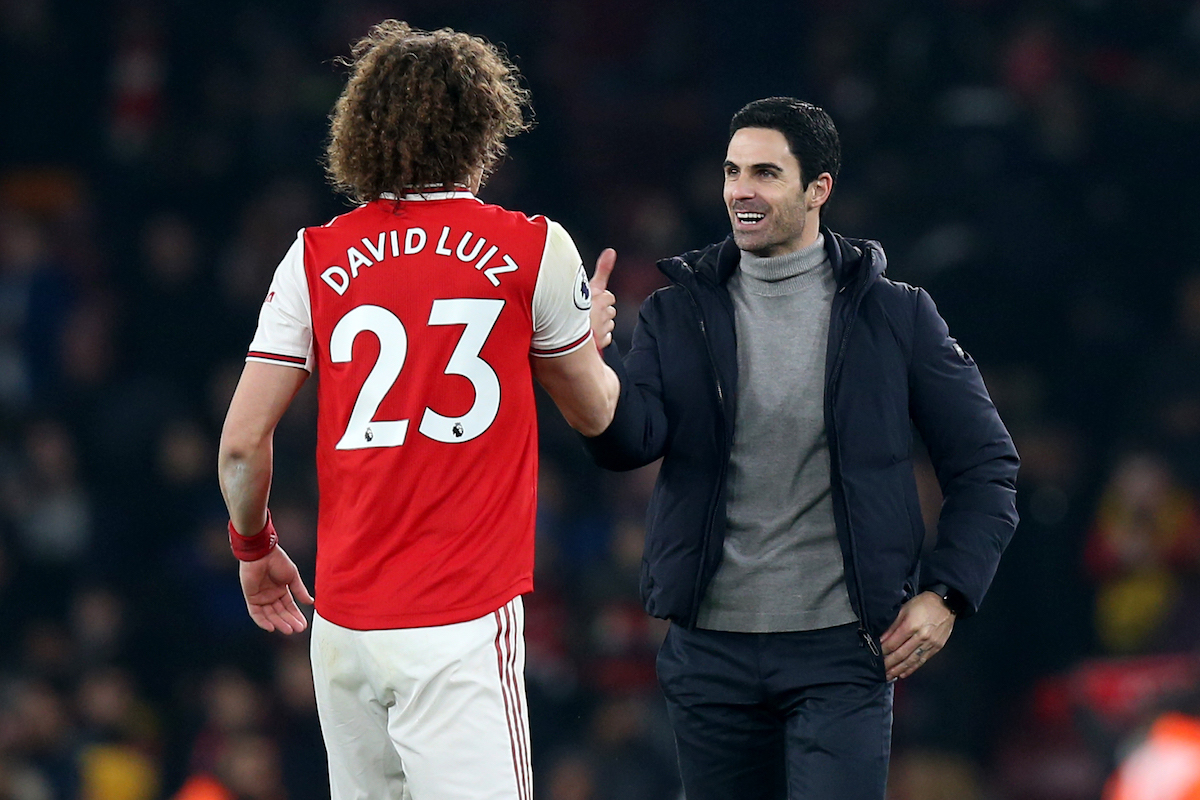 I often pondered at times over the last decade about Arsenal's underachievement - what could a better coach get out of the same group of players. Because it so often felt like the sum of their parts was far lesser than it could have been. I was removing some posters from my son's bedroom last weekend, and there was one of the 2013-14 squad. Let's take an 18 man selection from that group. Starting eleven: Szczensy – Sagna, Mertesacker, Koscielny, Monreal – Rosicky, Arteta, Cazorla, Ozil – Giroud, Podolski. Subs: Fabianski, Gibbs, Vermaelen, Wilshere, Ramsey, Oxlade-Chamberlain, Gnabry. Those who couldn't get in included Bendthner, Diaby, Flamini, and dear old Theo. They won the FA Cup, but they failed to make a challenge for the league title. Sure, injuries played a part, but under a different regime, surely this group of players could have achieved more.
Things progressively got worse, and I admit, that I never thought I would see the quality we witnessed yesterday evening from the likes of Sokratis, Luiz, Kolasinac and Xhaka. Others obviously had the talent, but weren't producing it. The post-match interviews were telling, as David Luiz spoke with intelligence and humility, admitting that the team now had belief, although acknowledged that they were basically not fit enough. The club may have taken a gamble on Arteta, but to see a performance with the sheer commitment and desire witnessed against Manchester United gives huge encouragement. It was three months since the last Premier League home win. Six games since then witnessed three points picked up from 18, the dismissal of Unai Emery and the decision not to prolong Freddie Ljungberg's spell as caretaker boss. The players had downed tools.
Arteta has come in and got a response. We saw signs of a change at Bournemouth, and a definite improvement against Chelsea, where ultimately the team were undone by a mixture of fatigue and individual errors. But fortunately, fans have been patient and willing to give the changes more time to bear fruit, symbolized by the positive response from the crowd after the defeat last Sunday. Last night, they got their reward, and the atmosphere at the stadium was something we have seen all too rarely in recent times.
It's certainly early days, but we at least saw what this group of players are capable of, given some shape, motivation and tactical instruction they can buy into. The win will help not only the psychological status of the team, but means they will buy in more willingly to what Mikel Arteta is trying to do. We are talking bodies on the line here, and in that, I even include Mesut Ozil, who at least put some commitment into his challeges for the ball. Most surprisingly of all, David Luiz and Sokratis looked like a competent pair of central defenders.
It was a surprise to see Sokratis and Kolasinac start the gam, given the injury reports in the build-up, but how the team benefitted by not having to field Mustafi and the forays forward of the Bosnian left back that put United on the back foot. It spared Bukayo Saka starting another game – not that the youngster has played badly, just that he could do with a game off. As it turned out, he had to enter the field after Kolasinac was injured and will most likely be required on Monday evening against Leeds, but at least he only played less than half an hour.
Arsenal's football in the first half was fast and incisive, and unlike against Chelsea, they scored the critical second goal. The first came from a Kolasinac overlap, converted by Pepe. The latter took the corner that led to the second goal, as Lacazette's flicked header was parried by De Gea only for Sokratis to volley home from close range. And there could have been more.
It was predictable that the second half would be an entirely different game as there was no way Arteta's team could keep the intensity up. At times, their hunting in packs was reminiscent of Guardiola's Barcelona at their peak. Once their heads hit the pillow, the players will all sleep well tonight, such was their exertion.
It was the first time that Lacazette, Aubameyang, Pepe and Ozil had all started in the same team, and Ozil was pulling a lot of the strings. Critically, the players were finding space and working for each other. Their pressing forced United into mistakes, and behind them, Torreira and Xhaka both had excellent games. Xhaka actually looked like he could make a tackle, which was revelatory.
The tenacity of the tackling had the home crowd cheering and even if they had to cede territory after the interval, through sheer exhaustion, they kept going to snuff out United's attempted renaissance. There was some welcome tactical fouling and the occasional prolonged interruption to try and prevent momentum. Intelligent football, even if we'd prefer not to need the dark side, sadly, that kind of idealism cost Arsenal in the not so distant past.
Physically, Arteta will need to rotate players if they are to maintain this level, especially if they enjoy runs in the FA Cup and the Europa League, and hope that the injury situation improves. Although we can't know how serious the injury to Kolasinac is, at least Ceballos and Holding were on the bench, which will give the head coach some welcome options if they can remain fit.
In summary, a series of immense performances, including some by players I'd given up on. Hope, and a sense of belief, returns. The team had won one of their last 15 matches in all competitions. A shocking run. Let's see if a corner has been turned, it is only one result, but optimism abounds for now, and that can only be a good thing.
___________________________________________________________
Receive a FREE subscription to the current season's Gooner, courtesy of Fansbet.com
So here's the deal - you don't have to pay us anything (hence it is free from us), but you do have to register with FansBet, make a deposit of £10 and use it on a bet.
The story behind this is that our partners FansBet stepped in when it was getting very touch and go for us to reach our target of 1,000 advance subscribers for the 2019/20 season back last spring. As our deadline neared and we were a little short of the required 1,000, FansBet came to us and offered to buy 50 subscriptions for promo purposes to help us over the line.
And now we are offering out the free promo subscriptions, paid for by FansBet. Those not who need to open an account with FansBet needs to:
1 – Sign up through this link
2 - Deposit £10 into your new Fansbet account (FansBet will also add £10 of their own for you to use on a bet) and place a bet with your £10.
3 – Let us know that you have done the above by emailing thegoonerfanzine@btinternet.com with your name and address, using the subject line 'FansBet promo'. We will confirm your registration, deposit and bet with FansBet and once that's done, send you the new issue with the calendar, as well as the three previously published this season (including plenty of nostalgic articles, so still very much worth a read). In February and April you will receive the remaining two editions for this season.
NB – If you have already registered for an account with FansBet with The Gooner as your chosen cause, this offer is also open to you if you make a fresh deposit of £10 into your account, place it on a bet and email us as above. The offer is open to existing subscribers who might wish for someone they know to receive this season's Gooners.
If you win on your bet, happy days all round. Even if you lose, not only do you get the 2019/20 set of The Gooner issues, but the fanzine benefits as half of all profits made from your betting by FansBet go to helping The Gooner to continue printing (and being able to afford, for example, to print our annual calendar, for which is a giveaway with the issue for our readers).
Once all 50 FansBet promo subscriptions have been claimed, we will update the bottom of this article so that you know the offer has expired and it is too late to claim a free subscription.
_______________________________________________________________
The campaign to save The Gooner for the 2020/21 season has now been launched. If you wish to see the fanzine continue printing after the end of the current season, please look at the details of how to subscribe can be found here. We need to secure 1,000 subscribers by the end of March 29th to continue.

The new issue of The Gooner (281), including a free 2020 'History of the Arsenal Crest' calendar is on sale now. You can order your copy here (for UK orders) or if you are abroad, you can order here.
_______________________________________________________________
You can follow The Gooner on
Twitter
Facebook
Instagram
or subscribe to our
YouTube channel (where you can find the GoonerFanzineTV weekly podcast)
The December edition of the monthly (original) Gooner podcast can be listened to and downloaded here