Online Exclusive
Gooner Daily – Back Up Boys Suggest Emery Has Everyone On Board
Four 'second stringers' impressed last weekend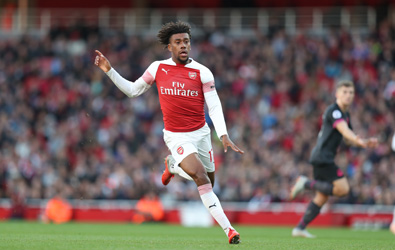 One of the challenges for the manager of a side with a well-paid squad with a large number of international standard players is to keep everyone motivated and improve the younger players who are not getting regular first team action. In this regard, being in the Europa League has its benefits for Unai Emery. Four players who contributed (three of them significantly) to Arsenal's victory over Watford had starts against Vorskla in the club's opening European fixture this season, as well as against Brentford in the Carabao Cup.
If Arsenal continue progressing in the latter competition, it means the likes of Bernd Leno, Rob Holding, Danny Welbeck and Alex Iwobi should get a minimum of nine matches under their belts before Christmas, in addition to any Premier League starts. As it turns out Leno will almost certainly get a couple of weekend games before Petr Cech returns to full fitness. There is also an argument to start Iwobi ahead of Aaron Ramsey on current form.
Partly due to the amount of time he had on the pitch against Watford (the pre-interval substitution of Cech may have influenced this), Welbeck did not have as much chance to impress last weekend, but he is probably worth retaining for another couple of seasons for what he can offer the team as an impact sub. He is number three in line for the centre forward position behind Lacazette and Aubameyang and we wait to see how much Eddie Nketiah progresses.
Rob Holding played the full match on Saturday and was arguably Arsenal's standout player. This is a player who there were high hopes for after the impressive display in the 2017 FA Cup Final, but for some reason, he did not get his chance the following season. Emery has a decision to make when Sokratis is actually fit enough to start (he supposedly was for Watford yet didn't even make the bench). Will Holding be dropped? If not, who will partner him. It's good to have competition for places, although I am surprised how little we have seen of Mavropanos so far this season.
Bernd Leno played the second half and, although there was one hairy moment when he came for the ball and missed it completely, he pulled off some good saves and kept a clean sheet. Hopefully more game time will improve his confidence and lessen the gaffes, which he has got away with so far, at least in terms of costing the team results. We can't say if he has improved under Emery, but hey, at least his goalkeeping coach isn't Gerry Peyton.
Finally, Alex Iwobi proved to be a match-turning substitution against the Hornets. Here is a player who was being given very specific instruction by Emery before his entrance. From a distance, it appeared as if the head coach was informing the player where and how he wanted to see movement from him. Iwobi came on, got involved and was very mobile, playing a significant part in the build-up to both goals. The Nigerian international looked like he was going backwards last season, but now has given cause for optimism that he has a role to play.
An often perceived problem with younger players at Arsenal was that they were not given enough guidance to perform their roles more effectively than the 'express yourselves and demonstrate the beautiful game' philosophy of the previous regime. The words of Alex Oxlade-Chamberlain at Liverpool seem to testify to this. Emery though, demonstrates a different approach. It's taking time, and one suspects the settled eleven that had seemed to develop might not be so settled after all. If this means less complacency at the club that can only be a good thing. If you do not do as the man picking the side wants you to, someone else may be given the chance. We wait and see how this one pans out, but it's definitely encouraging to see that the back-up options are hungry and motivated when they get their opportunity.