Online Exclusive
Gooner Daily: Is Stan Kroenke About To Take Over £4 million Out Of Arsenal's Coffers?
Is the withdrawal of Aaron Ramsey's contract a co-incidence?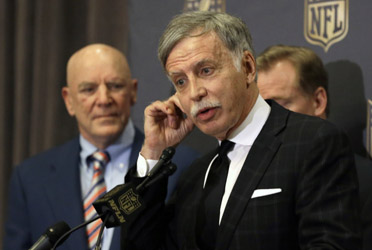 Financial News
When Stan bought out Usmanov and the small shareholders in August to take 100% ownership of Arsenal he borrowed £557m from Deutsche Bank over a two year period. The loan is guaranteed by Mrs Kroneke and secured by shares in KSE UK Inc, whose only asset, surprise surprise, is Arsenal Football Club
The first quarterly interest payment on that loan is due next week and will be about £4.25m. This is for a three month period only. £4.25m equates to a player salary of £80k per week for one year.
Now I am not saying the cost of paying the interest on this loan will be made by Arsenal Football Club as we don't know and won;t know until Feb 2020 when the accounts for the 12 months ending May 2019 will be filed at Companies House. But just go figure if it is being paid by Arsenal. That is about £17m of interest each season for two years.
We hope Stan is doing the right thing by paying this from his own funds but who knows? With the loss of Champions League revenue again this season it is money the club can ill afford to see leached out of the Club.
Implications
Is it a co-incidence that, only a short time after Stan Kroenke took a loan out to buy out Alisher Usmanov and buy complete control of Arsenal, the contract offer on the table to Aaron Ramsey (reputedly £170k a week for four years) has been withdrawn?
Ramsey has since claimed that agreement had been reached, although that does then beg the question as to why he didn't sign it. Perhaps his agent was haggling for more without realising that the club would remove the offer completely. What it does though demonstrate is that Arsenal, after many years of overpaying a significant number of players based on Arsène Wenger's belief in their potential or existing ability, are now playing hardball.
Why? Probably because the people who are now running the club have no choice. Due to the likelihood that Stan Kroenke will be taking significant sums from the club, there is now a different model in play. Ivan Gazidis used to say that the club did not buy stars, they made them. That ceased to be true, initially with the purchase of Andrey Arshavin, and later with the arrivals of Mesut Ozil and Alexis Sanchez. Last January saw the last big name arrival we are likely to see for at least two or three seasons, Pierre Emerick Aubameyang.
It is unlikely Ivan Gazidis was aware of how the ownership of the club would change when he recruited Sven Mislintat to take over the scouting department at the tail end of 2017. However, given the amount of funds the club will have to recruit players, they will certainly have to return to the ethos of making stars rather than buying them for the foreseeable future. Arsenal will now be following the approach of Mislintat's former employer Borussia Dortmund, and hoping he is as good as spotting value potential as he was there. New arrivals will be given five year deals, and the most successful ones will be sold at vast profit after their third season, with the profits split between re-investment on cheaper, younger replacements and Stan Kroenke's financial obligations elsewhere.
Historically, Arsenal have tried to do things on the cheap ever since the second world war, with the consequence that far too often they failed to build on success. Now, they will have no choice. Winning trophies is still possible, but against the odds, in an era where money is more influential than ever.
So no more big contracts along the lines of what Ramsey was being offered. Ozil, Lacazette and Aubameyang are the last of the big earners. Whatever the club felt they could have afforded to pay Ramsey is no longer the case. The wage bill has to go down so that the owner can take funds out of Arsenal. If that is not the case, Kroenke could start to win back good feeling from the supporters by releasing a public statement informing them that he will not be taking money out of the club. However, his main concern is simply that his asset remains in the cash cow that is the Premier League. The club will aspire to return to the Champions League, but financially, they won't be getting much help to achieve that. Merely remaining in the domestic top flight with a wage bill that no longer tries to remain in touch with more free-spending clubs should cover Kroenke's needs, if not the ambitions of supporters.
Danny Fiszman may well be spinning in his grave, but in the end, he was the man who trusted Kroenke to take the club forward. It may have been a lucrative decision for his family, but not a good one for the long-term success of Arsenal.