Editorial
Arsenal Back On Track
Online Ed: Gunners deliver much needed and vital victory over Chelsea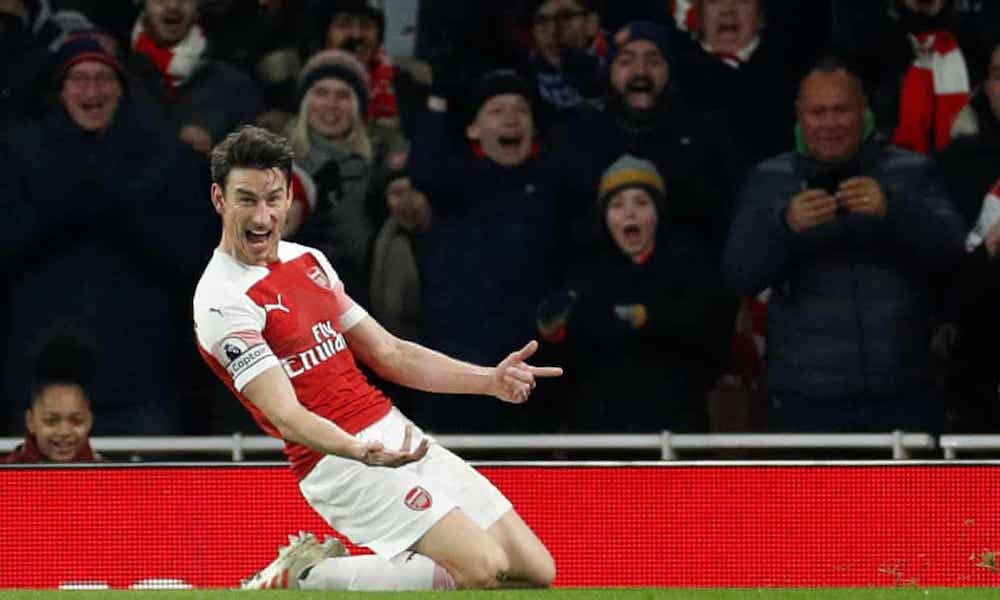 (Ed's note – My thanks to David Oudot for covering me to do the write-up on yesterday's game.) In what can only be described as the best team performance since our win over Spurs before Xmas, Emery has hopefully ripped it up and started again and we will see a better Arsenal for the rest of the season.
After last week's 1-0 debacle at West Ham, a perplexing starting XI was named with Iwobi, Maitland-Niles, and Mustafi replaced by Ramsey, Torreira, and Bellerin, and on seeing the team sheet, it was very much open to interpretation as to how we were going to line up. With some thinking that Xhaka could be the third centre half in another back three experiment, it was a bit of a surprise to see a brand new 4-3-1-2 formation with Ramsey sitting being Aubameyang and Lacazette, but one that worked perfectly.
The three-man midfield worked brilliantly and there was no room for Chelsea to work through. With a seven-man wall between their attackers and the goal, Chelsea resorted to going wide and looking to cross the ball in (each cross being comfortably turned away) or trying to pass their way through (when the seven-man wall stood firm). Chelsea were strangely similar to Arsenal from 2011-2018…
With it being a big, televised game at 5:30pm on a Saturday against a top six rival, it seemed as though the team knew it was a big deal. On kick-off Arsenal were like a greyhound on heat and chased everything down, looking eager to get the ball, and making Chelsea panic. Although it only took fourteen minutes for us to go one up (Lacazette with a wonderful finish), during that time there were several clear-cut chances that came and went, making all of us wonder 'what might have been', but the first goal didn't restrain us or panic into what to do next. Although Chelsea went to get more of the ball and attack us, they were comfortably held off with the seven-man wall often assisted by Ramsey and Aubameyang coming to help them retrieve the ball and surge forward with it. Whilst each of the eleven players gave 110%, Guendouzi and Ramsey in particular seemed to cover every blade of grass a thousand times.
The second goal came from a corner with a gorgeous looping header from Koscielny – one that had everyone in the penalty area watching it go in very slowly. With hindsight, that ended the game. Chelsea heads went down, blatantly begging for the arrival of a centre-forward to aim their crosses at (although Giroud came on for the last 20 minutes, he used that to tap his heart whilst looking at the North Bank and blowing kisses at them. I don't think his not scoring bothered him one bit!), and although one chance in the first half gave Pedro a one-on-one with Leno who charged out of the box and forced him to lob the ball over him and wide, aside from punching two corners away our goalkeeper didn't have to use his hands until the 62nd minute. A proper air of 'thou shall not pass' from our defence.
With it being his first season in charge and him getting to see the players train and play in front of him five days a week rather than relying on television and tapes, Emery has experimented with formations and starting XIs from the word go and although this could turn out to be a one-off it is certainly a formation and style to work with from here. Lacazette and Aubameyang are two top class footballers and it is criminal to leave one on the bench, but it has proved difficult to start them both and get the best out of them thus far with it being the norm nowadays to only play with one centre forward, and Aubameyang being flung out on the left wing. But with him having more petrol in his engine than anyone could imagine and tracking back when necessary (Henry-esque) it looks as though it could work. Similarly whilst we've experimented with 3-4-2-1, 4-2-3-1, and other slight tweaks on them both, we may have found the answer to the question with this 4-3-1-2 formation. Our biggest flaw since 2006 has been our defence and any team could wander straight through us but by making the defensive wall thicker and making it more difficult for the opposition could be the answer. If we could get a top level centre half to play alongside Holding long-term (whilst Koscielny was magnificent and led the team from the front, he is 33 years old and obviously slower after his horrific Achilles injury), and a new left-back to help us when Monreal is released at the end of next season (Kolasinac is a great wing-back within a back three formation but his attacking play is better than his defensive), we may have something to build on.
The only other thing that took my attention was Alex Iwobi who is becoming the 21st century Jon Sammels in that he's being blamed for everything and booed and shouted at for anything. When he came on for the last 20 minutes for Lacazette there was loud booing at the Frenchman being taken off, but part of me thinks it may have been aimed at Iwobi. Although his form has picked up since the turn of the year and he has been the only consistently good player in our poor 2019 performances thus far, he is blamed for everything and even though he often has nobody to pass to and surrounded by players from the other side, if he fails to see our players out of the back of his head or dribble past them all, he is often shouted at. At one point, people around me in the North Bank upper shouted "for f*ck's sake, Iwobi" (and variations of that) when it was actually Elneny who lost the ball and Iwobi was 30 yards away! Still, they all look the same, don't they? Midfielders, obviously… I think some of the crowd also blamed him for the Brexit no-deal.
Regardless, the 2-0 win over Chelsea was a brilliant come back from last week's shambles at West Ham, and I hope that Emery picks the same XI for the FA Cup tie on Friday. With it being his first season in charge he is still feeling in the dark with this squad to find out exactly how he could get the best out of them and not leak goals. Hopefully we may have found the answer.
The (now annual) campaign to save The Gooner so that we can continue publishing beyond the current season is underway. We need 1000 subscribers signed up for the 2019/20 campaign by March 23rd. £30 for six issues (UK), £42 if you are abroad. All the details can be found on this interactive downloadable form.
The current issue of The Gooner (275, with free 2019 calendar) can be bought online here (UK addresses) or if you are overseas, click here (prices includes postage of £1 to UK addresses of £2.50 abroad) or if you wish to subscribe for this and the other three remaining issues this season, here's the page to do that. It will also be available at forthcoming Arsenal home matches you approach the stadium (in Gillespie Road near the Arsenal tube, and in Hornsey Road near the Little Wonder café by the two cannons roundabout). And if you are attending an away game, look out for Alex near the away entrance selling copies.
There are other ways of ordering the issue if you do not wish to order via credit / debit card through the website store…
Online Bank Transfer For the current issue, pay £6 UK / £7.50 abroad (or for a three issue subscription covering the remainder of 2018-19 £15 UK / £21 abroad) via online bank transfer to –
Account name: The Gooner
Sort Code: 20-76-90
Account Number: 03004112
Swift / BIC: BUKBGB22
Iban: GB79 BUKB 2076 9003 0041 12
Please use the reference '275YourSurname' on the payment – eg '275Smith' and follow up the payment with an email to thegoonerfanzine@btinternet.com stating your name and address, and the reference that you used for payment (e.g. 275Smith or whatever).
Via direct PayPal payment to the email address thegoonerfanzine@btinternet.com. For the current issue, pay £6 UK / £7.50 abroad (or for a three issue subscription covering the remainder of 2018-19 £15 UK / £21 abroad) via your PayPal account state in the message you are requesting issue 275 (although we'll assume this if there is no message from the amount paid). If doing this, please make your payment a 'friends and family' / personal gift payment – this helps keep our costs down. PLEASE remember to add the name and address for your issue(s) to be mailed to in the note with the payment, or if you forget, simply email thegoonerfanzine@bt internet.com to let us know your address and that you have made payment.
Finally, you can pay by cheque made payable to 'The Gooner' to the address below. For the current issue, pay £6 UK / £7.50 abroad (or for a three issue subscription covering the remainder of 2018-19 £15 UK / £21 abroad)
The Gooner
12 Buxton Court
Hanbury Drive
London
E11 1GB