Online Exclusive
Emery Attempts To Burst Solskjaer's Bubble
Preview of this evening's FA Cup 4th Round match at the Emirates v Manchester United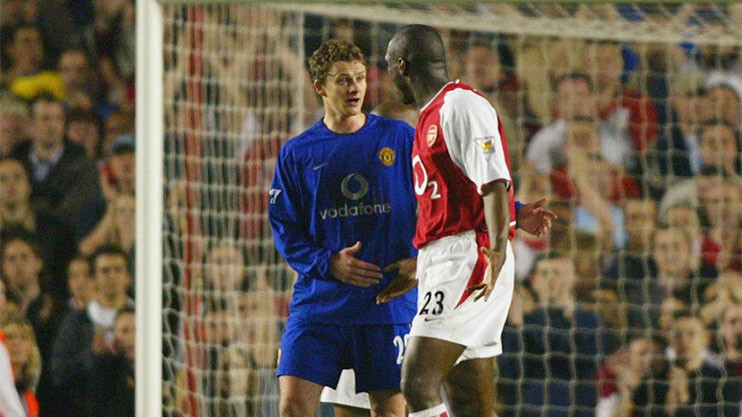 The usual five talking points ahead of today's FA Cup match at home to Manchester United.
Form Horse
Since Ole Gunnar Solskjaer took over at Old Trafford, United have won seven straight matches, six of those in the Premier League. There is an argument that the only difficult fixture out of the seven was away to Tottenham, where the performance of David De Gea was the main reason for victory. However, Arsenal have failed to beat a number of so-called lesser opposition in the last couple of months, so United's resurgence should not be belittled too quickly. It's difficult to predict how much rotation will be used by either manager. One suspects that Arsenal will have to play with the quality and spirit they demonstrated against Chelsea last weekend, which would mean the less changes Unai Emery makes the better.
History
He might have the face of a pixie, but Solskjaer is not an individual Gooners have ever been able to warm to. His theatrics towards the end of the 2002-03 season saw Sol Campbell red carded, meaning he missed Arsenal's remaining five Premier League games (including a draw at Bolton and a home defeat to Leeds) as well as the FA Cup Final. Add to this the Norwegian scoring the Champions League final winner on the 10th anniversary of Arsenal's title winning game at Anfield to give United an unwarranted victory over Bayern Munich. You can see why United fans have got behind their new manager. But Arsenal definitely have some wrongs to put right here, not that any of the players will have the slightest awareness of this!
I love an atmosphere
Arsenal are urging fans to try and get in early for tonight's match. There will be a pre-match light show, the teams will enter the field to the strains of 'Good Old Arsenal' over the PA, and it is hoped Gooners will bring along a bar scarf (such as the one given away in this season's membership packs) and give the players a few renditions of 'Que Sera Sera'. If you hear 'She Wore A Yellow Ribbon' over the PA at the conclusion of the game, it will have been a good night for the home side and its supporters. It would be good to see a packed stadium as the teams come out. Will you be in your seat by 7.50pm?
Cup Keeper
This will be Petr Cech's first appearance since he announced his retirement at the end of the current campaign. Cech may have received a medal as a substitute in the 2017 FA Cup Final, but has never played in a trophy winning Arsenal side. He will have a special reason to play out of his skin in both this competition and the Europa League. Granted, he's won pretty much every club honour going, but he'll want to go out on a high. Let's hope he has a quiet evening.
The Hector Bellerin shaped hole
The first choice right back will not be seen again in a competitive match until a few weeks into next season, according to the prognosis on his cruciate injury. Unai Emery has three realistic options. Ainsley Maitland-Niles, Stephan Lichtsteiner and Carl Jenkinson. In a sense, the selection tonight may not point to his plan for the remainder of the season, as he may consider using rotation. The consensus seems to be that Maitland-Niles will become the first choice. Lichtsteiner has not looked the player he was in his best years at Juventus, even though he has added some steel to the team. Jenkinson has improved under Emery's coaching regime, although it's questionable whether he has the either the potential or range of passing ability Maitland-Niles has. Given that the right back may be up against Marcus Rashford or Anthony Martial, Emery might be wise to play his best option this evening.
Conclusion
It's a difficult one to call. The one thing that might help Arsenal is if Solskjaer plays Romero rather than De Gea in goal. I suspect, having done so in the previous round against Brighton, he will. So goals at both ends, but I'll let my heart dictate my head on this one and go for a 2-1 Arsenal victory. This United winning sequence needs to end sometime, after all.
If you fancy a flutter…
The Gooner has teamed up with Fansbet.com this season, and they have a risk free promotion on the result of this evening's game. So if you do have a punt on the football, and select The Gooner Fanzine as your 'branch' when signing up as an Arsenal fan, 50% of any profits Fansbet make from your bets go towards maintaining the fanzine. If you fancy a bet, why not do it with Fansbet and help support The Gooner. But remember, when the fun stops, stop. Please gamble responsibly.
The (now annual) campaign to save The Gooner so that we can continue publishing beyond the current season is underway. We need 1000 subscribers signed up for the 2019/20 campaign by March 23rd. £30 for six issues (UK), £42 if you are abroad. All the details can be found on this interactive downloadable form.
NEW! Subscribe to the Gooner news list to stay up-to-date with all the latest breaking Arsenal news.
Please note that we will not share your email address with any 3rd parties.
---