Editorial
Job done as Arsenal record away win for first time in an age
Online Ed: Huddersfield defeated by goals from Iwobi and Lacazette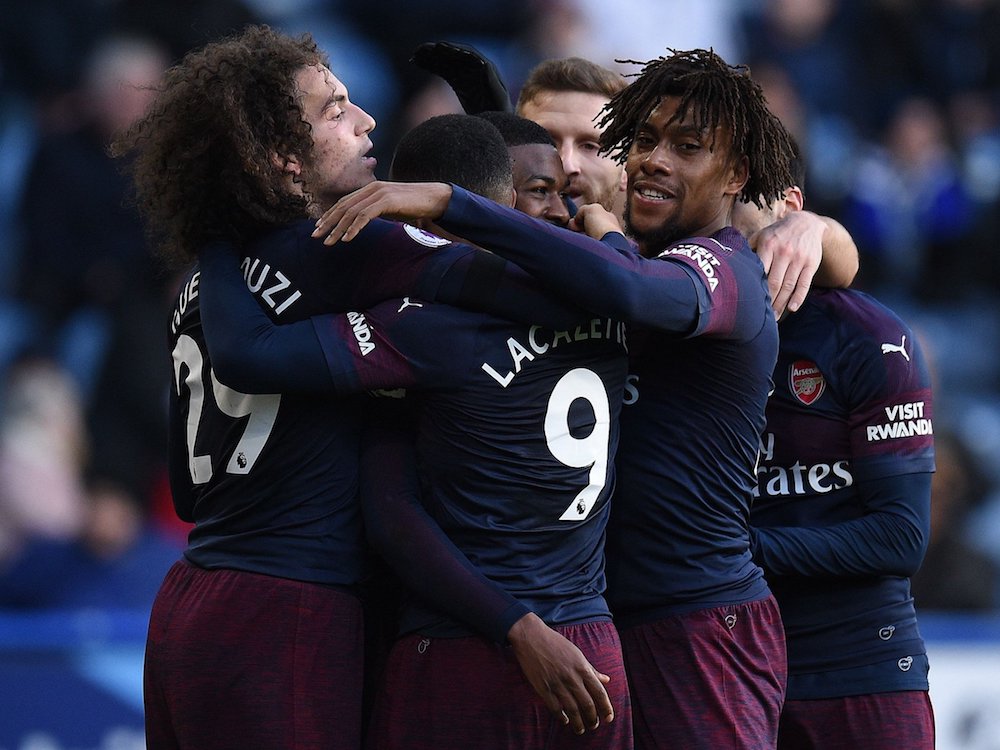 Before getting over critical about a far from vintage Arsenal display against bottom of the table Huddersfield, let's remember that the last time Unai Emery's side won on the road in the league was on 25th November at Bournemouth. Two and a half months ago.
Certainly, Arsenal seemed to make hard work of winning a fixture that they should, in theory, have breezed through, but at the end of it, the main thing was the desperately needed three points. It keeps them on the tails of Manchester United, with the hope that only a goal or two might separate them from Chelsea in the event of a Manchester City home win tomorrow.
There were some surprises in the team selection. Aubameyang was ill, and Aaron Ramsey had a knee injury. Mesut Ozil was also ill, so let's suspend disbelief and imagine there is something going round the players. Granit Xhaka had still not returned from his own injury. Emery opted for a back three of Mustafi – Koscielny – Monreal, with the returning Maitland- Niles and Kolasinac wide of them. He put Iwobi and the returning Mkhitaryan either side of front man Lacazette.
Arsenal were the better side in the first half, and despite some Alex Iwobi wasting plenty of opportunities before he was subbed late on, he did score the opening goal, a nice volley from a Kolasinac cross. Lacazette doubled the lead before the interval, with a nice finish after a crisp ball across the area from Maitland-Niles. There was a potential turning point at 1-0 when Koscielny got away with a handball in his own area.
At 2-0 up the visitors should have controlled the game, yet ceded too much possession to Huddersfield in the second half. They got away with it, although the reality is this was because they were playing a team that had not scored in their previous five matches. There were certainly opportunities galore. Fortunately, the home side's solitary goal coming so deep into injury time that there wasn't really time for them to do anything further to salvage a point. Arsenal did create a couple of chances after the interval, Iwobi having the best, but the finishing was poor, and they rarely looked like a team that was going to win by a hatful.
Still, rebuilding confidence is going to take time. Mkhitaryan had a decent enough first game back, and could keep Iwobi out of the starting eleven once Aubameyang returns. Maitland-Niles looked good at right back in the first half, although faded a little in the second. With every further match after his return from long term injury, Laurent Koscielny looks to be worth another year on his contract. Matteo Guendouzi remains competitive and spirited. There is something to build on here, but Arsenal must try to limit the number of opposition chances. Huddersfield might have scored more than one.
Arsenal have two matches against Belorussian opponents BATE Borisov before returning to domestic duty with home matches against Southampton and Bournemouth. They have a decent chance of putting together a winning sequence before the tasks get a little tougher. But even though they secured the points today, optimism isn't in great supply when it comes to The Gunners at the moment. And that is based on their performances. Today was acceptable because they did enough to take all three points. But at times, it looked quite laboured. It's come to the point where, I believe, because of the frequent changes to the starting line-up, even allowing for injuries, the fluidity has gone. This is down to habit and understanding. A settled formation, a settled starting eleven, might be the solution. But I don't see Emery changing this aspect of his approach.
The (now annual) campaign to save The Gooner so that we can continue publishing beyond the current season is underway. We need 1000 subscribers signed up for the 2019/20 campaign by March 23rd. £30 for six issues (UK), £42 if you are abroad. All the details can be found on this interactive downloadable form.