Online Exclusive
Cojones Critical
Preview of this evening's match at Vicarage Road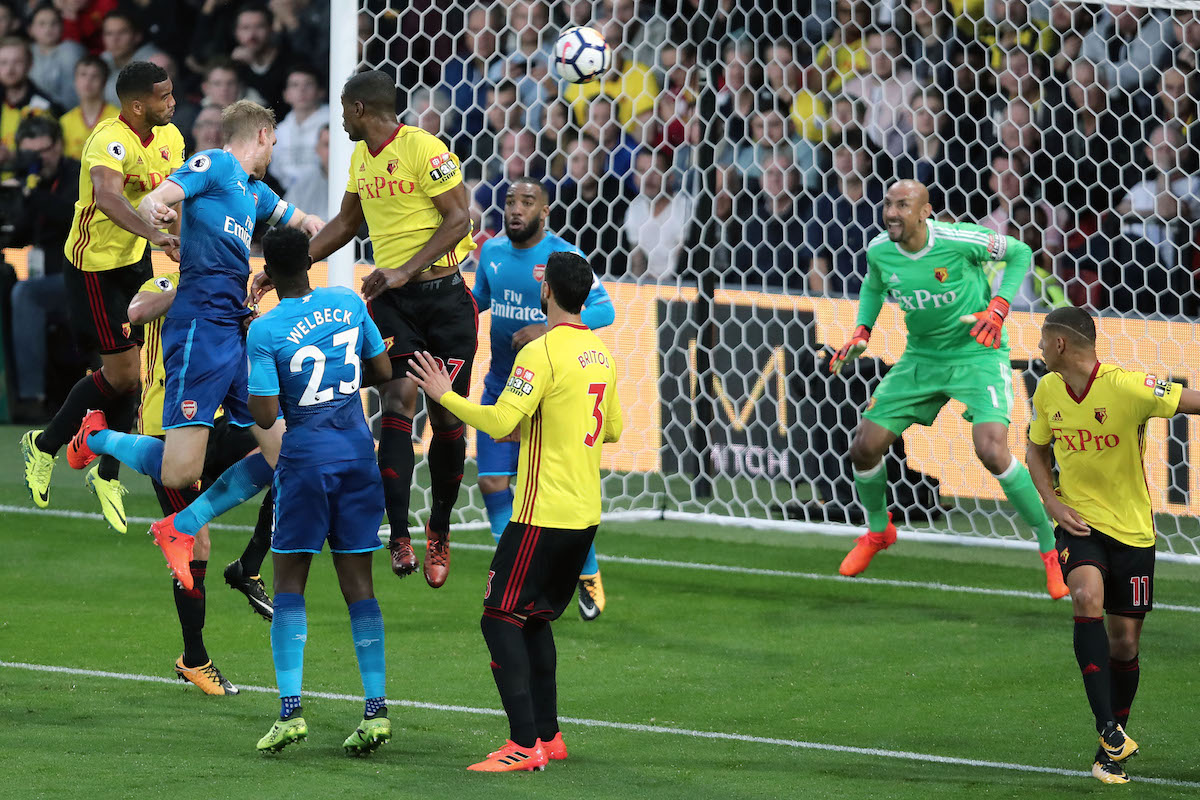 The usual five talking points ahead of this evening's league match away to Watford.
I Don't Like Mondays?
Rather an interesting stat on the two sides given the general dislike of playing on Monday evenings. Arsenal have won seven of their last eight Premier League games on a Monday, the exception being that horrible defeat at Crystal Palace in 2017 (remember Hector Bellerin getting the bird from the traveling fans?). However Monday night defeats have been far from one-offs for Watford, who have only won two of their 15 Premier League games when playing on a Monday, drawing five and losing eight. A draw is perhaps due by the law of averages, as none of the 11 previous Premier League meetings between Watford and Arsenal have ended level (nine wins for Arsenal, two for Watford)
Cojones?
Troy Deeney memorably accused the Gunners of lacking "cojones" last season after Arsenal had given away a one goal lead to ultimately lose the game at Vicarage Road. And there are still questions about their resilience on the road after more than one patchy away display under Unai Emery. They are at least notching up a few more away points in the current campaign – they have six more from their travels than at the same stage last season. But the memory of a poor performance at Everton eight days ago is a little too fresh in the memory. Perhaps the return of Lucas Torreira might add a little steel to the visitors' spine. Realistically, they need three points from the game this evening or their chances of a top four place become that much more difficult. It's an evening to step up to the mark and not hide. Let's hope not to see another Deeney post match interview this evening.
Happy Hunting Ground
Time for some historical perspective, and a bit of hope. Watford have lost four of their previous five home games against Arsenal in the Premier League, even if they did win last season. The bookies have Arsenal as solid favourites to win, but if you consider yourself something of an online casino MrBet, then there may be money to be made by betting against an away win… assuming you bet without emotion of course. More recent history suggests this will be a difficult evening, although incentive-wise, Emery's team should have far more motivation.
That man Mustafi!
He's back – the unfortunate two match suspension picked up by Sokratis means the Greek central defender won't be available for Premier League duty again until the visit to Wolves on Wednesday week. Assuming the Arsenal head coach maintains his five at the back formation, it would be a huge surprise if Shkodran Mustafi did not return to the starting eleven. Is there enough space behind the sofa for everybody?
Half an eye on Thursday evening
At least Sokratis will be available for selection against Napoli in the return leg of the Europa League quarter final – a game that may take on added importance if this evening's result is not positive. But Unai Emery is not yet in a position to place all his eggs in one basket, as Jose Mourinho did when he waved the white flag on Manchester United's attempt to make the top four back in 2017. And given that they are realistically competing for one of two spots in the league that lead to CL involvement next season, the league is still very much the best chance of qualifying for UEFA's blue riband competition with its attendant financial rewards. So he will rotate in front of his defence this evening. Will Mesut Ozil play in either game. Certainly there will be no room for passengers tonight or on Thursday, so it who knows what Emery will do. My suspicion is the number 10 is more likely to start in Italy due to the significance of a precious away goal, and a continental ref who is more likely to offer him protection.
Conclusion
It's really now or never for Arsenal as far as turning around their away form is concerned. The team have won just one of their last nine league matches away from the Emirates, and that was at doomed Huddersfield. But they have real incentive. They need a rock bottom minimum of seven points from their final four away trips, and failing to win this evening would not only make that a long shot, it would mean the Gunners' fate was no longer in their own hands. Win, and they go fourth. Realistically, Spurs' run-in is so easy, it is difficult to imagine even them Spursing up third place. So Emery's team must ensure they accrue more points than Man United and Chelsea. That really has to begin this evening. Defeat is unthinkable and even a draw would be disappointing. Let's hope for discipline, character and winning football… or it's all eyes on a late May trip to Baku to face the noisy south west London neighbours for what is effectively a Champions League play-off.


The current issue of The Gooner can be bought at the remaining home and away matches this season. It can also be posted to you (£6 UK addresses, £7.50 overseas) if you wish to buy it through our online store or if you have a PayPal account you can simply send us payment direct click here for our paypal.me link (although please remember to put the name and address for sending your issue in the message, and if you forget, then email us at thegoonerfanzine@btinternet.com to let us know those details)
2019-20 season subscriptions still available!
Having reached our target of 1000 paid up subscribers to continue printing in 2019-20, we are welcoming further subscriptions. For £30 (UK addresses) or £42 (overseas addresses) you receive six x 68 page issues through your letterbox over the course of next season.
There are four ways to pay –