Online Exclusive
Time to call time on Kroenke
Arsenal have not been competitive since the American became the club's majority owner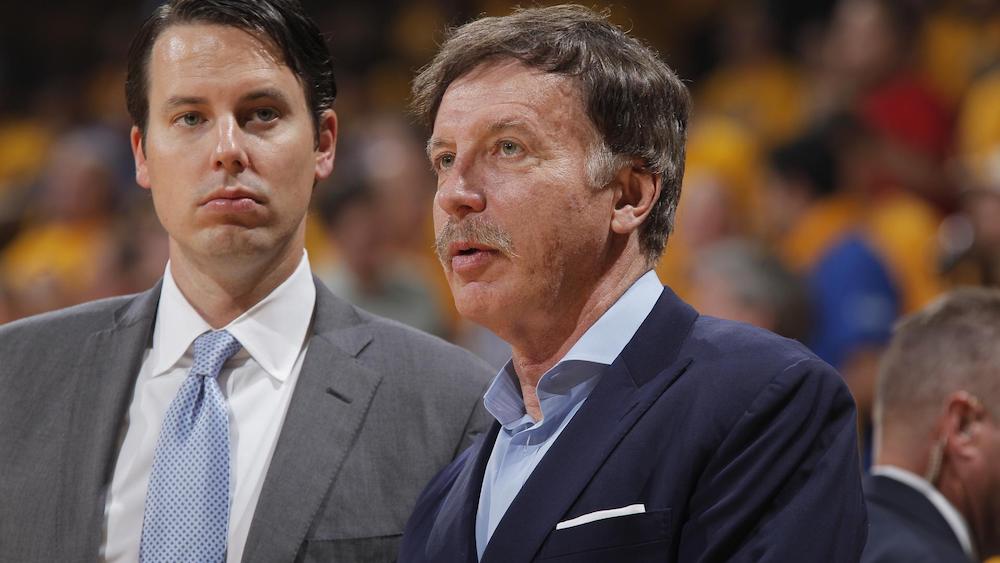 This has been a poor season for Arsenal. We started with two defeats, and showed from early on that we would not be competing for top honours. And yet, this was probably the year to do one better than the previous one. For competition is by definition a matter of comparison. Take Man. City and Liverpool out of the equation and what you are left with, is this:
* Manchester United at its worst in recent years;
* Chelsea plagued by backroom troubles, and imminent departure of its star player;
* And Tottenham, with the thinnest squad in the top six, and without its best players for long, long periods of time.
And yet, we managed to miss the top four (not that I side with Wenger's view that it is an honour, but it would, this year at least, mark improvement), and, as we now know, get thrashed by Chelsea in Baku. Granted Sarri's team were the favourites, but anyone using a bet365 sign up bonus would surely not have backed such a heavy margin of defeat.
Worse, this is not an isolated incident I am describing here. The downfall of AFC started ten years ago and nothing has been stopping it ever since. In fact, with Kroenke at the helm we have never managed to mount a serious challenge to win the title. Bar one season of course, the year we lost it to Leicester, a team endowed with formidably inferior players when compared to AFC's financial means.
In my view, there is no strategy. AFC is not the main focus of the Kroenke family. He has little incentive to do more. The Premiership is thriving anyway, so his investment pays off (almost) no matter what. Plans for a super Champions League by the European Clubs Association, with AFC's participation secured, will provide him with an extra guaranteed income. Why bother?
And it shows. Take a look at our Board: no strategists, and no AFC icons present. Compare with the Boards of the more successful clubs, and the difference is striking. The outcome? Wrong choices, many of them: keep Ozil, let Ramsey go; buy forwards, and neglect defence, our weekly horror show; increase the price for tickets, and abandon the Islington faithful. In short, not only have we not got our Arsenal back, but we risk losing it for good this time.
Top management abandons ship. Gazidis, for more money, Sven, because of his reduced influence. The AFC stalwarts are reduced to redundancy, and nothing saddens me more than seeing Bouldy quasi present on the touchline week in, week out. And of course, this is no isolated incident. This Arsenal has no place for Tony Adams, for Lee Dixon, and Paul Merson, and for loyal AFC fans that could have helped our Board and help bring in a breath of fresh air to a moribund, arteriosclerotic institution. I am thinking of people like Robert Peston, and Philippe Sands.
I was not going to say anything about Emery, who increasingly reminds me of Manuel on Fawlty Towers. It is probably unfair to judge him after just one year, even though we were told he came prepared and knew what he had to fix. Of course, similar statements should be taken with a pinch of salt. After all, the person (Gazidis) who made this statement, is the same person who informed us in the summer of 2013 that AFC could now compete with Bayern Munich. The departure from our beloved Highbury and the (very dear to me at least) North Bank, in order to move to the Emirates was so that the club could ascend to the Everest of world football where we would be competing with the best.
But this was the season to give Nelson, and Smith-Rowe, Holding and Medley, Willock and Maitland-Niles, Saka and Amaechi their chance to blossom. After all, no one would have accused Emery for failing to qualify for CL, as no one did. Give these guys 40 games each, see how far they can go, and then add the icing on the cake to take us to the next level. No. Emery's biggest failure to my mind is this: he built on the Wenger recipe of average imports that might deliver. They might, they might not. As it turns out, they did not. And we are back to where we were.
Except this time it is even worse. We have also been humiliated by Chelsea. Maybe Emery cannot relate to that. Kroenke definitely does not.
We want our Arsenal back, but I am afraid this means we need to persuade Kroenke to get out. Everything starts at the top. And the top has been failing us for way too many years now.
I want to add on a personal note. This is not sour grapes because of the result in Baku. I have been following AFC since the early 1970s. None of the Gooners of my generation were shouting "you're not fit to wear the shirt" when we were almost relegated two seasons in a row. Because we could see the determination of averagely talented players week in week out. This is what we have been missing: the grit, the passion, the love for the club. Yes, today's football is professional, but professionalism and passion can and do often go hand in hand. It does not happen at our club. It will, only if we bring more Arsenal into Arsenal. Familiar faces on the Board, Islington kids on the pitch.
The current issue of The Gooner (£6 UK addresses, £7.50 overseas) can be bought through our online store or if you have a PayPal account you can simply send us payment direct click here for our paypal.me link (although please remember to put the name and address for sending your issue in the message, and if you forget, then email us at thegoonerfanzine@btinternet.com to let us know those details)
2019-20 season subscriptions still available!
Having reached our target of 1000 paid up subscribers to continue printing in 2019-20, we are welcoming further subscriptions. For £30 (UK addresses) or £42 (overseas addresses) you receive six x 68 page issues through your letterbox over the course of next season.
There are four ways to pay –
NEW! Subscribe to the Gooner news list to stay up-to-date with all the latest breaking Arsenal news.
Please note that we will not share your email address with any 3rd parties.
---