Online Exclusive
It's All About Granit
(Sort of) Preview of this afternoon's game v Wolves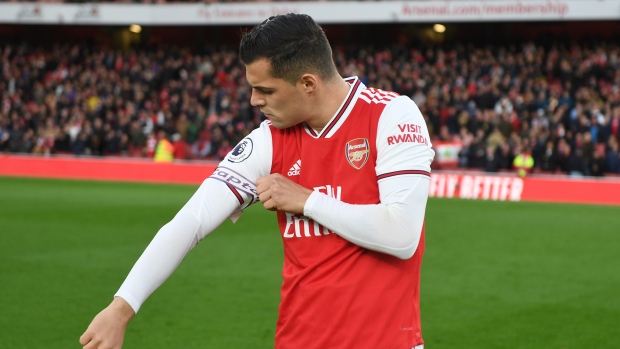 Not the usual five talking points ahead today's visit of Wolves in the Premier League.
The 'View from the Dressing Room' in today's matchday programme will be interesting
That people, is the title of the captain's column feature for those of you that don't buy the matchday programme (and it's a dwindling number that do), although I for one will be buying one out of sheer curiosity today. It has been announced that Granit Xhaka is not in contention for selection today, although there has been no announcement about his future as club captain. I'll be fascinated to see if there is a different player penning the column today, which could be a signal that change is afoot. Emery will be able to explaaaaaiiiiiiiin a different author by pointing to his ridiculous 'captaincy group' policy, without having to admit Xhaka simply cannot skipper this team again. If Xhaka does pen the column, and expands on his statement, then it's a sign that Emery plans for him to wear the armband again. Not good.
A toxic atmosphere has at least been avoided
Xhaka's half-hearted / 'I was justified in my actions really' apology won't cut it with those who do not feel positive towards the number 34. Next time he does play for the club (certainly at home), when he touches the ball, you just cannot rule out him being booed. Who knows whether the decision not to involve Xhaka, was instruction from above or Emery's own.
Social Media
Ah yes, keyboard warriors. Here's a heads up to all professional footballers. You'll have haters who wish you all kinds of sh*t. These people have issues which are underpinned by massive personal insecurity. One individual (writing under a forum name on Arsenal World) who I had previously helped out wished that I would die of cancer for having the temerity to express the opinion that Arsenal would be better served by moving on from Arsene Wenger. For Granit Xhaka to use such messages on social media as an excuse for his actions last Sunday don't cut it here.
Mentally fragile
The club have not disciplined Xhaka for his actions at the Palace game because they consider he is "mentally fragile". He may well be, and frankly, that's a good reason why he shouldn't be captain. In this day and age, a fine is pretty meaningless anyway. Whether Xhaka is genuinely mentally fragile or just stubborn is one for debate. The statement he issued should have begun with the two phrases "I was wrong" and "I am sorry", and then explained the reasons behind his actions. It's perhaps significant that it was issued by Xhaka through his personal Instagram account, rather than the official club channels. If it were the latter, one imagines it might have read very differently. I'd imagine Xhaka, after discussion, was issued a version of a statement that could be released, but he wouldn't agree to it. Too much humility. And right now, humility is what is required to win the Arsenal support back over. Myself, I don't see it. This is a relationship broken beyond repair and if Unai Emery does not realize that, he'll be toast too, going down with his captain.
There's a game today…
And believe it or not, it kicks off at 3pm! What's this all about? Some new fad? I wonder if it will ever catch on. Anyway, now that it's been confirmed the club captain will not be involved, the focus switches to whether or not Mesut Ozil will start or be on the bench. After Wednesday night's comeback, it has to be one or the other. Arsenal need to get more creative, Ozil needs to resurrect what is left of his career. It's an opportunity. One imagines the number 10 won't get too many more at the club, unless there is a change of manager before his contract expires in the summer of 2021. Let's hope there is a good news story that comes out of today for the Gunners, in contrast to the events of last weekend
Conclusion
Wolves are well capable of getting a result today. But after all the drama, I just have the feeling it's time for a straightforward home win. Mind you, if you choose to follow any betting tips I might offer, don't put too much on – with this Arsenal team, anything can happen. That'll do you for today – I'm off to watch the rugby on the box!!