Editorial
How bad does it have to get?
Online Editorial – Arsenal snatch late draw at home to 19th placed Southampton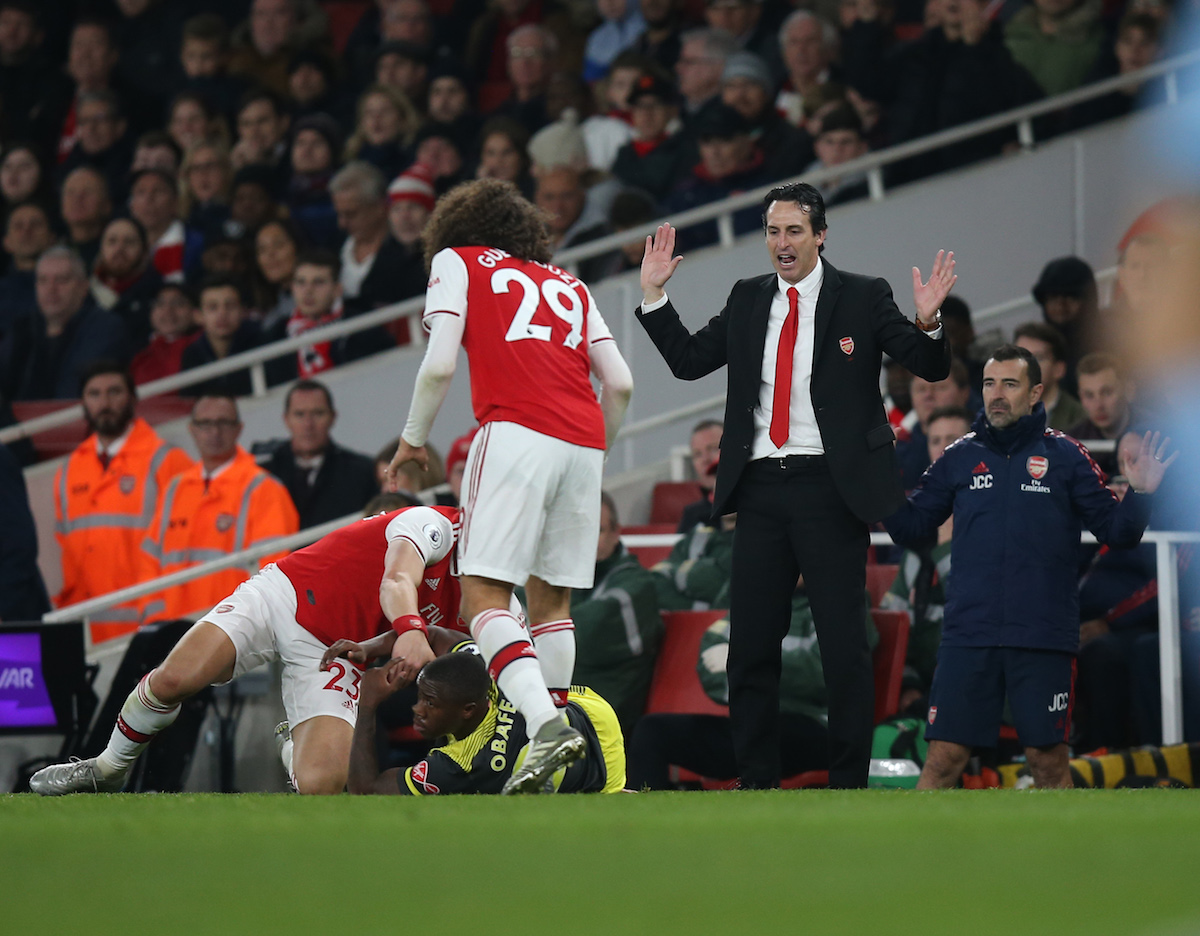 Amy Lawrence is an Arsenal-supporting journalist who is loyal to the club, and yet objective, more conservative in her published views than the vast majority of fans that watch the club in the flesh from the stands. And when she writes a piece for The Athletic website in which eight separate times she asks the question that is the title of this editorial – How bad does it have to get? – then you really have to believe that the end for Unai Emery cannot be far away. In the same article, she states that Sir Chips Keswick is considering resigning as the club's chairman, presumably because the board isn't having any influence on the Arsenal's owner over Emery's position. They have seen the damage that staying loyal to a manager for too long can do. There is also the issue of board members wanting to see David O'Leary become a director being reputedly rebuffed due to Raul Sanllehi's opposition to such a move.
So with the board seemingly figureheads (and Sanllehi perhaps believing the presence of O'Leary as a director might change that if he has the opportunity to communicate in meetings with Stan Kroenke), it begs the question as to whether the people in charge of the club from day to day (Sanllehi, Vinai Venkatesham and Edu) are keeping Emery in the job, or advising Stan Kroenke that it is time for change, but the owner deciding, presumably for financial reasons, to give the head coach more time. The club line will always be supportive until the axe comes down, so we cannot read too much into that. However, it is genuinely difficult to believe that the Kroenkes are being told that Emery can still deliver the club's stated ambition – a return to the Champions League. That suggests that Keswick might choose to step down because Kroenke is taking no notice of anyone at the club, at board or executive level, as well as pondering the contribution he and others in the directors box can make going forward, especially if the board is not even going to be renewed with fresh ideas and football expertise.
The latest issue of The Gooner went on sale yesterday, and the cover line, accompanied by a photo of Emery, was "Delaying the Inevitable". Hopefully, it will be out of date by Thursday evening when Arsenal host Eintracht Frankfurt. The next two home matches, assuming Emery does cling onto his job, will see swathes of empty seats at the Emirates, and not just because the German fans are banned from the first of them. Both on Thursday nights, they will demonstrate how much people have lost interest. If the club want the stadium anywhere near capacity, this will only happen by the appointment of a new head coach (Allegri and Pochettino seems the best current available options) and a renewal of interest in watching Arsenal. Because people have gotten fed up of seeing the same old pantomime football when Emery's side try to play the ball out from defence.
I honestly would not be surprised if there was an announcement later today that Emery had been given his P45. I think Josh Kroenke was in attendance at yesterday's match, and perhaps he will deliver the news. It's difficult to see any justification for Emery to take charge of any more games now. Things are so obviously going backwards and there is no chance of this reversing now. Three home matches against Palace, Wolves and Southampton have produced three points. In that time, the side have lost away at Sheffield United and Leicester. Three points from 15. An Arsenal side competing for the top four should be beating this level of opposition home and away. Southampton are 19th in the table, recently lost a home game 9-0, and at the end of yesterday's match were distraught because they should have taken three points on the balance of gilt-edged chances they enjoyed. 21 attempts on goal, compared with just 12 from their hosts.
When Arsenal did finally manage to get the ball forward, they did create danger. They could have taken the lead twice at 1-1, with Aubameyang and Pepe unfortunate. The crosses for the two goals from Tierney and Martinelli were exquisite. There's nothing wrong with the attacking talents of the players, the problem is that most of the game takes place somewhere else than the attacking third. So chances are limited, with the opposition almost invariably enjoying more. History will recall Emeryball as the insistence of playing out from the back as a default option with the players under orders never to play it long. The consequence of this is that opposition teams can press the players deep, knowing they don't have to cover a long pass. This puts pressure on the defenders and holding midfielders and all too often, Arsenal lose the ball in their own half. Hence the glut of chances. How the Saints failed to score when Sokratis was dispossessed in his own area I have no idea. Additionally defensive basics are not being drilled into the players. Asleep at a quick free kick for the first goal, Tierney not being goal side of his man for the second (and the move should have been stopped by a simple foul from Guendouzi in the build-up).
It was a shambles. So much of Arsenal's play lacked conviction, determination and common sense. By all means play out from the back sometimes – but do it quickly before the opposition is set. And mix it up with percentage long balls, with players under instruction to fight for the second ball. Arsenal actually did this for a brief spell at the start of the second half, which led to their chances to take the lead. By this stage last season, I think Emery had given up on the insistence of playing it out from the back, this time around, he seems to wish to continue it until his players look like Barcelona. He'll have a long wait.
I'm running out of things to say here, so I'll reproduce an email received yesterday evening from 'Upper Street' a sometime contributor who regularly communicates their thoughts to me…
Subject: Rotten, from top to bottom
So, Lacazette's 96th-minute equaliser has (temporarily) got Emery out of jail. But it's merely postponed the inevitable.
Outplayed, out-created, at the Emirates by a team that lost 9-0 at home to Leicester a few weeks ago. You couldn't make it up.
I wasn't at all surprised at this afternoon's result. I don't suppose many Arsenal fans were either. That's where we are - a club that's rotten from top to bottom.
A cynical, money-grabbing Yank owner who knows zilch about soccer and cares even less; a management structure that stinks; a board of directors who are about as much use as a bunch of chocolate teapots; and a manager and his Spanish entourage who are totally out of their depth in the Premier League.
At any club with ambition, Emery would have been sacked after the disaster in Baku. But Arsenal have never shown any ambition since Dein left. He was the only one who ever had any vision and ambition for the club's future.
How Emery can stay now is beyond me. But I fear he will.
Me again – Ambition. Yes, the lack of this at the very top is what kept the head coach in a job after the disappointments at the conclusion of last season. Remember that the owner wasn't even sufficiently motivated to watch his club in a European final. I wrote after the ignominy of the performance in Baku that I could see no good reason to waste another season as the flaws in Emery's approach were not going to change. The summer transfer activity gave false hope that things could be better, but ultimately, if you have the wrong man making the match by match football decisions, the quality of the players can only take you so far. Time for this to end. Arsenal need to rebuild, go again, improve and start moving in the right direction. No-one believes anymore that this is going to happen under Emery, not even Stan Kroenke. But the owner has other priorities than the ambition of Arsenal football club. Actions speak louder than words. Let's hope that finally, six months too late, we see some action later today.