Online Exclusive
The North London Derby Returns To Wembley…
Preview of the early afternoon Premier League match away to Spurs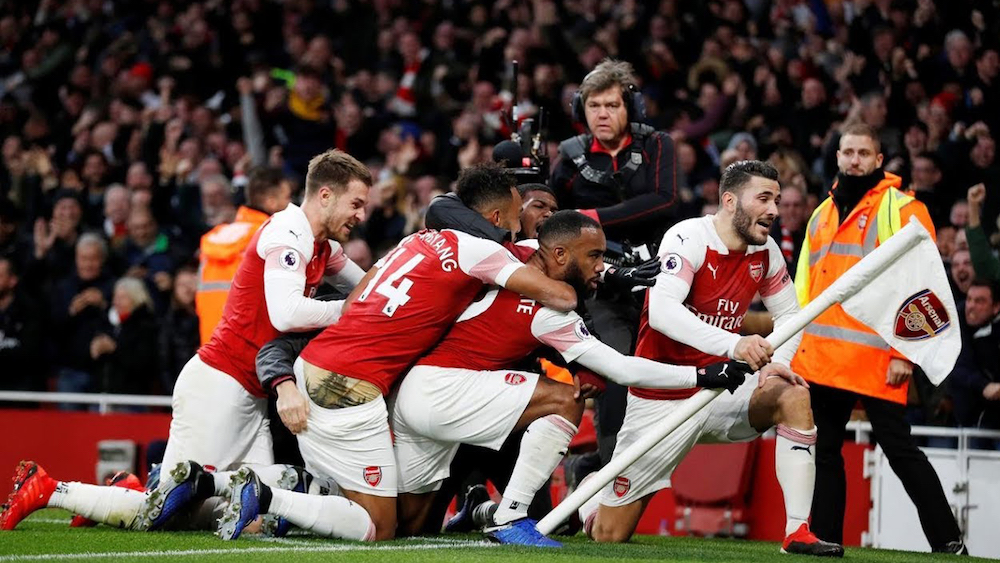 The usual five talking points ahead of today's Premier League fixture at Wembley against Tottenham.
Crucial to avoid defeat?
I'll start with the text of an email I received from Gooner contributor Ian Henry yesterday…
Spurs could be on the slide; crucial to avoid defeat on Saturday and next Sunday. If we assume that, in the normal course of events, the top 6 are going beat most, if not all, of the matches they have to play against the lower teams, the title and the order of the four going for 3rd and 4th will come down to matches between the top six. In that regard, Arsenal, Liverpool, Man City and Chelsea have two matches against other top six sides, while Spurs and United have three. Arsenal might be lucky in that we have our two in our next two games, getting them out of the way while in good-ish form. After that, the other crucial games are:
March 31 – Liverpool v Spuds
April 14 – Liverpool v Chavs
April 20 – City v Spuds
April 24 – Utd v City
And April 28 – Utd v Chavs
Mind the gap?
Tottenham's two defeats against Burnley and Chelsea have meant that, with Arsenal winning against Southampton and Bournemouth, the gap between the two clubs has narrowed from ten points to four. It's a huge incentive for Unai Emery's team to go for the win. It's been a while since Arsenal did win away at Spurs in the League, the last occasion being back in 2014. Aside from a League Cup victory in 2015 (with both goals from Mathieu Flamini) trips to the noisy neighbours have not been good ones in recent seasons. Still, it's a derby right? Like trying to predict where the ball will land in the roulette wheel of a casino online, no one can tell you what's going to happen. It's about time Arsenal got something from this fixture though.
Forget Rotation
With the game in Rennes not until Thursday, I believe we will see what Unai Emery considers his strongest possible eleven start at Wembley. One of the reasons for this would be that, given the choice, Arsenal would probably prefer to qualify for the Champions League through Premier League position than a cup win. How so? Because they'd get a significantly better slice of the Champions League UK TV pot that way. So Emery is not going to start thinking about prioritizing the Europa League unless he is convinced his team will not make fourth place at a minimum. So don't expect the see Mesut Ozil for one, and it would be a surprise if both Aubameyang and Lacazette did not start. As for the rest of the line-up, a lot will depend on the head coach's chosen formation. I suspect he will go for three at the back, so we'll see three from Koscielny, Sokratis, Mustafi and Monreal at the back, with Kolasinac at left wing back, and Maitland-Niles or Lichtsteiner on the right. Xhaka and Torreira in the middle with the in-form Mkhitaryan getting the nod over Iwobi to partner the two strikers..
Time for another Wembley win
After winning nine games on the trot at Wembley (albeit two via a penalty shoot-out) between 2013 and 2017, last year was not so good for Arsenal at the national stadium. They visited twice in February 2018 and lost both times – to Spurs in the league and Manchester City in the final of the Carabao Cup. At least we've moved into March this year! This may be the final time the Gunners face Spurs at Wembley for a long time. The 25 year gap after the 1993 FA Cup semi-final was only broken because Pochettino's team were playing their home league matches there. So let's hope that the memories of today's visit are good ones given nobody knows when the two sides will face each other at the iconic venue again.
Happy Birthday Dame Maria Petri
One of Arsenal's most loyal supporters celebrated her 80th birthday yesterday, and was featured in the programme for the game against Bournemouth last Wednesday evening. Step forward Dame Maria Petri, she of the red coat and the "Come… on… you… Gunners!" chant heard from the front row of club level on the west stand at home matches. Unless she has been given a seat in the Directors Box by the club, she's normally allocated a seat in the front row of the away section so she does not have to stand up to watch the match. Let's hope the Spurs fans show some respect for our Octogenarian supporter and that she doesn't get caught up in any trouble outside.
Conclusion
Sorry, but how can you predict this one? It's a North London derby. If it was at the Emirates, you'd have good reason for confidence. But it isn't, and even before 2014 and that Tomas Rosicky inspired 1-0 win, Arsenal's record at the Lane was patchy. Still, let's call in the law of averages. Spurs haven't drawn a top flight match for 32 games. It's about time. 1-1 is a popular prediction and if you offered that to me now I'd happily take it. One thing I can't bring myself to do is predict a home win. Let's hope the away section doesn't have to experience that.
The (now annual) campaign to save The Gooner so that we can continue publishing beyond the current season is underway. We need 1000 subscribers signed up for the 2019/20 campaign by March 23rd. £30 for six issues (UK), £42 if you are abroad. All the details can be found on this interactive downloadable form.
The current issue of The Gooner will be on sale at the forthcoming home matches against Manchester United and Rennes. It can also be bought online and posted to you. UK addresses buy here, and overseas addresses buy here.