Online Exclusive
Arsenal's Final 'Top Six' Face Off
Preview of this afternoon's visit of Manchester United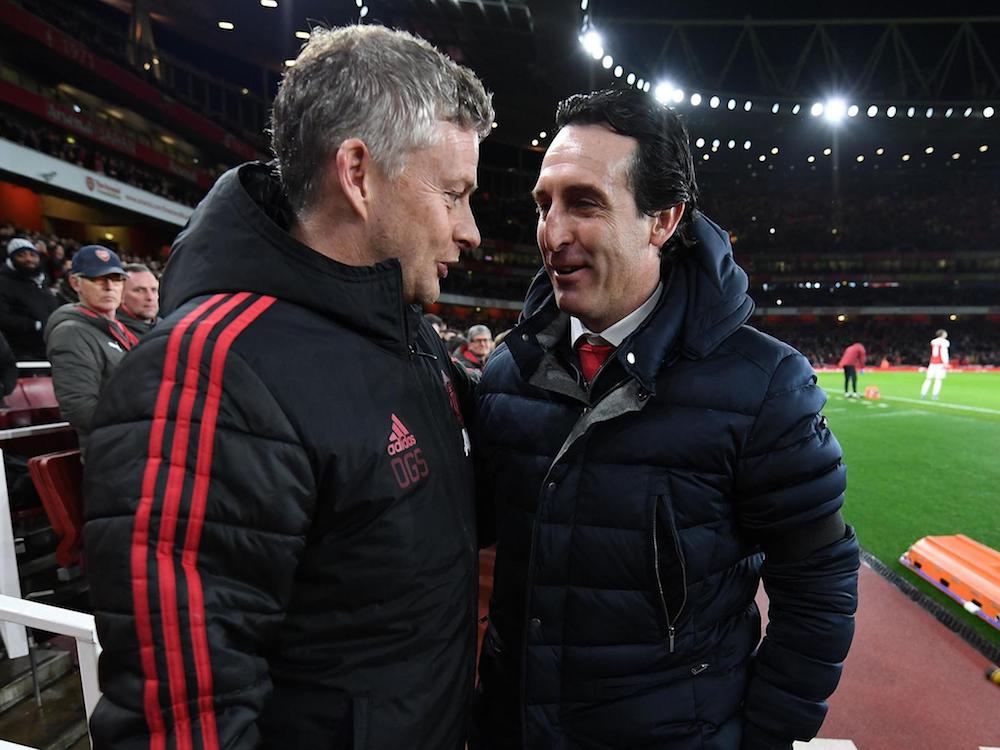 The usual five talking points ahead of today's Premier League game against Manchester United.
The Points Situation

I've been consistently revisiting the theme of Arsenal requiring 76 points to secure a top four spot before recent Premier League matches. Last weekend was ultimately disappointing, given the injury time penalty that should have secured a precious three points against Tottenham, but Arsenal are still on track. They now require 19 points from nine matches. Realistically, they need to pick up nine of those from the last three home fixtures of the season (Newcastle, Palace and Brighton). That leaves ten points from the other six matches. Three wins and a draw. There's no question beating United would be very significant given they would be denying points to direct opponents, but even losing today would still give them the opportunity to take those ten points from the visits to Everton, Watford, Leicester, Wolves and Burnley. Still, they'd make their lives a lot easier if they could win this afternoon, with the remaining fixtures feeling less like a visit to the best online casinos, where wins can be lucrative, although not guaranteed.
United on a high

There's no denying the Solskjaer effect at Old Trafford, and with hindsight, one wonders if such a shake up at Arsenal might have had similar benefits were it made mid-season at any time in the last ten years. United have played 12 league matches under the Norwegian, winning 10 and drawing two. 32 points out of 36. It's the equivalent to a winning run on the best Australian pokies, such has been the Red Devils' form since dismissing Jose Mourinho. In the same period, Arsenal have gained 22, including three defeats. United's only defeat under the new manager has been in the first leg of the Champions League against Paris St Germain, which ultimately was cancelled out in dramatic fashion during the week. However, Arsenal are at home, where they have remained undefeated in the league since the opening day visit of Manchester City. That though, has to be countered with defeats in the domestic cups when Tottenham and Solskjaer's United came calling. Even with their good record in the league, let's face it people, the bookies making Arsenal favourites to win this game is something of a mystery to this observer.
Tactics

One predictable thing about Unai Emery is that he is unpredictable. Last weekend, he ordered his team to play deep against Tottenham and almost pulled off a remarkable away win. Will he play a similar counter-attacking match at home? The one thing that is a sever risk against taking the game to United is the pace of Marcus Rashford. Playing a high line could be suicidal. I really feel like this match has to be played like a game of chess, rather than the usual multi-goal thrillers we generally see between the two teams. Given the respective form of the two sides, I'd take a dull goal-less draw if you offered it to me ahead of kick off. People, this is all about points.
Decisions up front
There is something of a cloud over Pierre-Emerick Aubameyang currently, after the missed penalty v Spurs and a low-key display in Rennes. There seems no doubt Alexandre Lacazette will start, but Emery has to decide whether his number 14 should play on the left instead of Alex Iwobi. Henrik Mkhitaryan seems to have established himself on the right, and one imagines, as against Spurs, that Aaron Ramsey will get the nod ahead of Mesut Ozil, in spite of this being a home match. Arsenal simply cannot afford passengers in the midfield today. And of course if Emery reverts to three at the back, Ramsey will most likely be on the bench too. I suspect that Iwobi will be given the nod over Aubameyang on the basis that he will work harder when United have the ball.
Defence looking decidedly ropey

Even before Sokratis was dismissed on Thursday evening, Rennes' young attacking players made Arsenal's backline look their age. This is why counter attacking football might be the way to go for the foreseeable future. There's not much in the way of pace in any of the available centre backs. Emery seems to prefer playing Mustafi at right back ahead of Ainsley Maitland-Niles, so the only likely change we'll see to the starting backline in the last two matches is the possible return of Kolasinac in place of Nacho Monreal. That would aid Arsenal's threat on the counter attack, although defensively, experience marginally wins out, even if the Spaniard did not have a good game on Thursday evening.
Conclusion
Has something's got to give? United's unbeaten sequence since changing manager against Arsenal's solid home record. Not if it's a draw which would allow both sides' runs to remain intact. My gut feeling though is that United are on a high and will feel like going for the jugular, boosted by the confidence of their FA Cup win at the Emirates less than two months ago. So sorry folks, I think there is money to be made from the bookies today. United to win by two clear goals. Hate to say this, but Emery's defence has been exposed too often this season, and they are unlikely to display the discipline we saw at Wembley when they are playing at home.
The (now annual) campaign to save The Gooner so that we can continue publishing beyond the current season is underway. We need 1000 subscribers signed up for the 2019/20 campaign by March 23rd. £30 for six issues (UK), £42 if you are abroad. All the details can be found on this interactive downloadable form.
The current issue of The Gooner will be on sale at the forthcoming home matches against Manchester United and Rennes. It can also be bought online and posted to you. UK addresses buy here, and overseas addresses buy here.