Online Exclusive
Arsenal Circular 183 – Emery gets the green light
Just over a year since his last offering, Graham Perry gives his verdict on Arsene Wenger's successor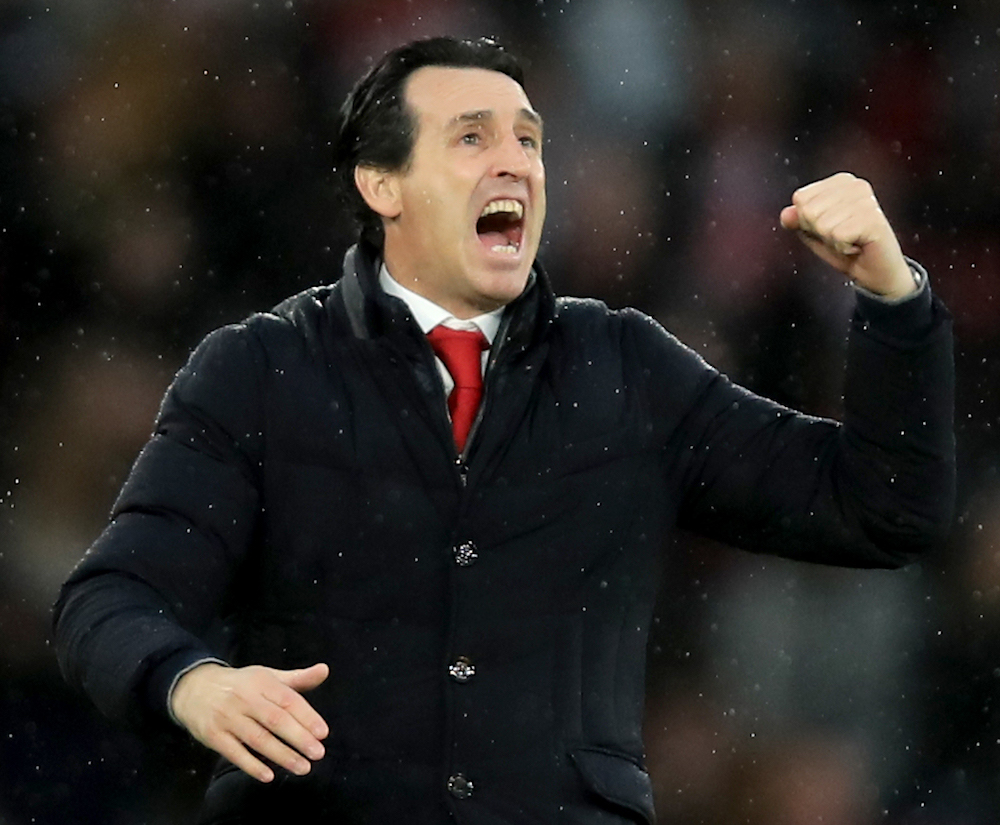 Dear Fellow Gunners
So How Is It For You?
Is your Glass Half Full or Half Empty
Are we making progress or are we Same Old Same Old?
Are we going forward or just treading water?
Into the final quarter of the season and we are in contention for a Top Four Place and still in the Europa League.
And the last three matches provide a clear insight.
We were not favoured against THFC but came through well – we played the ball out of defence on the ground with good passes. We were organised, committed and enthusiastic.
Ramsey took his goal so well – Wembley is one of his favoured grounds – and but for error by the linesman we were winners.
Incidentally two bad errors by officials – the positioning for the Kane offside was a basic mistake – at Referee school you are told where to be for the free kick and the linesman was a decisive yard behind for the Kane offside and did not have the right angle to see across the line
And the encroachment error was also quite avoidable – the linesman got it wrong and because of that error the referee failed to require the penalty kick to be retaken as it has to be when two things happen – encroachment and a penalty miss. If Auba had scored – even though there was encroachment the goal would have stood. He didn't score. Vertonghen did encroach. Penalty re-take.
We really lost out – but personally I thought the penalty was soft – as was Laca's v United. Don't let people tell you we don't get decisions. We do – some.
Against Man U the stats were close – both sides had 14 shots – we had 3 on target and they had 4. Both sides had chances so things for me were closer than 2-0 but it was the character of our performances in all three games that shone through.
We thought. We worked. We were committed. There was a game plan.
The sending off in Rennes was decisive and their forwards were good. They took their goals well. But we did battle. We were Arsenal – there was spirit and determination and character. It was a defeat but not the end of the world – we still have Thursday and we can turn it around.
But for me Emery gets the green light. I like him - his manner, his poorly expressed but clear intentions, his relationships with the players – no love affair or Klopp type hugs/embraces but lots of respect.
Arsenal are work in progress and we are progressing.
Emery is work in progress and he is progressing.
He knows what he wants. He enjoys the strengths but he is aware of the weaknesses.
I think the PSG experience was a big one and I sense he learns well from success and failure - remember Holding and Bellerin were natural picks and he has had to re-juggle following their close-together long term injuries.
Kolscieny is a real star. So strong. So level-headed. So respectful to his opponents. So enthusiastic when he celebrates.
They say his pep talk before our 4-2 win over THFC at the Emirates really counted with the players.
We are in with a shout. Coming in to the back bend on the last lap – eight matches to go. Three at home and five away. We have all to play for – none of the last 8 games are against top six teams although no easy games in the Premier League.
Today in the Mail neither Sutton not Keown had us in the top four at the end of the season – they may be right but we are today in 4th position so well placed.
And let's hope we can turn things around on Thursday.
Emery wants it, the players want it and AFC fans want it – there is only one place to be on Thursday and if the United Kingdom wants Out of Europe Arsenal Football Club wants Into Europe.
Some observations;-
Leno has done well in recent matches – saved us quite a few times with well-timed grabs for the ball on the ground without conceding a penalty.
His double save against THFC was a keeper's dream and he is working on his judgment on crosses – so difficult to do – a much under-estimated skill. Jack Kelsey had it in abundance and Jens Lehman and Bob Wilson too. It requires much self confidence in two areas – judgment in deciding whether to come or stay and catching ability in the face of wind/rain/physical challenges. Watching Leno develop is exciting.
Storey and Simpson slowly became indispensable. Nothing happened overnight – Simpson especially. But both played big roles in the 1971 season. I feel the same about Maitland-Niles. Played in different positions (defensive midfield is probably his best) and never an automatic selection he is gradually adjusting to expectation. There is more to come as he settles – exciting watching him develop.
Ramsey remains the sadness. A tremendous player and an even greater person. Never broken faith. Always committed. A Reluctant Leaver. Will always appreciate and remember him – that back heel from Giroud in the final v Hull City that allowed him to get the winner was just wonderful.
That goal at WHL from the pass from Bellerin with his right foot from behind his step. Special.
The relationship between Lacazette and Aubameyang continues to intrigue. Forwards can score without getting on (Cole and Sheringham at United) but their warm and supportive friendship on and off the position is quite special. Not easy to do when both want goals. You need to be selfish but good if you can be selfless and the two have that capacity. Suarez is just starting and feeling his way is but comfortable with the ball with a lovely touch and feel. Can he grow into a bigger role.
Fascinated to know how Emery goes one to won with the players. It is said he does it with match videos. Key aspect of improvement – I sense he has been instrumental with Holding and Bellerin coming through a bad patch. Other players just in the frame – Smith-Rowe, Saka and Nelson. Also do not overlook Bielik – doing very well on loan at Charlton Athletic
Best win – v Anderlecht April 1970 at Highbury. Worst defeat – at Peterborough January 1965.
Yours?
Roll on Thursday
Twitter@arsenalcircular
The (now annual) campaign to save The Gooner so that we can continue publishing beyond the current season is underway. We need 1000 subscribers signed up for the 2019/20 campaign by March 23rd. £30 for six issues (UK), £42 if you are abroad. All the details can be found on this interactive downloadable form.
The current issue of The Gooner will be on sale at the forthcoming home match against Rennes. It can also be bought online and posted to you. UK addresses buy here, and overseas addresses buy here.