Online Exclusive
Arsene and Arsenal Fans are to blame for this season's failures
Things declined so far because supporters accepted lack of ambition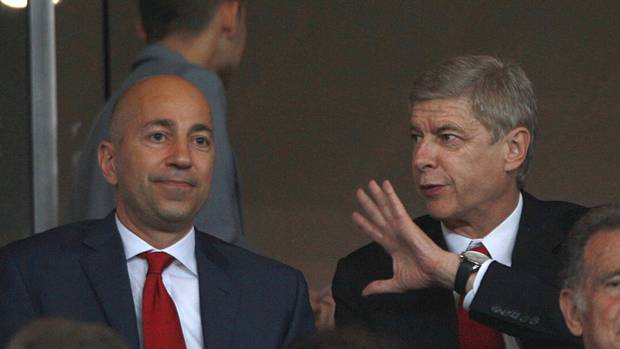 What do Arsenal fans expect and at what stage are Arsenal fans going to take some responsibility for the mess the club currently finds itself in? I ask because having read the editor's latest piece, though I agree with much of his sentiment, I am baffled by the current approach of Arsenal fans. Let me explain.
As far back as 2010, I wrote in to the Gooner and suggested that Arsenal were headed into a dangerous and negative spiral where losing had become acceptable and standards were increasingly lowered. At that time, it had been six years since Arsenal had won a league title and five years since the club had won anything at all. Fast forward to 2012, one 8-2 shellacking at Old Trafford later, I again wrote in, saying that Arsene Wenger needed to be flung out of Arsenal quickly. It wasn't a reaction to one result, but to years of incompetence. Invincible season or not, no manager can live off the past – but it was obvious Wenger was.
Arsenal fans though, would have none of it. We heard the now-familiar excuses:
"Real fans have patience"
"Do you want to become a circus like Chelsea and change manager every summer"
"Arsenal has class we back our managers"
"We cannot compete with oil money"
Now. Time has shown that every single one of those excuses were just lame and suddenly, those excuses have disappeared. Odd. Let us be crystal clear here. Arsenal for over 15 years, were a Champions League club. Fans were happy to show off about "Top 4" without adding in the context that every single season, Wenger embarrassed the club's name in the CL. There are too many thrashings and humiliations to consider, but the evidence is clear. Arsenal fans unconditionally sat back and allowed Arsene Wenger to be unaccountable to the club for over fourteen years. In the time since Arsenal last won the league in 2004, Leicester actually won the thing (so you can succeed without oil money. Who knew?). In a season where Man United, Citeh, Chelsea and Liverpool all took the year off, Arsenal and Wenger only managed to finish 10 points behind Leicester. Wenger's reaction at the time? "There are 18 other teams who would love to be in our position". This is a loser mentality, and it is one that infects the club's boardroom and fans still today.
Let us not muck around: Arsenal fans were perfectly fine with Arsene Wenger not challenging for the league title for fourteen years. FOURTEEN seasons, Arsenal fans sat back and made a plethora of frankly laughable excuses. To be clear: challenging for the title means having a mathematical chance of winning the league with 3 -4 matchdays remaining (not being top in October). This has not happened since 2004. The "oil money" excuse was blown out the water by Leicester. Back then, even Klopp at Dortmund was winning back to back Bundesliga titles in a league where Bayern have more wealth than the rest of the division put together. Diego Simeone at Atletico Madrid managed to win La Liga beating both Messi's Barca and Zidane's Madrid full of stars – whilst making two CL finals and winning a further two European trophies. "Financial doping" was and always will be a losers' excuse and it was one Wenger and Arsenal fans embraced. The alternative of course, was for Arsenal fans to find Wenger and Arsenal's performance unacceptable, boycott matches and instigate change. They bottled it – but then will accuse the team of being bottlers.
In 2013, many people thought Jurgen Klopp at Dortmund should have been appointed and Wenger sacked. It isn't hindsight, it was the obvious call. We saw Man City sling out title-winning Pellegrini when Pep Guardiola became available. We saw Bayern do the same with treble-winning Jupp Heynckes. This is what big clubs do and how they act. Arsenal fans? It was all about loyalty to Wenger above the needs of the club. And the club is now going to suffer the consequences for years to come.
Emery has made several mistakes. For starters his team selection against Palace at home was a disaster – I get he had to rotate, but you cannot EVER play Jenkinson in any football match you want to win, alongside clowns like Mustafi. Then there was the Brighton match at home, an outrageous failure in a match Arsenal had no excuse not to win. The Europa League Final was an abomination, you cannot justify losing any final 4-1.
Here is the thing though: this is Unai Emery's first season at Arsenal. Let us examine the scale of the absolute sh**show he has inherited. If I told you that Arsenal and Chelsea had the same wage bill, would you believe that? Arsenal fans have spent years worshipping the pathetic Mesut Ozil, a symbol of everything that is wrong about Arsenal: weak mentality, ineffective, disappears. Many people have been calling Ozil out for years but it took Arsenal fans that disgraceful Baku final to finally wake up. Where have they been? Ozil cost £42m. Hazard cost just £32m. Ozil earns £350k a week. What is the reason Ozil is on £350k a week? Well, because Wenger and City had reached an agreement with Man City to sell Alexis Sanchez for £60m over the summer. At the last minute, fearing another fan backlash for yet again, selling an Arsenal player to City (Nasri, Adebayor, Clichy, Sagna etc) Wenger got cold feet and asked Gazidis to pull the plug. It led to the farcical scenario of losing Sanchez anyway, bringing in the appalling overpaid Mkhitaryan and then being forced into giving Ozil – whose only offer with less than 12 months of his deal remaining was from Fenerbache – a crazy new deal. Hazard is on almost half Ozil's current wage - £180k a week. The difference between the two players, and both teams couldn't be greater. Arsenal and Chelsea have the same wage bill, but Chelsea have a far superior pool of players. Pedro, a squad player, walks into the Arsenal team. Look at Rudiger, superior to any defender. Luiz we mock, but again, superior to any Arsenal defender. Azpilicueta the same. There's the world class N'Golo Kante – a player Wenger refused to pay the going £31m for, and that same summer opted to instead shell out £37m for Granit Xhaka. Yet, Arsenal fans genuinely continued to claim Wenger "had no money". The fact that Mauricio Pochettino, not having signed a single player in the transfer market, made top 4 and a CL final - whilst building a new stadium – should be a source of huge embarrassment to every single Arsenal fan who excused Wenger's failure by claiming the stadium impeded progress. It was nonsense then, and is nonsense now.
Stan Kroenke is clearly a leech and a disgraceful owner who does not care. That much we know. Ask him for his knowledge about football and I suspect he'd be know more about how to bet on tennis and win than the playing side of the football club he owns. The other thing we also know though, is that despite Kroenke not investing a penny, Arsenal make so much money that Kroenke did not actually need to. Arsene Wenger was given a LOT of cash to spend at Arsenal – it was spent appallingly. Arsenal fans have to ask themselves how a League 2 standard footballer like Carl Jenkinson is on £40k a week. How is Elnenny on over £50k a week? How is Mustafi on £100k a week? How is Xhaka on over £100k a week? How was Welbeck on £110k a week? How is Mkhitaryan on £180k a week, and how is Mesut Ozil on bigger money than De Bruyne, Hazard, Salah, Mane, Sane and Sterling? None of this is down to Unai Emery. Emery has been strangled by the years of financial recklessness and mismanagement from Wenger, Gazidis and Kroenke.
Kroenke's biggest mistake was failing to sack Wenger as far back as 2013. Klopp was available, Arsenal was a CL club (Liverpool was not at the time) – but this did not happen because Arsenal fans were perfectly happy with Wenger's failure. It was down to FFP, "oil money", "injuries" etc…. One thing that is funny and instructive under Emery is that whereas Wenger got thirteen seasons of excuses (despite having 100% control of the club), after his first season at the club in which he has managed more points, and superior European performance to the previous season, with players that are not his – Arsenal fans have suddenly become winners with sky-high standards. What happened?! Whilst I agree Emery blew the top 4 chance: Spurs, City, Man United, Liverpool and Chelsea all have superior players to Arsenal. I would go further and say that Wolves, Leicester, Palace and Watford have players I would kill to see at Arsenal (Neves, Doucoure, Jota, Coady, Boly, Tielemans, N'Didi, Chilwell, Wan-Bissaka, Zaha, Maddison, Ricardo, Maguire etc).
I have to ask again: how are Arsenal FC, with a wage bill of over £200m – a wage bill not overseen or implemented by Emery (who has nothing to do with contracts or transfers) – in a position where Leicester, Watford, Everton, Wolves and Spurs have players Arsenal would kill to have? How is that even possible when Arsenal pay far more in wages than all of those clubs? This comes down to one thing and one thing only, and it is years of grotesque mismanagement from Wenger and Gazidis. Period. And Arsenal fans let it happen. Sorry but that is the truth.
Now we hear some people hilariously claim "Arsene would have got us top 4" even though Wenger is literally the reason Emery rocked up to a Europa League club. Even though Wenger's last CL match was a 10-2 thumping against Bayern. Is that what top 4 was about? Whereas Klopp at Liverpool struggled in the beginning, Klopp had assets to sell and rebuild in Coutinho. Which assets has Wenger left Emery? A sky-high wage bill and there is not a single player there Emery can sell for big money. That is Wenger's legacy. All the Arsenal fans sitting there reminiscing over Wenger need to also ask themselves why it is that Arsene Wenger remains unemployed.
Real Madrid changed managers three times, approached Klopp, Pochettino etc… not Wenger. Inter changed manager, no interest in Wenger. Milan forced Gattuso to go, no interest in Wenger. PSG changed managers and again, no interest in Wenger. In fact, the only job offer Arsene Wenger has received since being sacked from Arsenal (and he was) has been from Fulham who were headed for the Championship. After he refused, they gave it to Scott Parker. Curious that Fulham never once thought of ringing Pep, Pochettino or Klopp eh?
It is curious to read the Gooner editor ask for Allegri after one season of Emery. For starters: do Arsenal fans realise where in the pecking order this club is? Zero CLs ever. No title challenges for 14 years. Abysmal overpaid players and recklessly mismanaged wage bill. No culture of winning. What do people think Allegri is going to do with disasters like Koscielny, Monreal, Kolasinac, Jenkinson, Calum Chambers, Xhaka etc? And a £50m budget that can't be increased until the wage bill fat is trimmed? He is not Jesus Christ, he is a football manager. Allegri is used to working with dedicated pros and winners like Chiellini, Ronaldo, Matuidi, Zlatan and Pirlo. Allegri is also used to working under pressure from fans who are dissatisfied with a season where you reach a CL semi-final and finish runner-up in the league. Arsenal fans unfortunately, are not of that mentality. You cannot spend 14 years celebrating mediocrity, Top 4 and a few FA Cups (a competition big clubs don't prioritise) and suddenly from one season to the next, demand sky-high standards! Stan Kroenke has seen how far he can push Arsenal fans. He saw that when after an 8-2 thrashing at OT, and after a season where Wenger lost 6-3 at City, 6-0 at Chelsea, 5-1 at Anfield and 3-0 at Everton ALL in the same season, the fans chanted "One Arsene Wenger" in the final game of the season as the club finished empty-handed again and failed. So I ask again: if Kroenke has seen that Arsenal fans are perfectly happy to entertain mediocrity for so long, why should he act any different?
The current issue of The Gooner (£6 UK addresses, £7.50 overseas) can be bought through our online store or if you have a PayPal account you can simply send us payment direct click here for our paypal.me link (although please remember to put the name and address for sending your issue in the message, and if you forget, then email us at thegoonerfanzine@btinternet.com to let us know those details)
2019-20 season subscriptions still available!
Having reached our target of 1000 paid up subscribers to continue printing in 2019-20, we are welcoming further subscriptions. For £30 (UK addresses) or £42 (overseas addresses) you receive six x 68 page issues through your letterbox over the course of next season.
There are four ways to pay –